Which Western energy giants are most exposed to risk by their investments in Russia?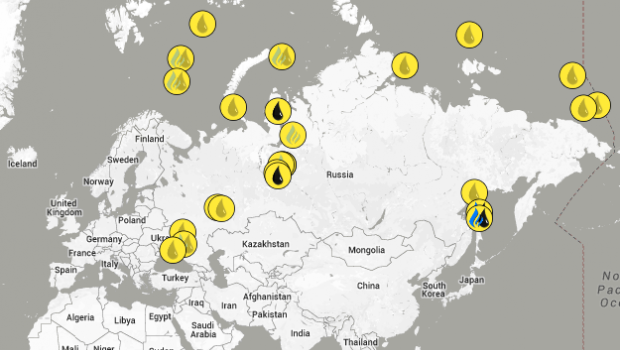 As Europe continues to debate how to get off Russian energy US and European oil and gas majors are building up increasing stakes in Russian fossil fuel extraction projects and energy firms.
Based on a detailed spreadsheet and research by Greenpeace Unearthed has developed an interactive – and evolving – map of all the current and planned ventures in the former soviet power.
Western energy giants often provide "carry finance" for exploration and development of joint ventures – meaning they stump up the initial investment and take on much of the risk.
Whilst sanctions on Russia's energy oligarchs have led to public statements of concern most Western oil companies remain keen to exploit oil and gas in Russia, including so-called 'difficult oils', which are now subject to tax breaks.
Exxon Mobil and BP have recently signed deals with Russian oil giant Rosneft despite the sanctions.
Ongoing projects include onshore oil and gas, as well as the first shale oil test drilling. There is a lot of offshore oil exploration planned in the Arctic, along with more onshore shale oil and gas exploration.
On our interactive map, you can see Anglo-Dutch Royal Dutch Shell, US' Exxon Mobil and Total all have stakes in current fossil fuel extraction in Russia, while Norway's Statoil and Italy's Eni have signed MOUs planning joint ventures with Russia's majority-state-owned Rosneft. Exxon Mobil also have lots of plans to collaborate with Russia's gas giant Gazprom.
Here's a closer look at the tie-ins between Western and Russian energy firms, and how they might be affected by the Ukraine crisis:
Shell
Shell has been involved in developing the Salym oilfields in Western Siberia, which Gazprom touted as 'one of the largest investment projects with foreign participation in the Russian oil industry' in 2012. Shell also has a significant stake in the Sakhalin 2 oils and gas production project (one of the platforms shown above) – there are also plans underfoot to expand its LNG production.
Shell has also recently broken ground on a shale gas exploration project exploring the Bazhenov formation, touted as the world's biggest shale gas reserve, using technology developed in the US.
But plans for new investments in Russia are on hold, according to a statement put out by Shell -this is despite Shell's new chief executive Ben Van Beurden meeting with Russian President Vladimir Putin in April and reaffirming his commitment to the company's energy investments in Russia.
This could affect Shell's plans to explore offshore oil drilling with Gazprom and its possible future cooperation with Russian state oil company Rosneft.
Exxon Mobil
Exxon has the largest geographical presence in Russia according to RT. Its projects include a joint venture with Rosneft – the Sakhalin 1 plant which produces oil and gas.
There have been conflicting reports in the media about how damaging for Exxon Mobil the sanctionsimposed on Igor Sechin, the chairman of Rosneft and Russian President Vladimir Putin's former deputy chief of staff, would be. It means US citizens can't do business with him.
"Exxon Mobil Corp.'s dream of drilling in the Russian Arctic may risk running aground on the politics of Ukraine," reported Bloomberg, while The New York Times reported "it might mean little more than a logistical hassle because he [Sechin] could not travel to the United States to meet with his ExxonMobil partners."
Only a few days after the sanctions were announced, however, Rosneft gave the green light for four Arctic projects with Exxon Mobil – and offshore drilling could start this summer. The firms also have plans to drill for shale gas onshore.
BP
BP inked a $300m deal with Rosneft to develop shale oil in late May and signed a $1.5bn pre-payment oil supply deal with the Russian oil giant in late June. This was despite US sanctions against Rosneft's chief executive, Igor Sechin, being announced in April.
The British firm also owns a 19.75% share of Rosneft, which contributed about 16% of BP's annual profit in 2013. This makes them the most exposed to Russia of the oil super-majors, according to an FT analysis.
Bob Dudley, BP's American chief executive, was reportedly in a meeting with Sechin as the sanctions were announced – and they didn't meet when the Rosneft deal was signed. They both have a seat on the Rosneft board.
A spokesman for BP said the firm was "committed to our investment in Rosneft, and we intend to remain a successful long-term investor in Russia." BP's chief executive Bob Dudley said the company was "rock solid" with its investment in the country.
BP also extended a five-year loan to help Rosneft lower debt costs despite the sanctions.
Total
Total has been present in Russia since 1989, operating the Kharyaga oil field located in the Nenets Autonomous Region with a 40% interest in partnership with Russian gas company Novatek (the second largest in the country after Gazprom).
In addition, Total's 16% stake in Novatek, giving it significant exposure to the fact one of Novatek's major investors, Gennady Timchenko, has been sanctioned by the US.
Total also has big plans to drill for gas in the Yamal peninsula with Novatek – it's investing $27bn into the Yamal LNG project, in which it has a 20% stake, and is due to start production in 2016. And it'sl is also in talks with Russian oil company Lukoil to partner for exploiting 'difficult oil' including shale oil exploration in the Bazhenof formation in Western Siberia.
The French energy firm expects the biggest share of its oil and gas output to come from Russia by 2020 and plans to stay there for the long haul despite recent tensions with the West over Ukraine,Reuters reported.
The FT points out the talks with Lukoil began pre-Ukraine crisis but "the talks highlight the desire among some international companies to continue doing business in Russia despite the deteriorating political relations."
Statoil
Norwegian state-owned energy giant Statoil has lots of plans for exploiting oils and gas in Russia. There are three main projects: Offshore drilling for oil in the Russian far East and Central Barents Sea; onshore oil drilling in West Siberia; and shale gas drilling also in West Siberia.
On the same day as the sanctions against Sechin were announced, Statoil and Rosneft said their planned partnership in West Siberia has been postponed until next year.
Statoil denied the delay is as a result of the Ukraine crisis, saying it was caused by bad weather conditions, which were previously to blame in other major Arctic projects Statoil delayed last year.
Eni
Eni is in joint venture with Rosneft to explore for hydrocarbons in the Barents Sea and the Black Sea.
The erstwhile boss of Italian energy firm Eni said in March that the Ukraine crisis was one of the contributing factors why it sold its 60% stake in the Arctic Russian oilfield on the Yamal peninsula  – though the sell-off was in January. "I was smelling that Russia is Russia. Russia is not Switzerland,"Paolo Scaroni told the FT.
He also said he was doubtful about the future of the South Stream pipeline unless the EU and Russia find a way out over Ukraine. Eni has a 20% stake and Gazprom has a 51% stake in the project could pipe Russian gas under the Black Sea to Bulgaria.
On April 14 the new chief executive of Eni was announced as Claudio Descalzi.
** This story was updated on 25 July to include the Rosneft BP deal of 27 June