Interview: Good Energy CEO Juliet Davenport on 'hatchet job' Tory green cuts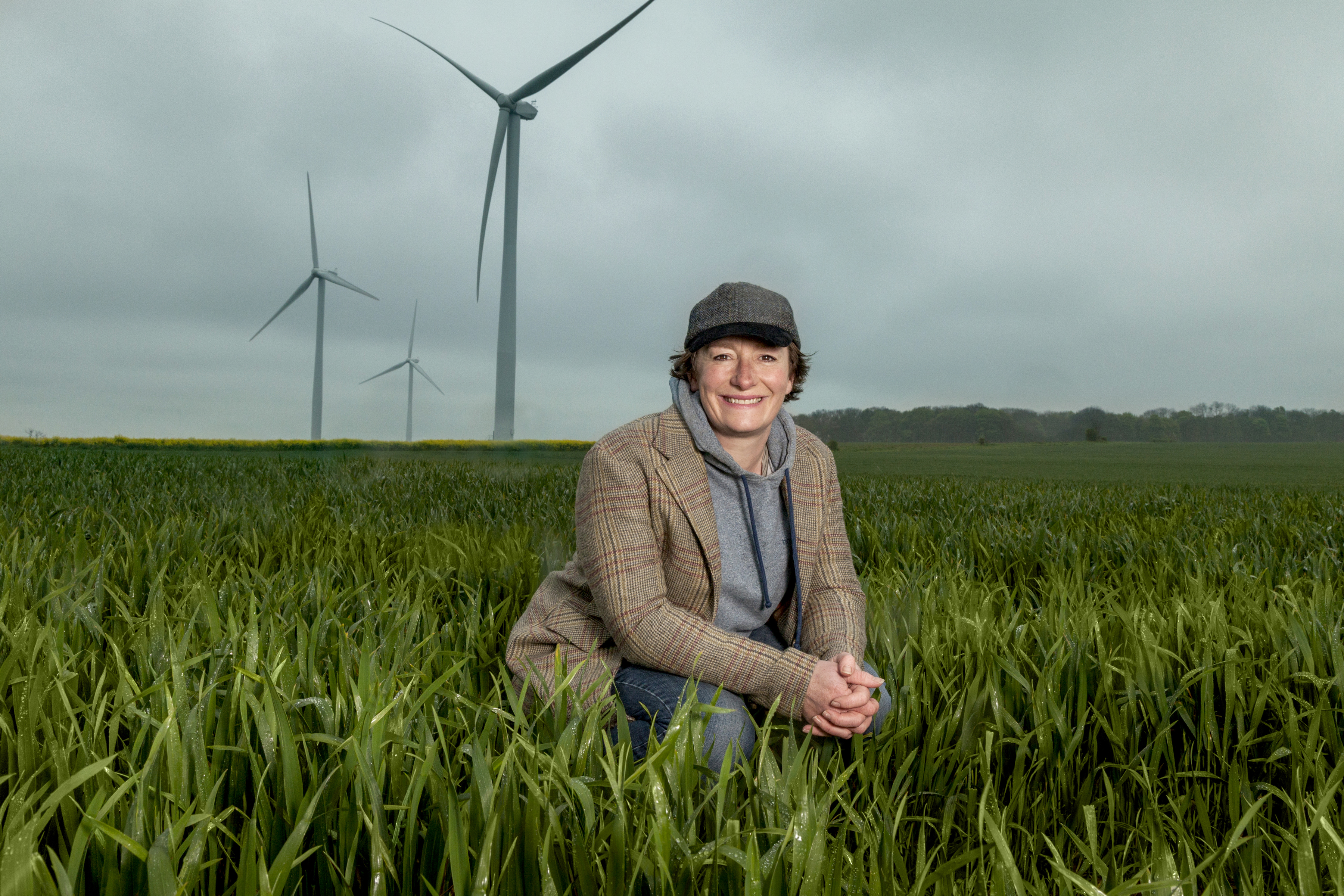 The CEO of green utility Good Energy has called UK government cuts to renewable energy subsidies "a hatchet job" enacted without appreciation for the positive impact renewables were having on wholesale energy prices.
In an interview with Unearthed, Juliet Davenport explained that the Conservative Party's policy on wind and solar is "not logical" and that they were "terrified by the figures people from the Department of Energy and Climate Change (DECC) were showing them".
In recent weeks everyone and their dog has been lining up to slam DECC over its controversial cuts, which have so far led to the collapse of four UK solar firms, thousands of jobs lost and a number of community energy projects scrapped.
The Tories' manifesto pledge to "halt the spread of wind farms" coupled with its proposals to both cut the Feed-in-Tariff (FiT) small scale solar subsidy by a gargantuan 87% and end the Renewables Obligation one year early has rubbed the renewables sector the wrong way.
Al Gore said he was 'puzzled' by these policies, diplomats from around the world are equally baffled, international green energy giants have accused the UK of 'eliminating its solar sector', and even mom-and-pop firms from energy ministers' own backyards are dismayed.
So we decided to talk to a utility, and not just any utility: Good Energy, which sources 100% from renewables.
During our chat Juliet Davenport was exceedingly diplomatic – "what they've done they've already done" – and yet she still decried the cuts as "not logical".
She speculated that upon their surprise majority election in May, the Tories were "terrified by the figures people from DECC were showing them".
Believing government financial support for wind and solar would significantly inflate consumer energy bills, they took drastic action and all-but-scrapped the subsidy for rooftop and community solar projects.
"Whenever they change something it's difficult," she said soberly, "and to a certain extent there was a need to change."
The cost of solar has plummeted by around 75% over the past five years.
"The way they've gone about it, however, feels a bit like a hatchet job."
Picking winners and losers
So are the green cuts driven by ideology?
Certainly the move to scrap 'blight-on-the-landscape' onshore wind – the cheapest available clean energy – was done to appease their countryside constituency.
Wrestling with herself over just how far to go, Davenport admitted: "With the ban of onshore wind, it does seem to move in that direction.
"That's the first time we've seen a particular technology singled out for removal. It's the first time that's happened in policy in 10 or 15 years.
"Is it ideological? I think it becomes slightly ideological. Up till quite recently there hasn't been a political divide on energy, but it does seem to have gone that way."
What really grinds the greens is just as solar is suffering, a singular nuclear plant is being gifted a choice multibillion pound package by the government.
"The government has its favourites," Davenport said, "and it has the ones it really doesn't want to get off the ground, like any big renewables project."
She observed: "A lot of the measures they're supporting, like nuclear, will take a long time. So we need to bring more renewables on in the next five years."
That's not to say there wasn't need for subsidy reform, she explained.
"The FiT process is not being run in the best way possible.
"We do need to rethink it so it doesn't underspend. Solar costs have come down so we should be seeing reducing tariff, but don't just push it off a cliff."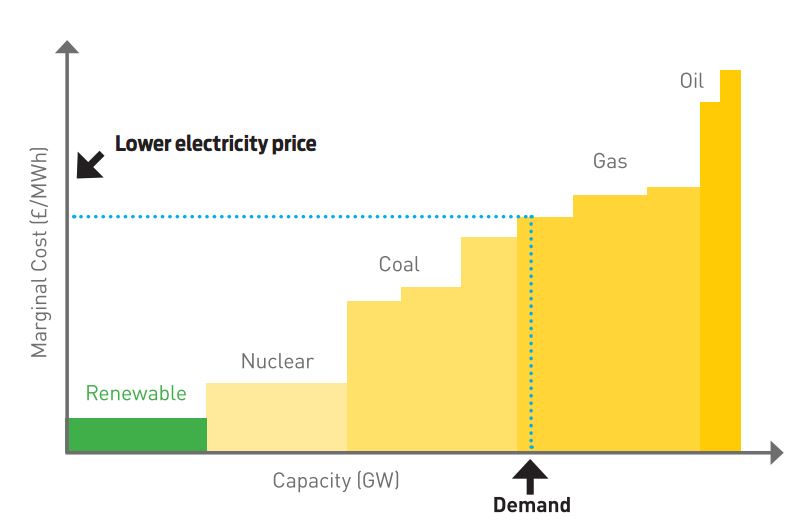 The Merit Order Effect
So what caused this panic-induced subsidy slasher film?
It boils down to the Levy Control Framework (LCF), a mechanism used to cap how much the consumer would pay to support renewable energy.
In July government said it expected green subsidy spend to exceed the £7.6 billion cap in 2020-21 by £1.5 billion.
Referencing a recent Good Energy report, Davenport said that in 2014 wind and solar reduced the wholesale cost by between £1.7 and £2 billion – which means the LCF isn't the right measure.
"The policy is not simply supporting renewables. Renewables are bringing down the price of energy. So if you look at the net position it's very different."
Davenport concluded: "Their concern has not taken into account the Merit Order Effect" – a rule which essentially says renewables drive down energy prices since they don't have fuel costs.
A level playing field
And then she dove in eagerly to discuss the semantics of subsidies, which she classifies as "anything used to support one technology over another".
"The government has blurred the line between subsidies and tax breaks. Subsidies extend through a load a different things, not just money but things like planning policy and grid connection."
To those like energy minister Andrea Leadsom who are challenging renewables "to stand on their own two feet", Davenport says bring it on.
"Our long term aim would be to see no support in this market at all if possible. We'd love to see a level playing field.
"Somebody said to me the other day 'what happens when they take away support for the decentralised energy market?' And I said 'Can I put my hand up now for the long-term support contract that Hinkley Point got? I'll build all my renewables out and give you some change back.'
"We'd like to see a level playing field, that's what we'd like to see."
"But if we're going to talk about a level playing field, there seems to be a language issue over what the definition of a subsidy is.
"A subsidy is a form of support whether it's financial whether it's structural whether it's in the fact that you've given favourable guidance around planning."
This fight over subsidies and the language used by government to dismiss the rising penetration of renewables distracts what really should be a British success story.
This past quarter wind and solar hit more than 25%, up nearly 9% from a year earlier and overtaking coal and nuclear in the UK generation mix for the first time ever.
Part of the reason the FiT cuts are happening is that so many people are putting panels on their roofs.
"But," Davenport finishes, "this market is being put together to have large centralised power stations distribute energy out to households.
"We're seeing households now becoming part of the market, or communities or local generation. That's a real challenge to the status quo."