Why Obama and Trudeau's climate partnership could be a big deal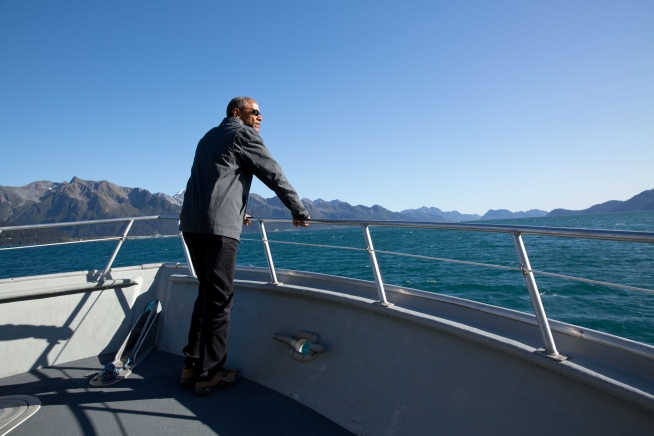 Two of the world's coolest heads of state are teaming up to tackle climate change.
In the latest of President Barack Obama's climate legacy feats, he and his Canadian counterpart Justin Trudeau are putting pen to paper on an agreement designed to cut methane emissions, grow renewable energies, promote climate diplomacy and, yes, protect the Arctic.
Obama won't be around to do many of the things he's committed to do here, and may not be able to implement them even if he were, and Trudeau, for all his climate bonafides, is a bit of a fan of Keystone. 
But it's something. Here's a run-through of the reasons why the deal could matter:
Right at the top of this morning's White House announcement are the words 'Arctic Leadership'.
What follows is a quite thorough set of 'science-based steps' that would expand and fortify protections for the fragile region that borders both countries.
It says they're serious about biodiversity, reaffirming their commitment to protecting at least 17% of land areas and 10% of marine areas by the end of the decade — and promising to do much more than that in the years after.
There's strong emphasis on collaboration with Indigenous communities, drawing upon their science and 'traditional knowledge' for major decisions and sharing with them innovative energy and efficiency alternatives to fossil fuels.
Sustainability is front and centre, with Obama and Trudeau vowing to set a 'world class standard' for commercial developments such as shipping, fishing and oil drilling — that means tough safety and environmental standards.
We'll have to see what this means in practice.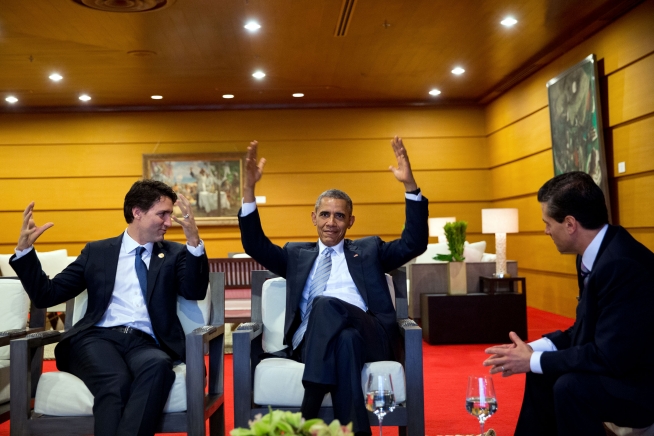 Seeing as they're neighbors, Canada and the US will try to ensure plenty of renewables are hooked up to their interconnected grids.
So long as the next inhabitant of the White House keeps Obama's promise.
They'll also speed up clean energy innovation through collaborative R&D and push the rest of the world to do the same.
Alignment, a word associated with Obama's controversial trade deals, pops up in the White House release as well — in reference to energy efficiency standards.
Despite the recent blow dealt by the US Supreme Court, people are taking the Paris Agreement seriously, with Obama and Trudeau frequently citing it as 'a turning point in global efforts to combat climate change'.
Both Canada and the US say they will sign the Agreement 'as soon as feasible' — perhaps they're waiting for progress on the Clean Power Plan.
They also insist that they'll help developing countries meet their UN climate targets and strengthen their adaptation efforts.
And that's not all. Expect new actions from both countries this year, the announcement teases.
Basically, it's a big win for the legitimacy of the Paris Agreement, which has already notched several key victories this year, including the US moratorium on coal mining on federal land, China's coal mine action plan, and Vietnam's coal phaseout.
It's good for climate diplomacy
Obama has spent the better part of the past two years using his climate agenda to develop closer ties to key countries, most notably China.
Expect more bilateral #climate agreements before the Obama @WhiteHouse hands over, says advisor John Morton

— Edward King (@edking_CH) March 10, 2016
That Canada, for so long skeptical of climate action under PM Stephen Harper, is now playing ball is significant.
Both countries will open up lines of communication between states, provinces and territories in order to cement the integrity of climate targets and share lessons learned about carbon pricing systems.
They've also got eyes on post-2018 vehicle emission standards.
The deal also lists Mexico as a key player in the North American climate and energy partnership — so they're being inclusive.
And then there's emissions. Both the US and Canada are resolved to tackling methane emissions from the oil and gas sector, the largest industrial source in the world.
The target – a proposed reduction of 40-45% below 2012 levels by 2025 – sounds pretty ambitious (but we'll have get back to you with whether it actually is).
.@GinaEPA commits to involve stakeholders in cutting methane at existing oil wells, says result will be "common sense, achievable standards"

— Jennifer A. Dlouhy (@jendlouhyhc) March 10, 2016
In the US methane will be regulated by the EPA while Climate Change Canada will do that job north of the border.
The initial phase of proposals is due by early 2017.
There's more than all that, including the decision to endorse the World Bank's 'Zero Routine Flaring by 2030' initiative, but I'll leave it at that.
At least until the next bilateral climate agreement.