Russian government covers up forest fires twice the size of Alberta blaze
The seasonal forest fires in eastern Russia currently span more than a million hectares of land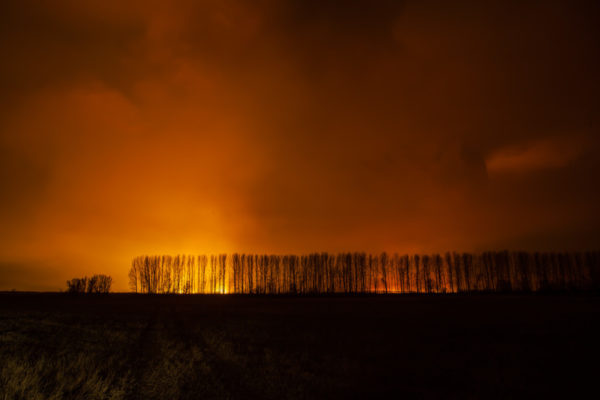 As the world watches wildfires tear through the Canadian countryside, a blaze more than twice the size rages on the other side of the world.
According to an exclusive analysis of satellite data, the seasonal forest fires in eastern Russia currently cover more than a million hectares of land — making it twice as big as the roughly 500,000-hectare blaze burning in the heart of Alberta oil country.
Reports from the Russian government have dramatically underplayed the scale of the abnormally severe Siberian wildfire, with officials claiming it is less than one tenth of its true size.
Images taken by NASA satellites (Terra/MODIS and Aqua/MODIS) and obtained by Unearthed reveal huge plumes of smoke emerging from the boreal forests on the Russia-China border.

This toxic smog is travelling to nearby towns and villages, creating a little reported public health crisis; there is no data on its impacts.
No deaths have been reported yet this year either, though dozens die in accidents during Russia's fire season every year and hundreds are injured.
What is Russia's boreal forest region?

At approximately 12 million km2, it is considered the largest forested region in the world — even larger than the Amazon.

It's also one of the most 'biologically outstanding' places in the world, according to the World Wildlife Fund, home to a range of species — from wolves and brown bears to golden eagles and siberian accentors.
The vast majority of these annual fire events are man-made, triggered by burning of vegetation for agricultural operations.
With more than 2 million hectares burned so far this year, 2016's forest fires look set to become some of the largest and most damaging in recent Russian history.
That's because, among other things, this year is exceptionally dry due to climate change.
Siberia on fire
Let's start with the raw figures.
According to the Greenpeace mapping lab based in Russia, images taken by NASA satellites on May 11th show wildfires in Russia's far east covering a mammoth one million hectares.
That's twice the area currently ablaze in Alberta, where the freak fires in Fort McMurray have made international headlines.
But that's just the start of it.
Including that one million, the Russian blaze – which is really dozens of smaller fires spread over a two remote regions – has burned through two million hectares of land so far this year, equivalent to the size of Wales.
Normally around 5 to 6 million hectares are burned in a year, according to Greenpeace experts, but it can get even worse than that; in 2012 it was more like 11 million.
That two million hectares have already been incinerated this early in the season suggests that 2016 may become similarly devastating.
To put that in context, the historic forest fires in Indonesia last year burned around 2.6 million hectares in total, though central to the apocalyptic media coverage was the haze caused by Kalimantan's burning peat reserves.
Russia's peat is largely in the west, and does not burn with the same ferocity as Indonesia's.
That said, one of the exceptional things happening this year is the emergence of peat-fired fumes in Siberia.
Kremlin claims
The issue is controversial because official government statistics claim the Russian forest fires are only a fraction of their true size.
On May 11 regional authorities issued a warning that there are 132 fires covering only marginally more than 85,000 hectares of land.
Yet using the government's very-own ISDM-Roslehoz remote monitoring system, Greenpeace Russia discovered that just 3 major fires in the Amur region cover more than 500,000 hectares — that's 6 times what the government says is on fire across the entire country.

But the Federal Forest Agency – which along with the Ministry of Emergency Situations signed off on the regional government fire stats – still disputes their findings.
It says Greenpeace's satellite monitoring footage is unable to differentiate between fire and smoke-engulfed areas that aren't themselves on fire.
It claims only 500,000 hectares have been burned so far this year, though it also doesn't count controlled fires started by foresters for some reason.
How it happens
The government has also recently taken steps to reduce the number of man-made forest fires; late last year it passed a bill to ban the burning of grass on agricultural and conservation land.
Greenpeace research has found more than 90% of region's fires are man-made, some of which is associated with criminal activity like logging and poaching but most of which is simply clearing land.
The blaze is especially violent this year for a few reasons — from problems with forestry security to the dry conditions created by the changing climate.
Studies have shown Russia is warming twice as fast as the rest of the world, dramatically increasing the number of extreme weather events.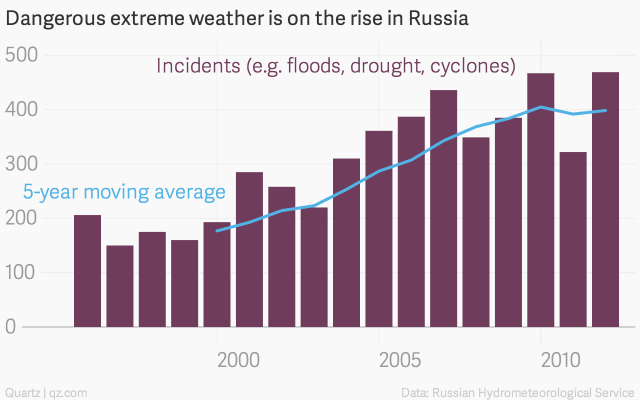 The frequency of forest fires in the Siberian taiga, Evenki and Khabarovsk regions in the far northeast have surged between 30 and 50% in the past two to three decades.
Peat fires, which haven't previously featured out east, are becoming a fresh complication, according to natural reserve rangers in Baikal, with last year's blaze the first major instance of peat burning in the normally wet region.
The fires risk becoming part of a feedback loop, partially triggered by rising temperatures they could also feed into climate change first by producing enormous amounts of carbon dioxide – especially so near to vital Arctic ice – and second by removing one of the planet's largest carbon sinks.
According to WWF, Russia's boreal forests hold roughly half of the northern hemisphere's terrestrial carbon.
Beyond their impact on the climate, the Russian wildfires have a range of the victims — from local people whose villages have been invaded by smog from the nearby wildfires to exotic creatures who have been forced from their homes.
And that list keeps on growing.