What's happening with all the global trade deals?
Last updated: 16/02/17
Free trade deals around the world are in crisis, just as the UK is preparing to negotiate a clutch of new agreements that would replace its membership of the European Union.
For the world's fifth largest economy, Brexit couldn't have come at a more turbulent time.
The global free trade agenda has endured a nightmare 2016.
Each of the big four deals in the pipeline – TTP, TTIP, TISA and CETA – found itself in roughly the same position: Fighting for its life.
The combination of public opposition and intergovernmental disagreement, bolstered by leaks and PR disasters, has derailed this generation of multilateral agreements which have long been controversial for their focus on deregulating key areas – including environmental rules – and empowering corporations to challenge governments.
To mark the start of a new series on Unearthed – Trade Wars – we've put together a primer of those massive trade treaties in waiting, from their humble beginnings on Wall St and in Washington to the possible end of the road on the streets of Europe and the halls of the Democratic National Convention.
It will be updated as things develop, but don't expect new lines every time a politician speaks out or a protest is staged.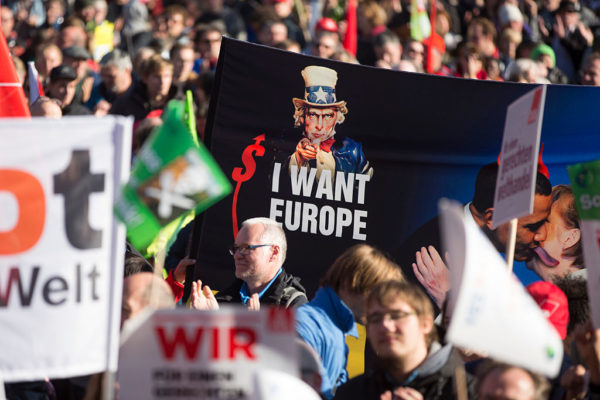 Trans-Pacific Partnership (TPP)
Who's in it: Australia, Brunei, Canada Chile, Japan, Malaysia, Mexico, New Zealand, Peru, Singapore, United States, Vietnam
What it is: The TPP is the signature trade policy of the Obama administration, and a key part of the President's 'pivot to Asia' foreign policy approach.
For the US, the deal has massive geopolitical significance, strengthening ties with the major economies in China's orbit — acting as a check on the region's rising superpower.
The deal itself does most of the things big deals like this do: cut tariffs (18,000) and liberalise sectors.
But two things came together in the election that turned trade – and this deal in particular – into political poison in the United States.
What derailed it: First there was the anti big business movement championed by Senator Bernie Sanders, which railed against the secretive nature of negotiations, the behind-closed-doors court system for corporations to sue countries, and concerns that the deal would harm workers rights and the environment.
Add to that the anti-trade rhetoric of Donald Trump, who focused mainly on the outsourcing of American jobs, and emerged a left-right coalition against the TPP and what it stands for.
This political climate frustrated President Obama's attempts to get the deal through Congress, even though Republican votes helped award him 'fast-track' powers back in 2015.
What's happening now: Within days of entering the White House, Donald Trump withdrew the United States from the TPP.
Though the deal is basically dead, Australia is trying to salvage something.
Experts believe that China is primed to benefit for the fall of the TPP.
Transatlantic Trade and Investment Partnership (TTIP)
Who's in it: United States, European Union
What it is: Europe and the US already do a lot of trade with eachother, and there are very few tariffs left.
But TTIP is all about reducing other so-called 'barriers to trade' — harmonising regulations, for instance.
The concern there is that could lead to a race to the bottom of sorts, with important regulations relating to public health and the environment at risk of being watered down.
These possibly lower standards would then be enforced by a corporation-to-country court system like the TPP's ISDS (maybe with a less toxic acronym).
For more detail, read this Q&A on TTIP
This whole set-up could well produce a kind of chilling affect, with governments reluctant to introduce new regulations that could be challenged in trade courts.
TTIP is still being negotiated (and is seriously top secret) so nothing is set in stone, but leaks show US officials taking an aggressive stance on the deal.
They've basically been saying 'no ISDS, no deal'.
What derailed it: Two things: Massive public opposition in Europe and, well, leaks.
Earlier this year Greenpeace Netherlands got ahold of the text, and released it to great fanfare.
Those documents revealed that the US was pushing the EU to abandon environmental protection promises, with one leaked letter describing the differences as 'irreconcilable'.
Since then politicians across Europe have publicly decried the deal, with the French government especially critical of negotiations.
All that comes following a wave of opposition to the deal, especially in Germany and Austria.
What's happening now: Since Trump's arrival in the White House, US-Europe relations have startled to crumble.
The man Trump has chosen as his ambassador has compared the European Union to the Soviet Union, and backed that up with startling criticisms of the German government.
In a bit of a baffling move, Trump's team have said the US will only do bilateral deals with European countries, not the EU as a whole.
But it doesn't work that way.
All of this seems to suggest TTIP is dead on the US side as well as the EU side, and what follows may be some kind trade dispute rather than trade deal.
As with the TPP, China is just around the corner.
Comprehensive Economic and Trade Agreement (CETA)
Who's in it: Canada, European Union
What it is: Essentially it's TTIP, but with Canada instead of the US — so smaller and less controversial.
The regulation harmonisation that's central to this new type of trade deal, however, could work in much the same since the US and Canada share an approach to allowing products into the market.
Where Europe follows the precautionary principle (which means something needs to be proven to be safe) the North American countries do things the other way around (things need to be proven to be dangerous).
Some analyses suggest the newly negotiated regulations may make it much harder to protect the environment.
Finally there's those pesky investor dispute courts (this one's called ICS) that almost everyone hates.
What derailed it: Wallonia.
The small French speaking region of Belgium caused a stir by refusing to sign off on the deal over the ICS and the prospective impacts of its agricultural industry.
But things were resolved (for now).
What's happening now: CETA is well and truly back on track.
Having been approved by the European Parliament, it now faces national and regional parliamentary ratification — which could be hard.
Trade in Services Agreement (TISA)
Who's in it: Australia, Canada, Chile, Hong Kong, Iceland, Israel, Japan, South Korea, Liechtenstein, New Zealand, Norway, Switzerland, Taiwan, United States, Colombia, Costa Rica, Mauritius, Mexico, Panama, Peru, Turkey, Pakistan, Paraguay, European Union
What it is: The least known of the big four deals is probably the biggest — with many more countries signed up to this agreement than TPP, TTIP or CETA.
TISA also differs in that it *only* covers the services sector, which now represents the vast majority of global economy.
A series of leaks, especially the latest broken by Unearthed, has shown that TISA is designed to lock in liberalised markets, making it virtually impossible for governments to roll back liberalisation, even if elected on a mandate to do so.
Regulating could also be made more difficult, and so could discriminating against dirty fuels — with climate change makes barely featuring in the text's energy chapter.
What derailed it: It's certainly been less derailed than the other deals, though the Wallonian drama with CETA may have profound implications.
The latest batch of leaks – from Wikileaks and Greenpeace – have raised TISA's profile, but not by enough to prompt anywhere near as much public opposition as its sibling agreements.
The absence of the ISDS has probably worked in TISA's favour, with the deal opting for the better (though still problematic) WTO enforcement mechanism.
That said, the deal is progressing slowly, and is unlikely to be concluded this year — which means it is far from a certainty.
What's happening now: Reports suggest issues have emerged from within the European Union that have held up the deal's progress.
Apparently the EU is still warring over clauses on the free flow of data and regulations of services that don't yet exist.
At a recent negotiation, EU officials refused to surrender their right to discriminate, having already made progress with ensuring the right to regulate.
Bonus: Environmental Goods Agreement (EGA)
Okay, this isn't one of the big deals, but it is a significant agreement that may come into force via the World Trade Organisation.
The European Commission describes it as  'removing barriers to trade in environmental or green goods that are crucial for environmental protection and climate change mitigation'.
It's been on the cards since 2014, but has seen progress significantly slow down recently.
What's happening now:  At the latest summit in December, negotiations collapsed as China made a last minute change to the deal.
With Trump now in power, it's hard to see this deal going much further.