7 things the oil majors got majorly wrong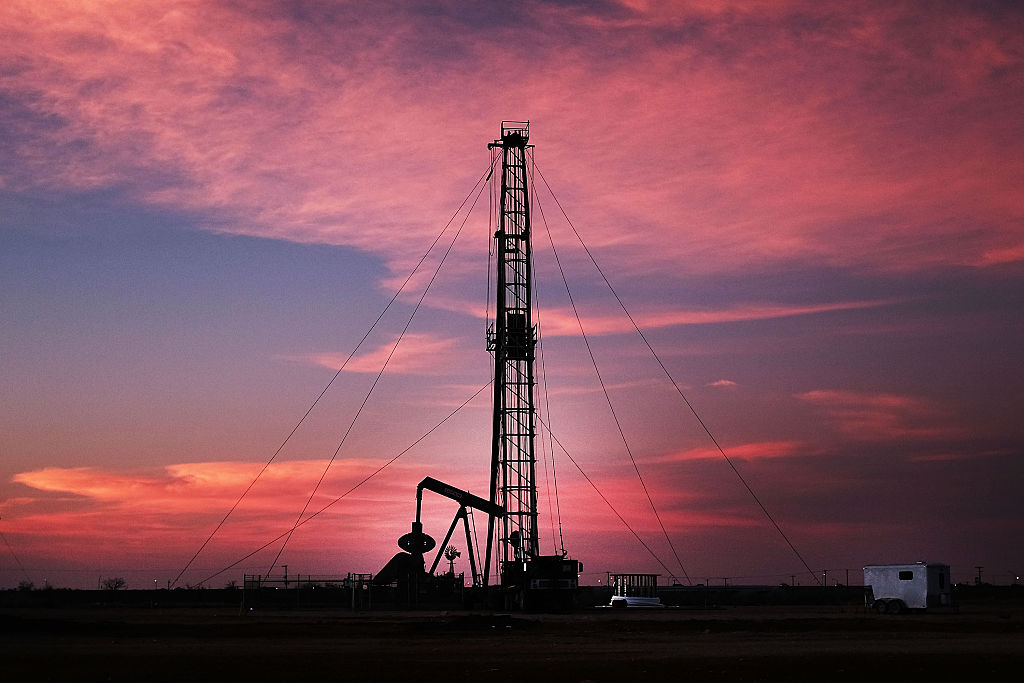 The biggest oil firms in the world are really really bad at predicting the future.
A new report from Greenpeace and Oil Change International details how the oil majors BP, Shell and ExxonMobil consistently misread the energy landscape in their prestigious annual outlooks.
Renewables are underestimated, King Coal is prematurely dethroned while oil and gas are given sunny forecasts despite structural challenges and price crashes.
Indeed the industry's latest round of reports – in which the disruptions electric vehicles and the Paris climate agreement are dismissed – suggests the pattern is set to continue for the foreseeable future.
Here are some things Big Oil has gotten wrong in recent years:
1. Rising renewables
Wind and solar are performing way better than the majors ever expected.
Back in 2005, Exxon forecast that they would represent 1% of total world energy production by 2030 — they hit that benchmark in 2012, 18 years early.
When, in 2010, the green growth trend was clear, Exxon said wind and solar would achieve 1.5% in 2022 — they did that in 2016, 6 years early.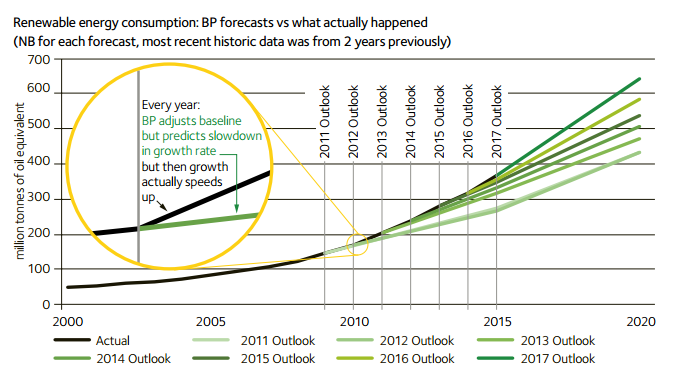 The other majors didn't fare much better.
BP has gotten renewable energy growth wrong for 6 years running
Since its first published forecast in 2011, BP has predicted renewable energy uptake would slow down and every year wind and solar growth kept on accelerating.
And now it sees the renewable energy industry going from its 'exponential' growth phase to 'linear' — yet another slowdown.
2. Cheap solar
In addition to renewable energy production, BP and Exxon have been long-time sceptics of renewable energy technology.
Both oil firms have said solar costs will remain astonishingly high, even by the middle of the century.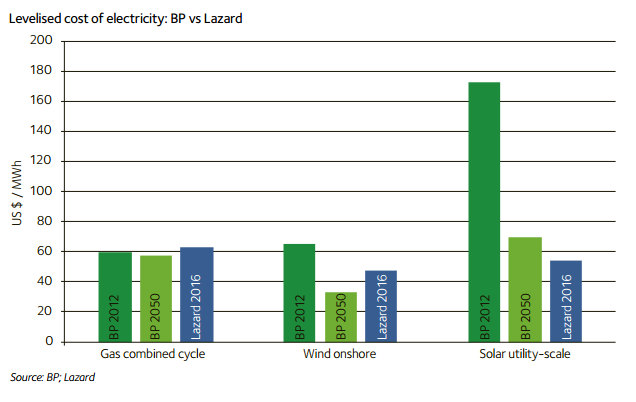 BP predicts the cost of solar in the US will be higher in 2050 than the actual average cost right now
Exxon echoes this, saying it costs five times as much to decarbonise via coal-to-renewables than coal-to-gas.
Financial adviser Lazard, however, says gas and wind produce roughly identical carbon savings for the same price.
It also says onshore wind and utility-scale solar are already cheaper than combined cycle gas power.
3. Oil obstacles
In the forecast reports of the past five years, those big three international oil firms only mentioned challenges to oil and gas four times.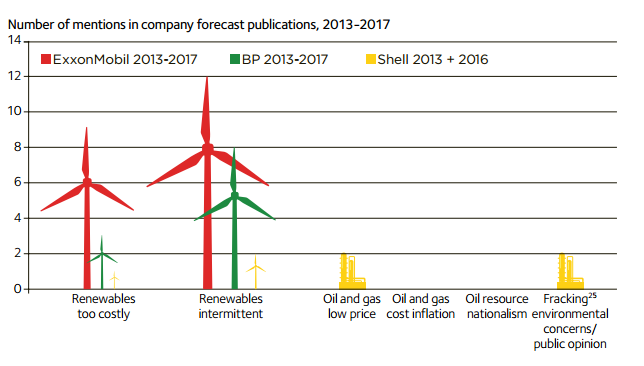 For comparison, perceived issues around the cost and intermittency of renewable energy were referred to 35 times.
4. Coal's comeback
For more than a decade, they saw global coal consumption falling, replaced by the rising fortunes of oil and gas.
And yet a large part of the energy story this century was the success of coal, particularly in China.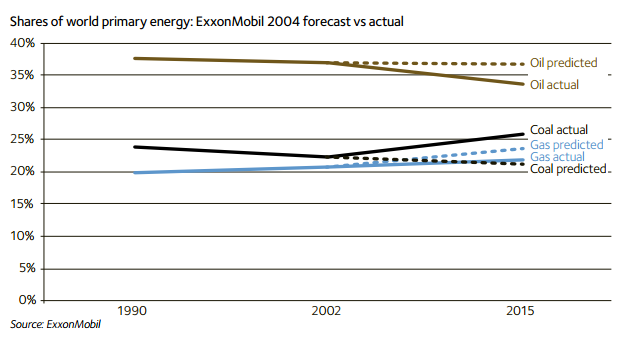 Recently it's swung the other way entirely, with our China expert Lauri Myllyvirta explaining how BP is overreporting coal and oil consumption.
And three bold predictions that seem pretty wrong
5. Electric vehicles fall flat
What many see as the next major disruption to the energy industry is merely a blip on the radar of Big Oil, according to its analyses.
Though car companies such as GM and VW say 'the future is electric' and tout their new clean-energy-vehicles, BP sees their impact as negligible.
BP says 6% of the global car fleet will be electric by 2035, Exxon says it won't hit that share till 2040.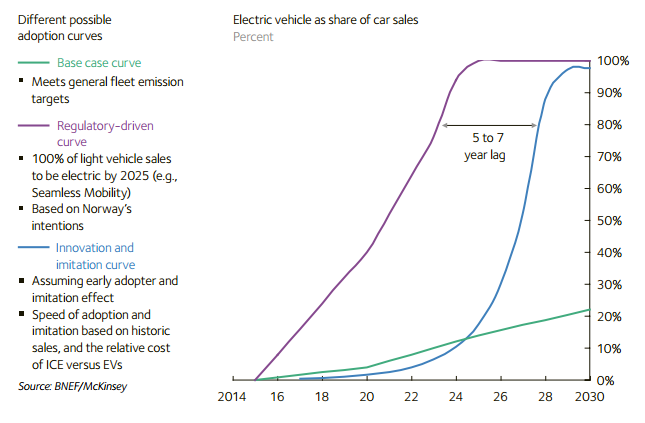 Meanwhile Imperial College – modelling EV uptake using up-to-date cost figures – says EVs could make up more than half of passenger vehicle by that point, and that's without changes to the regulatory framework.
6. Paris climate deal does nothing
Neither Exxon nor BP made changes to their emissions predictions post-Paris, while Shell has yet to produce one since then.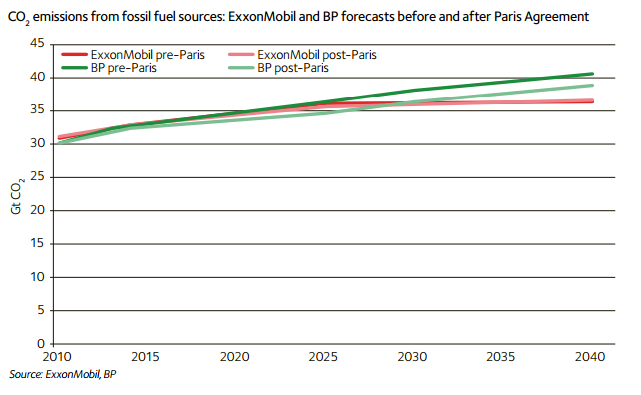 Basically, they don't think the 2015 UN climate deal will amount to much, with no major policy actions now or in the future.
7. Global warming spirals out of control
This is more of a 'hope they're wrong' thing.
Because, according to oil industry forecasts, we're headed for catastrophic climate change.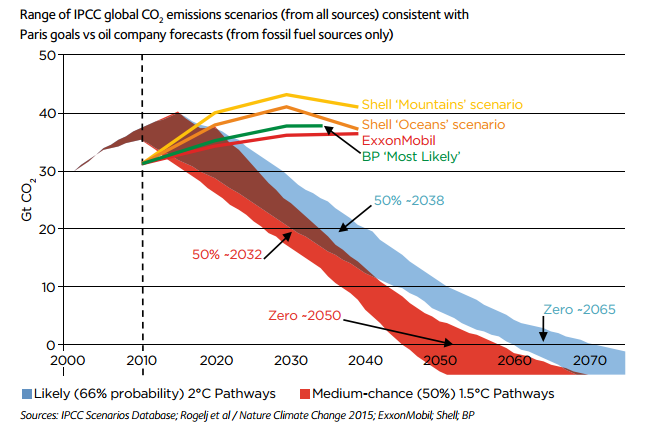 Exxon says "it is difficult to envision governments choosing [the low carbon] path in light of the negative implications for economic growth".
Shell doesn't "see governments taking the steps now that are consistent with the 2C [global warming] scenario."
And BP observes that hitting that target "would require an unprecedented pace of improvement in both global energy intensity and carbon intensity".
Luckily they're not always often right.