Germany fails to back call for higher EU climate targets
Leaked document reveals 8 governments backing a call for more ambitious action — but not Germany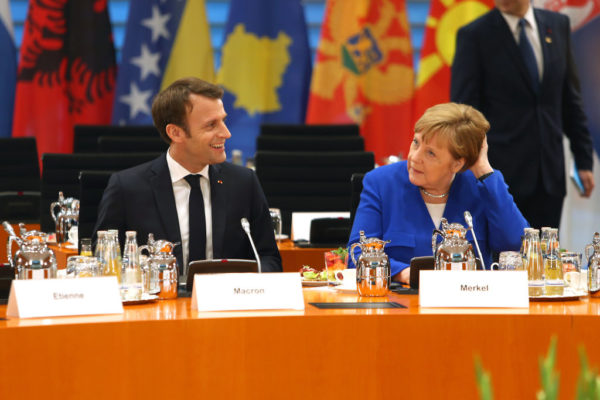 A clutch of major European countries have issued a call to increase the EU's climate ambition, including raising its Paris Agreement target — but Germany failed to sign on.
In a leaked 'non-paper' ahead of this week's EU summit on the future of Europe, the governments of France, Belgium, Denmark, Luxembourg, the Netherlands, Portugal, Spain and Sweden lay out plans to boost the bloc's climate policies.
But Germany – which still sources much of its electricity from coal power – notably failed to sign up to the plan, as did the UK, which will not attend the summit due to confusion over Brexit.
The two-pager, embedded below, calls for the following policies:
Net zero greenhouse gas emissions by 2050 "at the latest"

Increase 2030 Paris Agreement target by 2020 "to drive up global ambition"

"Appropriate and adequate measures during the transition" to ensure imported products meet the EU's climate standards

At least 25% of spending in the EU budget under negotiation go to projects aimed at tackling climate change, and a ban on financing policies detrimental to this objective
Germany's not on board
The German government's absence from the proposal is the latest in a string of decisions that has seen the one-time climate leader decline to keep up with the increased urgency of much of western Europe.
Earlier this year Unearthed reported that Germany refused to back a call for an EU-wide net-zero emissions target, and that goal is one of the policies in the 'non-paper' which Germany has failed to support.
Without the backing of Germany, it is unlikely such measures will be adopted by the EU.
Brick Medak, climate analyst for European environmental think-tank E3G, told Unearthed: "While some progressive states are leading the way in climate policy, Germany, as so often in recent times, has been very cautious.
"The German government is at loggerheads over carbon pricing and supporting a EU-position on greenhouse gas neutrality in 2050.
"As long as Germany does not clarify these questions and join the progressive states, the EU will not really make any progress in climate policy. The German government must finally put its fine word into action, or it is putting its credibility in climate policy completely at risk."