Manifesto report: Liberal Democrats offer council tax cuts for energy efficient homes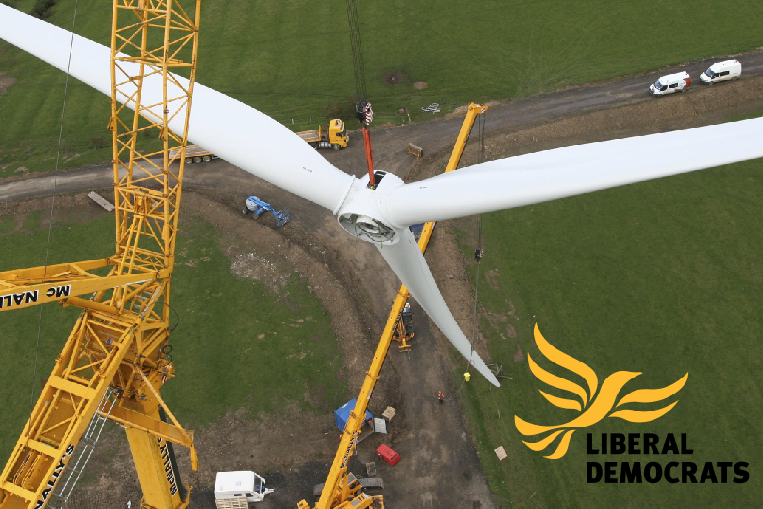 The Liberal Democrats have made the clearest commitment of all the major parties to transforming the United Kingdom into a "low-carbon economy". On everything from energy companies to protecting bees, the Lib Dems are setting themselves up as the party focused on climate change.
But could the Lib Dems green agenda survive a coalition with Labour and the Tories? And just how realistic are their plans?
Follow our UK election coverage
Here's the energy and climate change things we learned from the Lib Dems manifesto:
1. It's not at all Tory — they actually like windfarms
After five years, the strains of governing with the Tories are there to be seen in the Lib Dems manifesto.
Clegg and co's document makes pointed reference to their coalition partners' action on wind energy: "We will end ideologically motivated interference in local planning decisions for wind farms by Government Ministers."
Instead they'll encourage onshore wind "in appropriate locations", recognising it as the most cost effective way to meet the country's climate targets.
2. A green economy needs green skills (and green communities)
The Lib Dems have pledged to develop a national skills strategy to boost areas like low carbon technologies.
They'll put together a "major expansion of high quality and advanced apprenticeships", and set up new "sector-led colleges" to develop skills necessary for a green economy.
Clegg also promised to "expand community energy, building on Britain's first ever community energy strategy with additional financial and regulatory support".
3. Zero Carbon Britain by 2050 and binding decarb power sector target
They would expand the remit of the Green Investment Bank, established by the coalition, giving it full borrowing powers.
The Lib Dems also back a "legally binding decarbonisation target to green our electricity" and say we should get 60% of our power from renewables by 2030.
Most ambitiously, the party are committed to introducing a Zero Carbon Britain Act, which – as the name indicates – would ensure Britain has net zero emissions by 2050.
4. Fracking on the cards, with the proceeds going to green energy
They've been backing fracking for a while now, and the Lib Dems aren't about to change that now.
To access the UK's shale gas reserves, the party would introduce "the world's most robust regulatory regime" and would go so far as to ban drilling in National Parks.
They propose establishing a Low-Carbon Transition Fund to direct 50% of the any tax revenues from the shale gas sector towards energy efficiency, low-carbon innovation and renewable heat.
Once a shale gas well is finished, it will be given (for free) to geothermal heat developers.
5. Council tax discounts for energy efficient homes
The Lib Dems are offering voters a council tax discount if they make significant improvements in energy efficiency in their homes.
A Lib Dem government, however unlikely a possibility that seems, would introduce new energy efficiency and heat saving regulations to reduce heat and energy use.
The party also makes a rather open commitment to introducing new energy efficiency and heat saving regulations to reduce heat and energy use.
6. Tough on waste crimes, tough on the causes of waste crimes
The Lib Dems pledge to get tough on people who chuck their tins in with their cardboard, committing to a UK statutory recycling target of 70% for waste in England.
With the police warning of gangs running waste rackets up and down the UK, the party also state that they will introduce penalties for so called 'waste crimes' if in office.
Fines would be increased from £50,000-£75,000, with the average sentence for offences rising from 12 to 18 months.
They also commit to introducing new regulation to promote the design of products that complement reuse and recycling.
7. Switch energy supplier in just 24 hours
Stopping (far) short of Labour's pledge to freeze energy bills, the Lib Dems say they'll "force energy companies to allow customers to change to any cheaper supplier in just 24 hours".
8. No to new airports, but yes to electric cars
In their manifesto the Lib Dems cemented opposition to new runways at Gatwick, Heathrow and Stansted — and they don't support plans for a new airport in the Thames estuary.
Sticking with transporty things, the party says they'll back innovations in transport, particularly the development of driverless cars and electric vehicles.
They also echo Labour's commitment on rail fares with a pledge to ensure that new rail franchises "include a stronger focus on customers".
9. They want a deal at Paris (who doesn't?) and will offer funds developing countries
On international climate change policy, the Lib Dems promise to work to secure agreement on a global climate treaty at the 2015 UN Climate Conference, while also establishing "a well-financed Green Climate Fund to assist poorer countries to tackle and adapt to climate change".
10. End net deforestation by 2020 & protect the Arctic.
The party has called for an EU and global target of ending net global deforestation by 2020, and want to ensure UK aid goes towards supporting "environmental goals and sustainable investment"  — including maintaining the UK's International Climate Fund and backing climate change deals with developing nations.
And in a move sure to enrage Daily Express readers everywhere, Clegg (or whoever else) would also look to make EU air and water quality targets UK law, and push for the creation of a marine nature reserve in the Arctic Ocean.