Nuclear firm pockets millions in taxpayer money while its staff advise government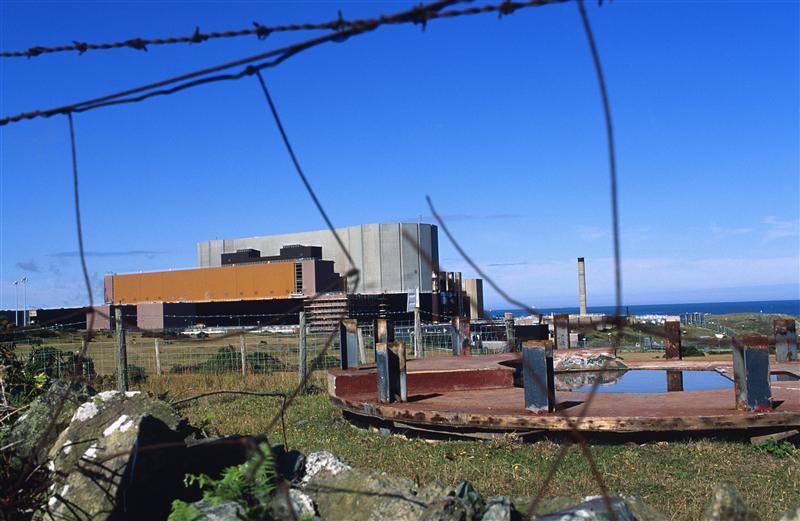 A private consortium that will receive tens of millions in public money on top of a £4.2 billion contract to decommission 12 nuclear power stations in the UK has two members of staff currently advising the government's nuclear, energy and climate change policy.
Cavendish Nuclear, the nuclear arm of engineering services giant Babcock International, and Fluor, a Texas-based engineering group, will get an extra £30 million from the state to carry out decommissioning work. It brings the total budget for this year to £632 million.
In addition to this years top-up Babcock is reportedly demanding money from the Nuclear Decommissioning Authority (NDA) to continue the decommissioning process after it argued that the workload was more than it was anticipating.
In an email to Unearthed, DECC claimed the giant contract "included a 'consolidation period' to enable the PBO to reconcile the bid it submitted in 2013 and against the situation it actually inherited in September 2014.  The new plan emerging from that process is not due to be presented to the NDA until later this year. "
Staff from Cavendish and Babcock have been on secondment to the department of energy and climate change (DECC) since November 2014, according to documents seen following a Freedom of Information request and will remain there through to next year though DECC pointed out the staff do not work at the Nuclear Decommissioning Authority (NDA).
Both secondees, who are not named in the document, are receiving a salary contribution from the government for their work, though DECC did not disclose how much they get.
The secondee from Cavendish advises the government on nuclear development, and will be in post until May 2016. The Babcock secondee advises Decc on oil and energy issues, and will work at the department until November this year.
Babcock made a fortune off the public purse on the back of the coalition government's austerity measures, and links between the company and the British state run deep.
Ministers and senior civil servants at DECC and the Department for Business (BIS) met with Babcock at least twelve times between February 2013 and June 2014. The meetings covered a variety of subjects including nuclear issues, trade and investment and skills.
The company also boasts former senior civil servant, Sir David Omand, as a board member. Omand has served as Director of GCHQ, Permanent Secretary at the Home Office and as UK Security and Intelligence Coordinator in the Cabinet Office, under Tony Blair.
Last month, the Financial Times reported that government efforts to get the private sector more involved in the Ministry of Defence (MoD) led to Babcock posting a 43% rise in full-year pre-tax profits.
Shell, EDF, Centrica  
Representatives from oil companies and the big six energy providers have also been working with the government to come up with energy and climate change policy for more than three years, according to the documents disclosed under FoI.
Employees from Shell, EDF Energy and Centrica, which owns British Gas, have all been on secondments to the Department for Energy and Climate Change (DECC) in recent years.
Shell had two employees taking time out to advise the government on energy resilience and advising on North Sea oil, from March 2012 to May 2014 and February 2014 to October 2014, respectively.
A Centrica employee was a policy advisor working on energy strategy, networks and markets from June 2012 to June 2014. EDF advises the government on civil nuclear emergency planning to this day.
According to a DECC spokesperson: "These secondments help the civil service gain insight and skills from people working in the energy and climate change industries.
"Each secondment is carefully scrutinised to ensure it provides a clear benefit to the department and no secondee would ever be involved in policy decisions or decisions affecting the commercial interests of their employer."
But the practise of having government policy developed by private companies has its critics.
Green Party MP Caroline Lucas, who in the past has spoken out against the use of seconded staff from the private in government, described the evidence in this story as "deeply concerning".
"The news that Babcock staff are writing the rules at the heart of government whilst their company extracts millions of pounds of public money is deeply concerning," she said.
"This degree of access and influence shows we need action to close the revolving door between big business and government."
Job cuts
Cavendish announced that 1,600 jobs would be axed as part of the decommissioning process in May, with trade unions reacting in shock.
Babcock's shares jumped 3% when the government announced it had won the nuclear decommissioning deal in March 2014, which remains one of the largest government contracts ever put out to tender. At that time, there were no secondees from either Babcock or Cavendish at DECC.
One of the bidders for the contract, Energy Solutions, took the Nuclear Decommissioning Authority to court after missing out on the 14 year deal.
A spokesman from DECC defended the deal struck with Babcock: "The NDA remains confident that the final plan agreed with Cavendish Fluor Partnership (CFP)  will represent excellent value for money for the taxpayer and deliver significant savings over the full period of the contract.
"In the meantime, the NDA has increased funding allocations to Magnox Ltd by £30 million to £632 million in FY2015/16 to reflect increased scope this year, such as the additional operating costs associated with extending generation at Wylfa power station until December 2015."
When asked 'what benefits does Babcock receive from having secondees working in government departments?' a spokesperson for the company refused to comment,  and suggested we contact DECC instead.
Along with Babcock, EDF, Shell and Centrica, financial services firms KPMG and Ernst & Young also advised the government from 2014-15.
Gordon Dunfield Prayero from Ernst & Young, who were forced to pay US authorities more than $120m over tax avoidance schemes in 2013, and Miles Bradbury, from KPMG, were both given salaries for their work at DECC.
Dunfield Prayero worked as a business analysis for DECC for 11 months from April 2014 to March 2015. Bradbury headed DECC investor relations department from March to December 2014.
Additional reporting by Lawrence Carter