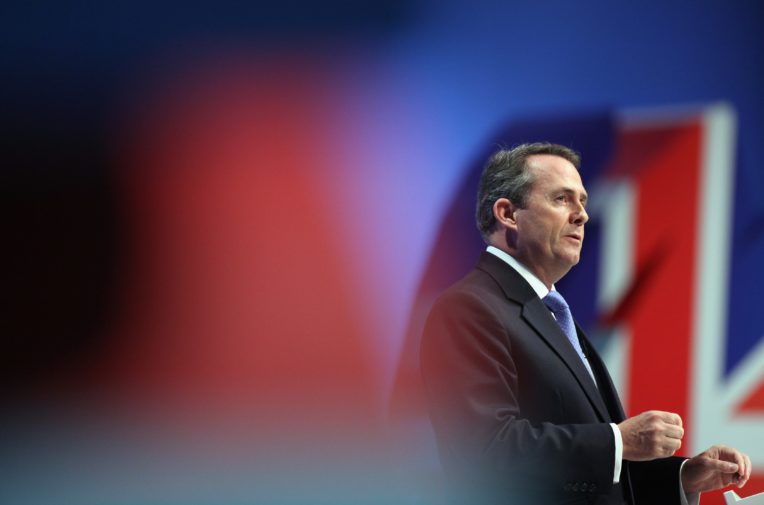 Liam Fox has said the UK needs to be free to strike trade deals with the rest of the world. Photo: Christopher Furlong/Getty Images
Fox's trade department says its analysis of the benefits of a US trade deal is a 'work in progress'
Department for International Trade won't release any of its modelling until after Britain leaves the EU
Fox's trade department says its analysis of the benefits of a US trade deal is a 'work in progress'
Department for International Trade won't release any of its modelling until after Britain leaves the EU
Liam Fox has said the UK needs to be free to strike trade deals with the rest of the world. Photo: Christopher Furlong/Getty Images
The UK trade department is refusing to release any analysis of the economic benefits of a post-Brexit US trade deal, saying it is still a "work in progress".
Trade secretary, Liam Fox, claimed in July last year that analysis by his department suggested that bilateral US-UK trade could rise by £40bn a year by 2030 "if we're able to remove the barriers to trade that we have."
But responding to a freedom of information request by Unearthed, the Department for International Trade (DIT) said it could not disclose its economic modelling on the grounds that "there is limited public benefit in releasing analysis that is not complete".
It added that the department will not publish its analysis of the impacts of a potential US trade deal until after Britain has left the EU.
Shadow trade secretary Barry Gardiner criticised the department's refusal to publish its assessment.
"The Secretary of State is not driven by economic logic but by ideological dogma," Gardiner said. "This is why he refuses to publish any official analysis done by the department."
"Fox talks about increasing trade with the USA by removing barriers. But these so-called barriers include our food safety standards, environmental regulations and animal welfare laws like the ban on chlorine washed chickens, hormone injected beef and genetically modified foods," he continued.
The US commerce secretary, Wilbur Ross, has warned that any deal will be contingent on the UK dropping EU regulations, such as its ban on imports of chlorinated chicken.
The analysis being withheld by DIT could help clarify the extent to which the benefits from any trade deal would be dependent on removing such regulations.
Conflicting assessments
The news comes as Theresa May prepares for a major showdown with the Eurosceptics in her cabinet, who are expected to be asked to approve a draft Brexit deal with the EU this week.
The ability to freely negotiate trade deals with the US and other major economies has been central to the argument of many Brexiteers that the UK would be better off outside the EU customs union.
They contend that the UK needs to be able to scrap EU regulations in order to strike trade deals with countries like the US, something that would not be possible as part of a close customs arrangement.  
In a major speech in February, Fox was emphatic in arguing that remaining in a customs union with the EU would not be worth the UK losing the opportunity to freely negotiate its own trade deals.
Similarly, former foreign secretary, Boris Johnson, said in May that the "massive opportunity" of a US trade deal would only be possible if Britain escaped the regulatory "lunar pull" of Brussels.
But in January an internal government analysis of the impacts of exiting the EU was leaked to BuzzFeed, which found negligible benefits to the UK's GDP from trade deals with the US and other major economies.
According to the assessment, a trade deal with the US would add between 0.1 to 0.3% to UK GDP in the long-term.
The costs of reduced EU market access would far outweigh the benefits of new trade deals though, the analysis says.   
The paper was disowned by then Brexit minister Steve Baker, who said that it "does not yet take account of the opportunities of leaving the EU", adding that civil service forecasts were "always wrong, and wrong for good reasons".
Bypassing officials
During an undercover Unearthed investigation earlier this year, claims surfaced that Fox had turned to the Institute of Economic Affairs (IEA), a right-wing think tank, to ask if they could provide him with an analysis of the GDP benefits of a US trade deal.
Speaking to an undercover reporter in June, the IEA's director general, Mark Littlewood, said: "I went to see Fox a few weeks ago and… he actually said, 'Look, there are five things that my department hasn't researched and I bloody well need somebody to come up with the answers here, because I think it will show great opportunities, you know. Nobody's yet shown how much a US-UK free trade deal could add to GDP, could you guys go and work that out?'"
Littlewood continued: "So we've gone back and said yeah we'll work that out, and so ultimately for some of our research, if the audience is one person, namely the cabinet minister and [he is] likely to do something with it, fantastic".
DIT meeting logs show that Littlewood met with Fox on 5 February 2018, sources at the DIT said the department has not commissioned research on this subject from the think tank.
Last month, Fox referenced IEA research during a keynote speech on trade at Mansion House. He said: "Last month the Institute of Economic Affairs attempted to work this out – and I stress that this is not government analysis. But, where they got to suggested that a 10% increase in the gross value of our exports – currently at £620 billion – could lead to a £50 billion increase in GDP."
A spokeswoman for the IEA said they could not confirm the contents of the recordings without being provided them, however they added:
"IEA representatives will happily meet with any ministers, MPs, policymakers and stakeholders of all stripes and persuasions who wish to speak to us about our ideas and research. Because of the quality of our research, we are asked by policymakers of all kinds for our thoughts and advice on relevant subject areas. We regard this as an indication of the successful pursuit of our mission."
"It would be extraordinary for a think tank to decline these kinds of requests. Whether the policymakers in question take up our ideas is down to them," she continued.  
A DIT spokesman said: "We are committed to an inclusive and transparent approach to trade negotiations and are currently analysing responses to our consultation, which many businesses, interest groups and members of the public took part in."
"As previously set out, the Government will publish its approach to new Free Trade Agreements before negotiations begin," he continued.
According to Gardiner: "Liam Fox is dressing up his Atlantic Bridge agenda as trade policy, and using it to pursue a quick and dirty trade deal with the USA."