Everything you could ever want to know about the Levy Control Framework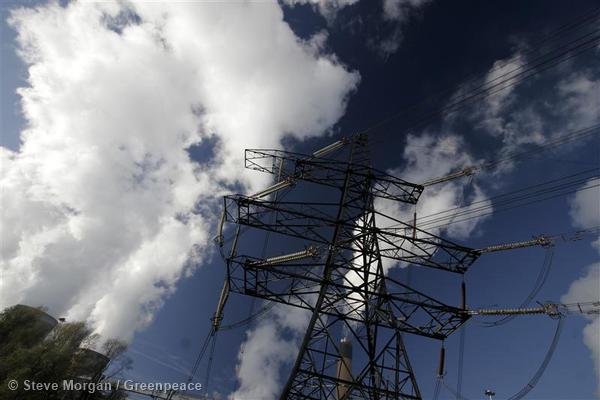 The wrangling is over. Now we know what the government wants to put in the Energy Bill (and that over the Summer, Cameron asked Oliver Letwin to explore ditching our renewables target).
The debate over a decarbonisation target for the power sector may have been kicked into the long grass, but the Energy Secretary, Ed Davey, is still claiming victory. He argues that getting Treasury to agree to lifting the Levy Control Framework cap to £7.6 billion by 2020 will get the investment we need in the short and medium term.
In terms of bills that translates to around £25 now and around £95 by 2020/21, according to DECC.
But what is the Levy Control Framework – and will it be enough to bring about the step change in investment needed to cut carbon and keep the lights on?
What is the Levy Control Framework and how does it work?
The Levy Control Framework, or LCF, is essentially a cap on off-balance sheet spending imposed by the Treasury on the Department for Energy and Climate Change (DECC).
The Treasury argues that just as public spending is restrained by the amount of money raised through taxation, so we should limit the pot of money available for public spending that has been raised through non-tax charges (e.g. surcharges on bills): "to make sure that DECC achieves its fuel poverty, energy and climate change goals in a way that is consistent with economic recovery and minimising the impact on consumer bills".
We need to replace about one quarter of our electricity generating capacity (the most polluting coal-fired power stations and our oldest nuclear plant) by 2020. Companies will be incentivised to do this with money raised from fuel bills. That proportion of your bill is very small now – about 2%, according to the Renewable Energy Association  – but will rise over time.
The LCF, in a nutshell, is a cap on how much money can be levied on bills. This year it was £2.35 billion. DECC has negotiated £7.6 billion in 2020 (in real terms; nearly £10 billion in 2020 prices).
What does the Levy Control Framework pay for?
The LCF covers the Renewables Obligation, Feed-In Tariffs and the Warm Home Discount. When ROCs are phased out in 2017 and replaced with Contract for Difference Feed-In Tariffs, those would also fall under the control framework.
So the LCF puts a cap on the money available for investment in renewables and nuclear power – on paper, at least.
However, no one expects there to be any nuclear power stations before 2020 – and the pot of money has to cover the investment needed to meet our 2020 renewables target. Right now, we get about 10% of our electricity from renewable sources and that needs to rise to 30% by 2020.
We don't know how much subsidy new nuclear reactors will get – that is being negotiated behind the scenes at DECC right now. However, if anyone managed to get a nuclear reactor built before 2020 there would be a lot less money left for renewables, because nuclear would gobble up a big chunk of the pot.
Will there be enough to pay for one new reactor and meet our renewables objectives? That depends on the cost of nuclear, the cost of renewables and how much of each type of renewable gets built.
Is a cap of £7.6 billion worth not getting a decarbonisation target?
That depends whom you ask.
The Liberal Democrats and DECC say yes. Ed Davey hailed today's agreement with the Treasury, saying it will "allow us to meet our legally binding carbon reduction and renewable energy obligations and will bring on the investment required to keep the lights on and bills affordable for consumers."
EDF has welcomed the announcement, which it says is "good news and a significant step toward providing secure low carbon energy for the UK for many years to come".
The consensus seems to be that the amount of money available is good, but the lack of a decarbonisation target is a problem – especially for supply chain companies.
The Committee on Climate Change says the cap "should be sufficient to support investments in renewables required to meet the 2020 EU target and carbon budgets, together with demonstration of CCS and investment in nuclear new build" but warned that postponing any carbon target "could adversely impact on supply chain investment and development of projects to come on line after 2020".
Labour are less than convinced.
Barry Gardiner, who sits on the Energy and Climate Change Committee, said that "by ignoring independent Climate Change Committee's advice to decarbonise electricity by 2030, coalition has consigned UK to climate failure". Caroline Flint, shadow energy, said it was "outrageous" that the target was abandoned on the same day that Ed Miliband committed to it.
There's more feedback on today's announcement on the Guardian's live blog.
Ultimately, the Energy Bill and the measures within it are about giving investors the certainty they need to invest in low-carbon electricity infrastructure.
The petty squabbling over the past few months has probably done more to persuade the private sector not to invest – or to demand a higher level of interest – than could be negated by a firm, legally binding target and a decent pot of money for incentives.
Finally, this is the first time that the government has rejected the formal advice of the Committee on Climate Change. That has major implications too, not least because we are also waiting to hear whether the government will bring international aviation and shipping into our carbon budgets – another CCC recomendation.
Government is free to ignore independent advice, of course. Nonetheless, rejecting a measure that is supported by business, churches, civil society and most MPs in such a public way – and three days before the anniversary of the Climate Change Act – sends a pretty clear signal about which direction the government has chosen to travel in.