Sun rises in the east: China beats global record for solar panel installations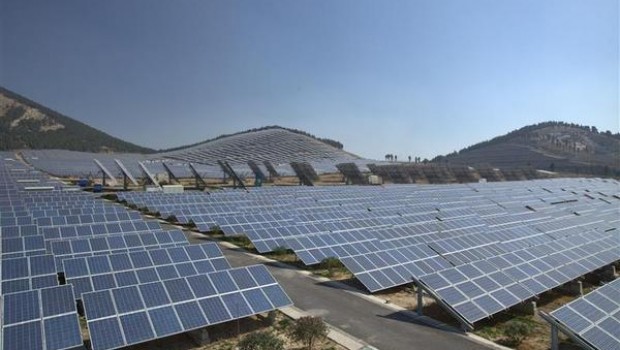 If 2012 was China's year of wind power – when it increased its power output more than coal did, what shines in 2013 is solar.
Data from Bloomberg New Energy Finance suggests China installed 12GW of solar panels whilst the Chinese Renewable Energy Industries Association (CREIA) put the figure at 10.7 GW Chinese media quoting industry sources  reports at least 9.5 GW.
Our analysis suggests that is more than has ever been installed by any country in a single year. It's also more solar than China had installed all the years prior to last year put together.
The news comes as EU renewable ambition appears to stall. Germany only managed 3.3GW of solar installations last year and the EU commission has proposed a largely non-binding and modest renewable target.
China's rapid growth gives momentum to the solar industry. The country has come from nowhere to lead the world in solar installations in a few years. China will have installed at least 2GW more solar than Germany in its heydays from 2010 to 2012.
See also
Data: Chinese solar installations jump
The new data will be boost for the National Energy Administration (NEA)'s push on renewable energy. Back in 2010, China's solar installation target was set at a modest 5GW by 2015. The past three years, however, have seen a leap in ambition.
The target has been increased seven fold, and was set last year at 35GW. The number was described as unrealistic at the time – but may now be achievable. Indeed on the back of this data the NEA can up the targets even further.
It's already started to happen. Last week, at the NEA's annual work session, a 14GW target was set for 2014. According to insiders, that's an upgrade from the 12GW that was originally planned.
Rooftop solar boom?
Getting there will depend on China's ability to unleash its largely untapped distributed roof-top market, the 14GW target will be within reach.
Of the total 17.16GW of solar installed so far, only around 35% of them are roof-top projects. The remaining 65% comes from large-scale land-based solar farms, most of which located in the remote western provinces of China.
That means there is still large potential for German-style solar development in China's urban cities. According to statistics from the energy foundation, China has more than 316 million square meters of good quality south-facing rooftops. These roof-top spaces, which could hold more than 30GW of solar panels, are barely used.
The sun is rising in the east and could shine even higher this year.
Li Shuo is Greenpeace East Asia's climate and energy policy officer