New fracking licenses could include flood plains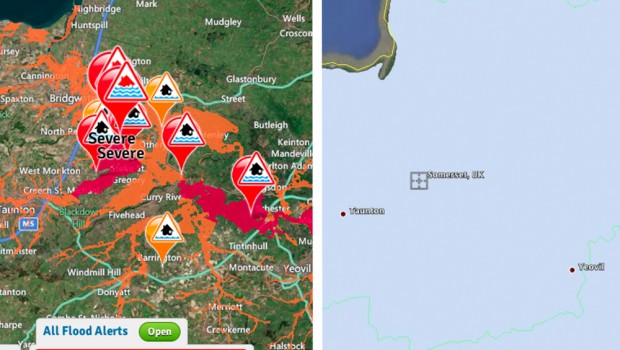 Two maps showing current flood warnings (left) and The area under consultation to be offered for oil and gas exploration (right)
The government is likely to issue licenses to explore for oil and gas across large parts of Somerset as the area continues to be hit by the worst flooding for hundreds of years.
A spokesperson for the Department of Energy and Climate change (DECC) confirmed that the next round of Petroleum Exploration and Development License (PEDL) blocks will be issued 'later this Spring'.
A map of license under consultation by the department includes the Somerset levels and many areas currently covered by severe flood warnings. Studies bythe British Geological Survey published by DECC suggest parts of Somerset may be appropriate for oil or gas extraction though exploration is at a very early stage.
The department has already issued licenses in North Somerset and the Mendips. Welsh shale gas firm UK Methane and Australian partner, Eden Energy sought permission to drill in Keynsham, a small town outside Bath, whichhas recently suffered minor flooding.
Flooding in Colorado showing an oil or gas rig
However the plan to offer licenses further south may increase flood risks. The recently published Strategic Environmental Assessment (SEA) on the 14thonshore oil and gas licensing round noted "flood risk presents a significant planning issue… should the site become flooded during exploratory drilling, production, operation or decommissioning, adverse effects could occur."
Shale gas drilling can involve the storage and local transport of chemicals or contaminated water – though both are normally stored in sealed tanks.
Last year Energy minister Greg Barker had a trip to US re-routed to avoid visiting oil and gas drilling sites in Colorado which had become inundated with flood-waters. The flooding prompted a number of spills from drilling sites though testing did not find large-scale water contamination.
Flood risks would have to be considered as part of an Environmental Impact Assessment (EIA) though the government's planning guidelines suggest it may be prepared to consider developments in flood risk areas – so long as measures are in place to manage risk.
The SEA for the next licensing round notes that "as the location of [actual drilling] sites vis-à-vis areas with a high probability of flooding is unknown at this stage, it has not been possible to determine the likelihood or magnitude of effects on this objective".