Energy Files: Firms told government REDACTED about Ukraine gas crisis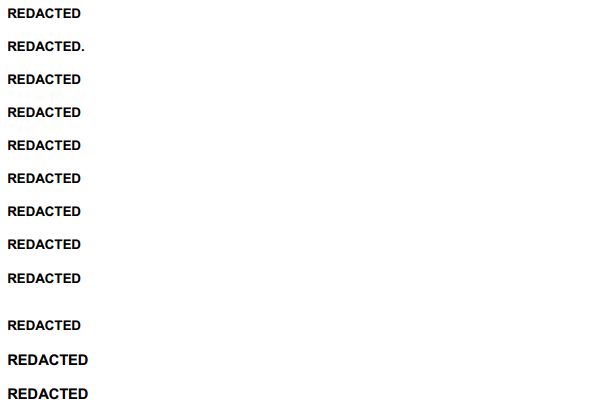 BP, Shell, and British Gas parent company Centrica have been meeting UK secretaries of state and officials from DECC this Spring and Summer as the Russia-Ukraine crisis escalated, according to documents seen by Unearthed.
The FOI responses shows high-level meetings took place ahead of and around the same time as several rounds of US and EU sanctions affecting energy companies.
As far as we could tell from the selectively-redacted emails – which include meeting agendas and briefings – government and European officials have been simultaneously trying reassure  energy companies and extract information from them on their exposure to risk from the sanctions.
British energy giants Shell and BP are both highly involved with investments and joint ventures in Russia.
Most Western oil companies remain keen to exploit oil and gas in Russia, and reports suggest BP it is going full steam ahead despite the sanctions – while Shell is taking a more cautious approach.
Meanwhile, Centrica has a deal with Gazprom to supply 10% of the UK's residential gas demand from 2014.
Unlike many heavily-redacted responses to FOI requests (see our Energy Files series), some of the names of people involved in meetings have been included in this lot – but that doesn't mean the content is too useful – much of the potentially juicy stuff is blacked out, while facts that are basically already in the public domain survive unscathed.
For instance, when the UK's secretary of state for defence and former energy minister Michael Fallon met representatives from BP over dinner on the evening of the 17 March – the first round of Western sanctions against Russian individuals took place in the week of 17 March in response toMoscow's annexation of Crimea. The readout of the meeting was:
In the same week (20 March), secretary of state for energy, Ed Davey, met people working for Centrica. The briefing for the meeting reveals the main intentions were: to reassure Centrica that the department is "working  closely across Whitehall and with industry" as the situation develops. And, DECC wanted to invite Centrica to "set out their views on the risks to GB gas security, both at present and if relationships with Russia continue to deteriorate".
March was only the beginning of the political and energy crisis – friction was building between Ukraine and Russia as Gazprom heavily increased gas prices and threatened to switch off the taps if Ukraine failed to pay up.
We can see is the pattern of similar meetings through the Summer – and the occasional sign of chumminess between the government and oil and gas executives.
US sanctions against Rosneft's chief executive, Igor Sechin – among other energy oligarchs – were announced at the end of April.
And on May 9, Centrica had another meeting where they discussed the Ukraine crisis, this time a one-to-one between the 'managing director' of Centrica [if they mean CEO, this would have been Sam Laidlaw], and Simon Virley, the director general for the Markets and Infrastructure Group at DECC. The main point of this meeting seems to be to allay any anxieties over disruption to European gas supplies through Ukraine, and to invite Centrica's views on the impact of Russia turning Ukraine's gas supply taps off.
On 2 June, Ed Davey met with three people from BP. The briefing he received ahead of the meeting is titled: "Regular catch-up between you and BP." Cosy.
Again, the point of the meeting – sorry, 'catch-up' – was to address BP's concerns, including the key point to tell BP: "[We] appreciate your commitment to adhere to any sanctions". Much of the readout from the meeting was REDACTED but the note remained that Davey "agreed he hoped there would be no further escalation and emphasised the HMG [Her Majesty's Government] position" – and explained the medium and long-term strategies for energy security in the UK. The strategy – which contains altogether nothing unexpected – is described as increased interconnection, energy efficiency indigenous resources (read, fracking) and renewables including nuclear.
Despite the sanctions against Sechin, BP signed a $300m deal with Rosneft to develop shale oil in late May and signed a $1.5bn pre-payment oil supply deal with the Russian oil giant in late June. Plus, the firm also owns a 19.75% share of Rosneft, Russia's second-largest gas company.
Then in late June and July Shell had its turn. Emails reveal a meeting to discuss the Ukraine crisis between Shell personnel and Simon Virley, as well as DECC's permanent secretary Stephen Lovegrove, and DECC's director general for International and Science, Katrina Williams. Again, the agenda sets out a fact-finding mission about how the situation affects Shell's prospects in Russia, including "a third LNG production train at Sakhalin 2" and any new deals on the horizon in Russia, as well unconventional projects in Ukraine.
Following this, a chain of emails on 25 July shows arrangements for Katrina Williams to brief Shell on upcoming sanctions, which were announced by the European Commission on 31 July – which left BP and Shell (among other multinationals) re-considering the upshot of the crisis.
The Russian gas sector was not strictly included from the July round of sanctions but the EU restricted exports of energy-related equipment and technology to Russia. In September, a third round of sanctions EU sanctions came into effect, particularly aimed at hitting the Russian energy sector by cutting off the flow of cash from European financial markets to top energy companies including energy giants Gazprom and Rosneft.
So what does all this actually tell us? Since it's not unusual for govenment to solicit information industry, and we don't know what was sealed under REDACTED that the energy giants said, not that much. But it does seem likely they attempted to deter strong sanctions against Russia that could risk their vested interests – and government was prepared to reassure them. Whether that is actually what happened is — of course — REDACTED.
Additional reporting by Lila Randall