Report: India's planned coal will cause doubling of annual air pollution deaths by 2030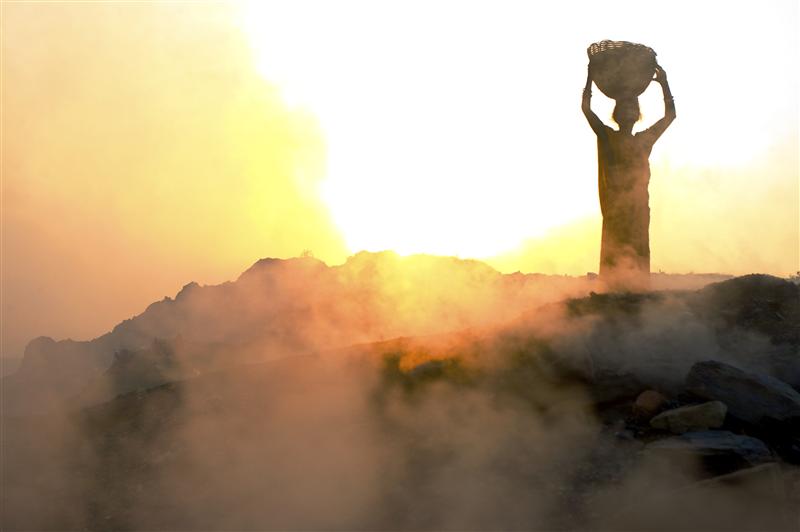 The planned expansion of coal burning in India will double or triple the amount of premature deaths from air pollution by 2030, according to a new report from the Conservation Action Trust and Urban Emissions.
India is already the world's third largest emitter of greenhouse gases; and its coal plant emissions are having significant health impacts.
Figures from 2012 say that 80,000 to 115,000 Indians die every year due to chronic lung conditions, respiratory infections, heart diseases, strokes, bronchitis and trachea and lung cancers.
This report claims that number will rise to between 186,500 and 229,500 annual deaths by 2030, and asthma cases associated with coal-fired thermal power plant emissions will reach around 42.7 million.
Increases driven by coal use
It is expected that particulate matter (PM), sulphur dioxide (SO2) and nitrogen oxides (NOx) emissions will double by 2030 as coal consumption increases 200-300%.
The total installed capacity is expected to increase from 159GW this year to 450GW in 2030 as the government looks to connect more than 400 million people to a grid largely powered by coal.
Burning coal releases SO2, NOX, PM, carbon monoxide (CO), volatile organic compounds (VOCs) and trace metals like mercury into the air. India currently has low standards for limiting SO2 or NOx which cause the most negative health effects.
Mercury has also infiltrated the water in coal mining and burning regions of Uttar Pradesh,and is thought to be the cause of many dozens of child deaths in the state.
The study used a database of proposed coal-fired thermal power plants. Those with a small probability of being built were not included.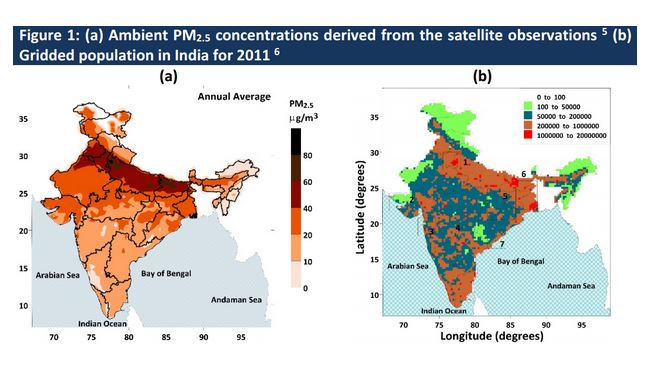 Fine particulate air pollution (PM10 or under, which are particles small enough to enter the bloodstream) is the cause for most concern in most cities in India.
A World Health Organisation (WHO) report has listed the top 100 cities in the world for PM10, which features 37 cities in India in 2014.  This is up from 27 out of 100 in the top 100.
When it comes to PM2.5 Delhi is the most polluted city in the world, at the top of the WHO ranking with 153 micrograms of PM2.5 per cubic metre. The WHO advises that fine particles of PM2.5 should not exceed 10 micrograms per cubic metre.
Thirteen of the 20 most polluted cities in the world are in India; four are in northern-neighbouring Pakistan.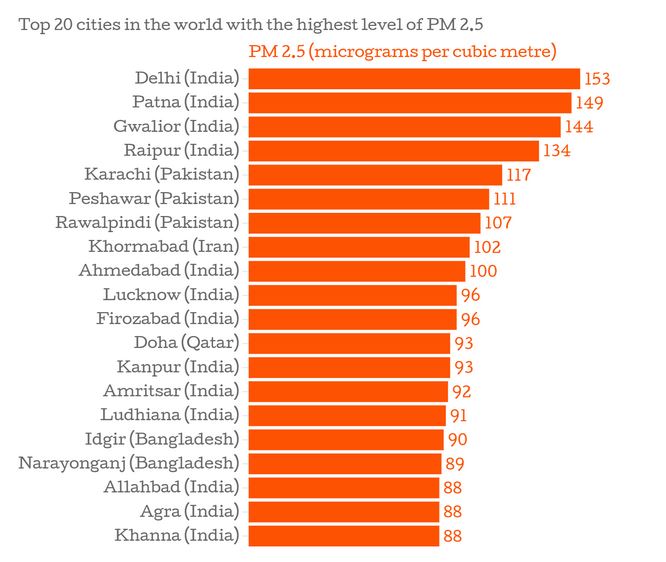 The Conservation Action Trust and Urban Emissions report, "Coal kills: Health impacts of air pollution from India's coal power expansion" also suggests that northern areas of India, where many of the WHO-listed cities are located, are also the most densely populated.  Delhi is the largest with 22 million people.
PM2.5 concentrations are highest in the northern Indo-Gangetic plain, which also overlaps with the highest population densities in India. PM is the only pollutant for which controls are applied within coal-fired power plants, but these are most effective for larger particles, leaving the smaller, inhalable particles to disperse into the air.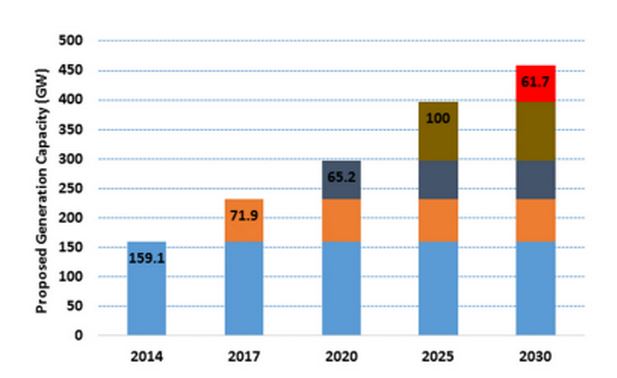 Concerns over a doubling – or even trebling – of coal-fired power plant pollution emerge from the 2014 pledge by the country's energy minister Piyush Goyal for 24-hour electricity for all by 2019.  He estimated $250bn of investment would be needed to achieve this goal, with $100bn to be invested in renewables and $50bn in transmission.
Domestic coal production would also have to double from its current level of 490m tonnes. He ensured robust policymaking for both Indian and international investors in the state-owned mining firm, but Greenpeace research (LINK recent India piece – new site) has revealed that the Coal India investment climate is anything but stable.
India's coal sector had a tumultuous 2014, facing the coal block cancellation scandal and a number of strikes.
Despite this, three-fold increases in coal-fired capacity are expected in the states of Andra Pradesh, Odisha, Chattisgarh, Bihar and Jharkhand – which have significant coal reserves.  A two-fold expansion is expected in Karnataka, Madhya Pradesh, Maharashtra, Punjab, Tamilnadu and Uttar Pradesh.