Revealed: How Poland's coal bailout may break European laws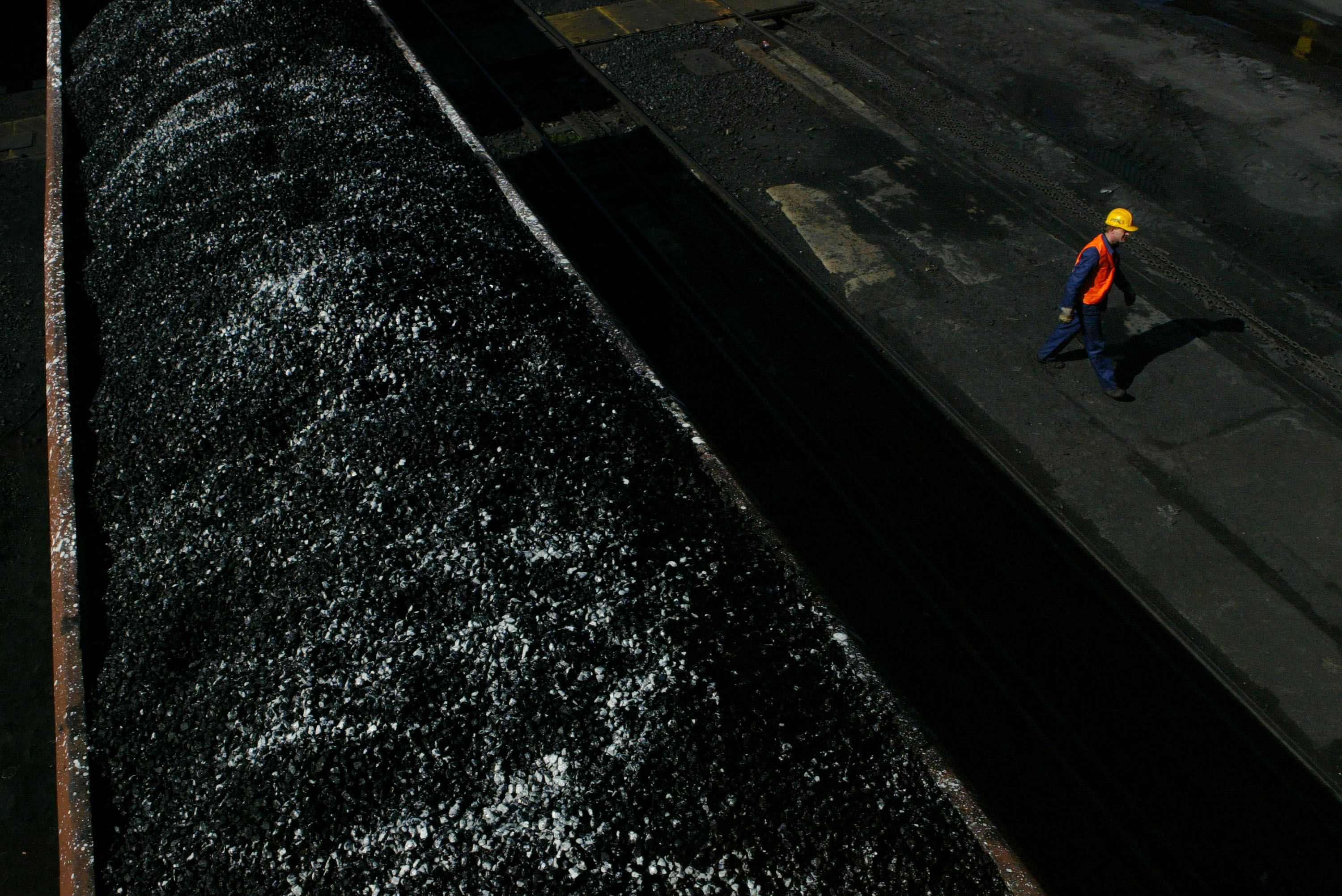 Poland's plan to rescue its troubled coal mining sector may be in violation of European law, Unearthed can reveal.
The Polish government appears to be forcing state-controlled energy firms to buy unprofitable mines in non-market conditions — a move likely to be in breach of two major EU laws relating to state aid and coal financing.
Poland's proposal to unite the "mining and energy sectors", first pitched early this year by the now ousted Civic Platform party and supported by the new Law & Justice administration, may be inconsistent with the EU's Market Economy Investor Principle.
Two of the least profitable mines owned by the country's major coal players have been given public money via a state-funded restructuring company and later offered to state-controlled energy companies.
This defies something called 'The Coal Decision', which holds that state aid can only be provided to mines that are set for 'definite' closure.
Meanwhile the government is strongarming state-run energy firms into covering the debt of bankrupt mining giant Kompania Weglowa (KW), potentially a further breach of the aforementioned market principle.
Polish Prime Minister Beata Szydlo on Friday outlined a new strategy in which the government will buy stockpiled coal from KW in order to provide it with funds to stay afloat for the coming months.
All of this is happening as world leaders meet in Paris to discuss a global deal to curb carbon emissions in order to avoid the worst impacts of climate change.
Polish politicians have threatened to veto any such agreement — because it would likely damage its already imperiled coal sector.
Who's going to pay?
While global coal prices are plummeting and consumption decreasing, the Polish mining sector has lost hundreds of millions of pounds since 2013 — and has been relatively unstable for several decades.
With net loss of 1.69b zl (£280m) in the first three quarters of 2015, coal has become the least profitable industry in the Polish economy.
Around 80% of the country's coal mines are unprofitable, according to a new comprehensive dataset compiled by Unearthed.
Only two mines are privately run.
Close up: Polish coal mining is concentrated in the south-west region of Silesia
The primary owner of the Polish coal mines is the government, and it has no plans to phase out coal — unlike most of the rest of Europe.
Instead, Polish politicians from both parties argue the country's 'energy security' can be only maintained by coal.
85% of power generation in the country comes from coal and 86% of coal produced is sold to Polish energy companies. Innumerous mining trade unions instill fear in politicians over cuts and job losses in the sector.
Major state-owned player Kompania Weglowa (KW) which now employs 35,000 was forced to spend 4b zl (£660m) on its unprofitable mines between the years 2011 and 2014.
Three out of 14 were competitive one year ago; only one is today.
Someone has to pay the industry's gargantuan 15b zl (£2.5b) debt, but it's not going to be the mining companies themselves since they are creating further debt — they lose an average of 34 zl per tonne of coal produced.
Access our Polish coal mine dataset here
Goodbye Lenin
When the coal crisis hit hard at the end of 2014, the Polish government began efforts to save KW from bankruptcy.
In the Soviet era the solution would have been easy: donations from the state budget. But EU Member States are not allowed to provide state aid, or "an advantage in any form whatsoever conferred on a selective basis to undertakings".
A law dubbed the Coal Decision regulates the exceptions in which a country can support its coal sector, and Poland has previously used it to get permissions to do just that. Most recently the state was allowed to donate 2.45b zl (£400m) between 2011 and 2015 — but only to mines closed before 2007 (since the EU is trying to gradually phase out carbon).
And it turns out liquidation is not cheap — besides the actual closing process, funds are still required to provide compensation for redundant or retired workers.
No time to wait
So the government decided to split the unprofitable KW units from the competitive ones and transfer them to a state-owned restructuring body called SRK tasked with closing mines.
In January of this year the Polish government amended a national bill on coal mining, in effect permitting state aid to mines closed before 2016 (before it was 2007). It then started discussions with the European Commission on the changes made but approval has still not been confirmed nor denied.
Meanwhile by October 2015, 207m zl (£34m) was given to SRK for the "restructuring of new mines", including covering production losses, provision for workers leave and liquidation tasks.
The Coal Decision only allows covering current production losses for mines planned for "definite" shut down before 2019. Which some of these aren't.
To close or not to close
Pitmen in state-owned mines went on a ten-day strike early this year in response to PM Ewa Kopacz's proposed reconstruction plan for KW, in which she suggested closing the four least profitable mines and selling a few to coal trader Weglokoks.
With an election imminent, the government stepped back on the plan and kicked off the new idea of "uniting mines with energy sector".
The closure of unprofitable mines quickly became no longer "definite". Between May and July 2015, six uncompetitive mines owned by KW and Katowicki Holding Weglowy (KHW) were transferred to SRK and four of them did indeed cease production. The two least profitable mines, employing 3,500 between them, however, were offered to energy companies.
A week before the October election, the government rushed to sign several major agreements in a bid to save its failing campaign following months of unfulfilled promises to miners.
Is it state aid?
Four major energy companies in Poland (PGE, Tauron, Energa and Enea) are publicly traded but state-controlled, with 30 to 58% of shares owned by the treasury.
Another European law principle called the Market Economy Investor Principle suggests state-controlled companies such as these can only make investments that are economically viable and on terms acceptable to a private firm in a market economy.
Well the Polish media has produced a load of reports explaining how viable "uniting energy and mining is".
Here are a few facts that suggest it's not.
Tauron
Energy provider Tauron paid SRK 1 zl (£0.17) to buy Brzeszcze mine, the least financially viable out of all of KW's mines, having lost 280m zl (£46m) in 2014.
The company will have to invest 185m zl (£30m) into the unprofitable mine. Several weeks before the acquisition, Tauron's president – who reportedly opposed the move – was fired.
Ten years ago Tauron acquired two other KW mines, but there remain questions over whether the purchase ended up being profitable. Tauron's mining lost 107,5m zl (£18m) in the nine months of 2015.
PGE
In October energy giant PGE signed a letter of intent to buy Makoszowy, the second worst mine  — but, acknowledging the market and legal conditions, hasn't yet announced its final decision.
The new Law and Justice government plans to involve PGE, alongside Energa, PZU and PGNiG, as the main financial saviours for the rest of Kompania Weglowa. Part of their shares will be transferred to a state fund TF Silesia which will also absorb KW.
This will be the second attempt to feed money into KW via TF Silesia, while the initial programme didn't go ahead in September after the European Commission signalled it would investigate the legality of public aid.
Enea
Also last month Enea bought 70% shares of Bogdanka, the most profitable mine in Poland, for 1.48b zl (£245m), roughly equal to the entire coal mining sector's debt in the first half of 2015.
That ended the five-year-period in which the mine was privately owned, and became so successful.
Both mining trade unions and the newly-elected nationalist party oppose privatisation of mines.
Polish media have speculated that Bogdanka was sold under the condition that Enea will invest part of the acquired shares into the loss-making KHW, whose shares were transferred to the treasury on 22 October.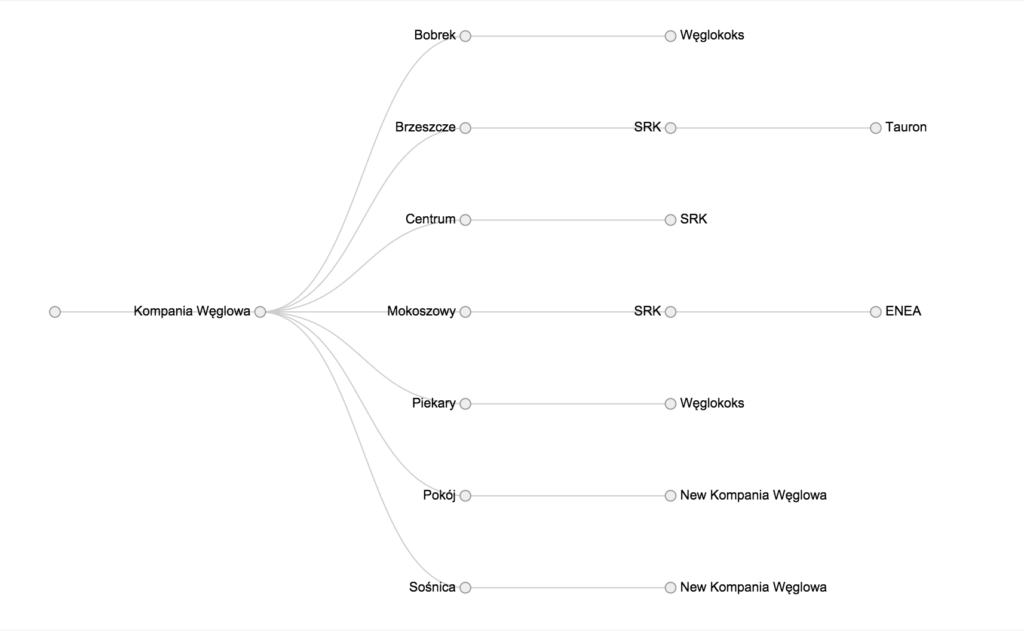 After the "viable" announcements this autumn, local stock prices of Polish energy companies fell dramatically by 25 to 37% since January, despite government's new promise to introduce a coal energy market stabilisation law (effectively facilitating state aid for buying coal companies).
Do those sound like market conditions to you?