Investigation: Government planning thousands of new homes to be built in flood zones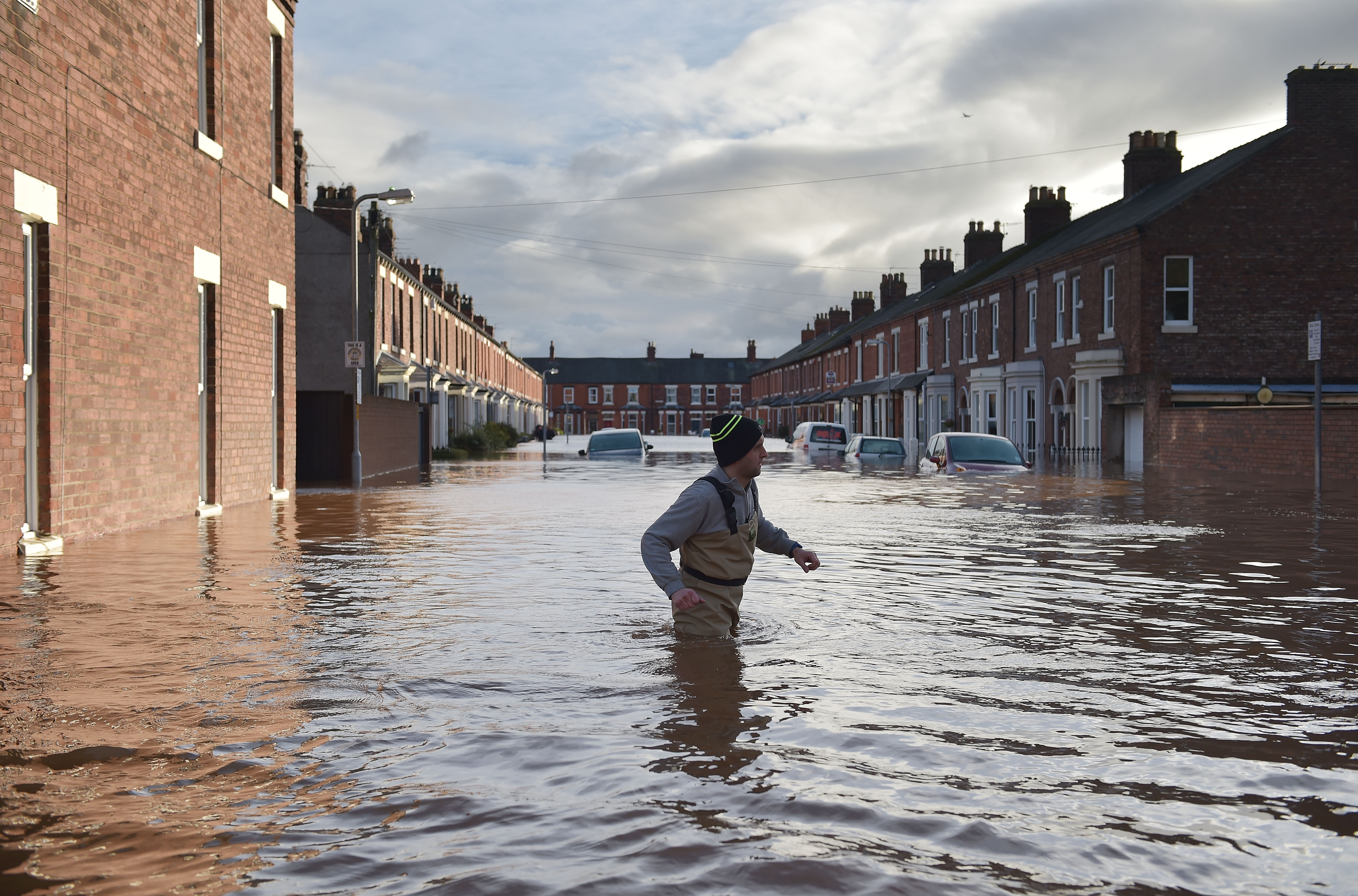 FOIs reveal environment agency staff working on flood issues and advising on flood risk cut
Nearly half the areas earmarked for fast-tracked housing development by a flagship government scheme are at significant risk of flooding making thousands of homes potentially uninsurable, according to a Greenpeace investigation.
Recent heavy rains are already hitting some of the areas earmarked for new projects.
In Yorkshire there are flood warnings along the River Ouse in zones ministers have allocated for major new homebuilding, while in Wakefield areas near to proposed developments were underwater last month – according to research undertaken by Greenpeace.
Last year another area targeted in the plans, Hinkley in Somerset, was almost completely inundated by flood-waters and the investigation revealed similar concerns at other sites across the country.
Earlier this year Chancellor George Osborne announced a flagship housing scheme which saw 20 brownfield sites around the country designated as new "housing zones"- with local councils given access to money and experts to expedite the building process.
However information revealed through Freedom of Information requests revealed that the number of people employed by the Environment Agency to work on Flood and Coastal Erosion Risk Management fell by 230 in the last three years.
The agency plays a key role advising councils on flood risk.
The planned homes would also not qualify for the government's forthcoming flood-insurance scheme – because they are built after 2009 potentially leaving homeowners vulnerable.
The news comes amidst a growing controversy over delays in the construction of flood defences for existing homes in areas hit by flooding.
 9,000 homes at risk
Greenpeace UK has used information obtained through FOI to plot the location of these housing zones, and cross-referenced this with flood risk maps from the Environment agency. We found:
Of the 20 zones planned, nine were fully or partially exposed to serious risk of flooding from rivers or sea (Flood risk 2 (medium probability) or 3 (high probability)).

Of the nine, six areas overlapped with high probability flood risk zones meaning they had

a 1 in 100 or greater annual probability of river flooding; or a 1 in 200 or greater annual probability of sea flooding.

Around 9,000 new homes are planned in the areas now identified as being partially or fully at risk from flooding.
 Recent flooding
Indeed even those areas not at risk on the Environment Agency's maps could still be in danger. One zone not marked as 'at risk' is planned for Ashchurch, Tewskbury- an area that has seen flooding hit in the past week.
 Many of the housing zones in the government's scheme are in areas that have flooded within the last five years, and several of the councils overseeing the projects have already paid out hundreds of thousands of pounds in grants and council tax relief to local flood victims.
Mary Dhonau OBE, a flood campaigner, told Greenpeace: "No developer in their right mind would build a house in the middle of the river so why build it where we know the river will be when the floods come? It's setting people up for misery."
"In the light of the appalling floods we've seen in Cumbria, coupled with the threat that climate change brings – it has never been more essential that new homes are not built where there is a risk of flooding".
The findings – which do not take into account increased flood risk from climate change – back-up a report by the government's climate advisory body the Committee on Climate Change (CCC) which warned "each year 1,500 new homes are built in areas of high flood risk and 3,100 homes per year in areas of medium flood risk."
Taking climate change into account the CCC warned: "New development will add to future flood protection costs and result in flood events causing more damage."
Insurance
Now experts warn that if these plans go ahead they could leave thousands of homeowners unable to get insurance.
The new builds would not qualify for the government's planned new flood-insurance scheme Flood Re.
Those responsible for the Flood Re scheme, which is due to be implemented next year and will spread the costs of insurance for houses in high risk areas, confirmed to Greenpeace that properties built after 2009 will not be covered by the scheme.
That would leave homeowners reliant on commercial insurers who may choose not to cover homes built in flood zones or only offer insurance at prohibitively expensive rates.
Cuts in flood support
Figures obtained by the investigation also revealed a 5% cut in staff working on flooding at the UK's flooding regulator – the Environment Agency over the last three years.
In the same period the rate at which the Environment Agency objected to planning proposals has dropped slightly – from 23% of all applications seeing objections in 2013 to 21.6% this year.
According to the National Audit Office funding for the Environment Agency fell 10% in real terms during the last government.
Meanwhile, further cuts to those tasked with giving building advice on flood risk areas may be on the horizon.
The latest cuts to budgets from the Chancellor's most recent Spending Review have not yet been fully outlined. However, it is known that DEFRA's day to day spending has been cut by 15% and the department said it would cut £123m from its administration budget.
Spending on flood defences fell by 14% this year after particularly high spending in 2014 following the flood in winter 2013/14.
Flood defences controversy
Capital spending on new flood defences was protected at £2.3bn for the next six years.
Earlier this week environment secretary Liz Truss told parliament "In the last Parliament there was a real terms increase in the investment in flood defences and in this Parliament there will be another real terms increase in spending.
"We are investing £2.3bn in 1500 schemes throughout the country that will better protect 300,000 homes and the Spending Review has also confirmed that we're protecting flood maintenance spending throughout this Parliament as well as capital spending."
However DEFRA still haven't confirmed what revenue or maintenance spending will be made available for the next five years- in other words, what will be spent on maintaining existing protection and where it will be spent.  
Areas at risk
The government's housing zone scheme aims to help build 200,000 new homes across the UK.
However our investigation reveals many of those are at serious risk of flooding with questions over the level of likely flood defences at a local level.
Around 1,000 homes are planned for Hinkley, Bridgwater in Somerset, one of the areas that was inundated in the floods of 2014. Those floods were labelled a "major incident". The local district council has paid out more than £280,000 in grants and tax relief to flood victims in the last three years.
When we looked at the planned housing area on the Environment Agency maps it was almost entirely within Flood Risk 3, the highest band.
A spokesperson from the council told Greenpeace: "much of the district is at potential flood risk. Bridgwater is the most sustainable location for new development but even here, most of the land to the east of the River Parrett is at risk from tidal flooding."
The council is now looking into new flood defence systems on the river.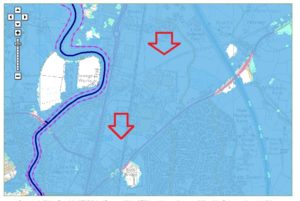 In Poole, the area designated for new housing is already at threat from flooding. Plans were approved to build 1,350 new homes on the site of a former power station.
The council has undertaken mapping which builds in climate change projections for flooding in the area in around 100 years. According to those maps parts of the new housing site would be at risk of anywhere from 1 to 4m deep water during flooding periods.
Now the scheme now appears to be in chaos, after an application was suddenly withdrawn.
Similar projections may reveal further future problems around the country but national maps showing climate change potential have not been made publicly available by ministers.
Another of the areas identified for new building is in Greater Gainsborough in Lincolnshire. At least 750 houses are planned in 15 sites around the towns of Gainsborough and Morton – however those in Morton are at high risk of flooding (Flood Risk 3) with no defenses.
The borough council that is responsible for Morton has seen its flood prevention budget drop by 24% compared to last year.
Last year in June the council there was forced to hand out sandbags after heavy rain resulted in flash flooding. The area is so prone to floods that a main thoroughfare out of town is known as the Flood Road.
Lincolnshire County Council, home to the housing zone, admitted it does not have a revenue budget for the maintenance of flood defences. The district council with responsibility for the area has paid out £2,223.82 in council tax breaks.
The council has already received £80k of revenue funding from central government to produce a Local Development Order to move ahead with the planning.
In Wakefield, Yorkshire town planners are pushing forward plans to develop 1,200 new homes in a development on the banks of the Aire river, near to the town of Castleford. Last August, Castleford flooded and, according to local news reports, was under around five foot of water. Motorists had to be rescued from submerged cars.
The planning document for the Castleford site, seen by Greenpeace, notes: "The area to the north of the railway line, which includes most of the key development sites, is subject to the risk of flooding. Whilst this does not restrict development, flooding issues will need to be alleviated or mitigated, which will impact upon development costs, usage and overall densities, therefore having a negative impact on viability."
Climate risk
Last month the Environmental Audit Committee presented their 2nd Special Report on Climate change adaptation to parliament. In it they said: Despite the clear flooding risks of building on floodplains, this continues" and noted that "only a minority of Lead Local Flood Authorities have produced the required flood risk management plans".
 Lord Krebs, Chairman of the Adaptation Sub Committee of the Committee on Climate Change, told Greenpeace:
"Continuing to allow development in areas of high flood risk increases the costs of future flood protection and means more flood damage when defences are overtopped. Even if the Paris talks make good progress, and warming is limited to below 2°C, investment in flood protection will need to increase and our towns, cities and countryside adapted to be able to cope with heavier rainfall. This process has yet to begin in earnest."
An Environment Agency spokesperson said: "The Environment Agency continues to comment on all proposals for major development in areas that are at medium or high risk of flooding from rivers or the sea.
In the majority of such planning applications, our flood risk advice is taken on board by Local Planning Authorities.
Last year over 98% of applications for new homes were decided in line with Environment Agency advice."
A Government spokesman said:
"This Government takes flood risks extremely seriously and we are investing £2.3bn in flood defences over the next six years, as well as protecting flood maintenance spending in real terms over this Parliament.
"We have put in place strong safeguards to stop inappropriate development in areas at risk of flooding, and are delivering the homes this country needs by taking forward plans to build homes on suitable brownfield land.
"The Environment Agency provides advice on whether or not to grant permission, but final decisions rest with local authorities."