Investigation: Brexit campaigners could see millions in taxpayer handouts guaranteed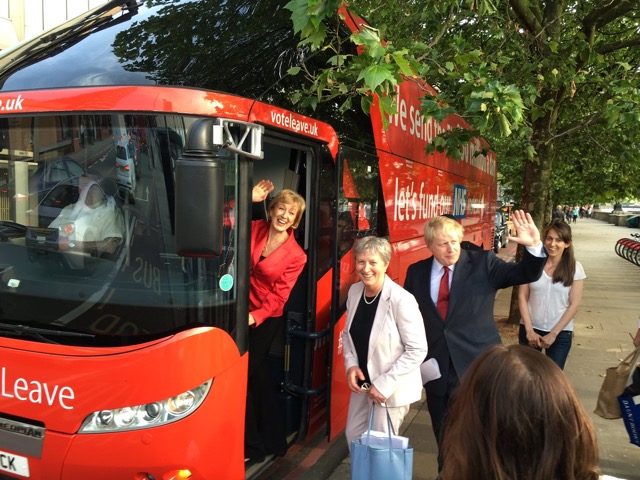 Leading campaigners for Brexit could benefit from a promise by the new environment secretary, Andrea Leadsom, to guarantee millions of pounds in farm-subsidies post-Brexit.
The promise, made by Leadsom to the Countryside Alliance in July, appeared to guarantee that the controversial single farm payment would continue at current levels, if she were elected leader.
The pledge was designed to shore up support in rural areas and means that supporters and donors of Vote Leave could benefit from large pay-outs to their estates, including JCB owner, Lord Bamford; vice-president of Conservatives for Britain, Viscount Ridley; and Sir James Dyson.
Leading figures in the Vote Leave campaign, of which Leadsom was a member, made a similar promise prior to the referendum.
It means many landowners may find their income protected from the costs of Brexit at a time when public services are under financial pressure.
£4 million in payouts 
Prominent Brexit campaigners received over £4 million in EU farm subsidies in 2015, Unearthed can reveal.
Others currently benefiting from the scheme include Daily Mail editor Paul Dacre and farming minister George Eustice. 
Iain Duncan Smith does not benefit directly but resides on the grounds of Swanbourne Estate, owned by his parents-in-law, who last year received £134,309 in CAP payments.
The subsidy, which forms part of the EU's Common Agricultural Policy (CAP), has been heavily criticised in the past for transferring wealth from the general public to rich landowners, including the Queen, aristocracy and billionaires from Denmark and Dubai.
Although the payments do play a crucial role in supporting family farming across the UK, the majority of the money is paid to large landowners.
Last year £2.3 billion was paid out to British farmers and landowners in so-called single farm payments (also known as direct payments), which are paid per hectare of land that you own, rather than for the amount of food you produce or for environmental and habitat benefits.
It has been claimed that 80% of these payments go to around a quarter of landowners – those with the biggest land holdings.
If these payments to large landowners are maintained after Britain leaves the EU, they will be funded directly by UK taxpayers.
Brexit promises
Leadsom guaranteed to maintain the current level of direct payments during her campaign for the Conservative leadership.
Strong performance by @andrealeadsom @andrea4leader 1922 Ctte Hustings. The only candidate who guarantees current level agricultural support

— Owen Paterson MP (@Owen_PatersonMP) July 6, 2016
When asked by the Countryside Alliance if current levels of single farm payment support for farmers would be maintained, she replied on July 7 that: "I have made it clear that I will guarantee the current level of support under a UK Agricultural Policy".
Vote Leave, of which Leadsom was a member, also promised that the subsidy would be retained, until at least 2020, with some suggesting the structure would remain exactly as it is currently.
Boris Johnson told the Treasury select committee that "all farmers will continue to receive the current levels of subsidy […] it would be at the level that they currently enjoy and that level of support would be perpetuated".
Significantly, a letter sent to the Telegraph in March organised by Farmers for Britain, which was led by George Eustice, said that the subsidy would be maintained or even increased post-Brexit.
Signatories to the letter included Viscount Matt Ridley, a vice-president of Conservatives for Britain and Tory peer, who received £302,428 in subsidies in 2015.
When contacted for comment, a spokesperson for the Department for Environment said:
"The Secretary of State has been very clear that we now have an unparalleled opportunity to make sure all our policies are delivering for Britain and to grow our world-leading food and farming industry.
"She has underlined the need for continuity for farmers and is looking forward to working with industry and the public to develop new proposals that provide tailored support for our agricultural industry as we leave the EU."
Viscount Ridley told Unearthed:
"The Blagdon estate is a business supporting jobs in Northumberland. All CAP subsidies received by the Blagdon estate are re-invested on the estate, including in environmental conservation such as the creation of new flower meadows, new hedgerows and new environmentally friendly field margins, for which the estate has won awards."
"In campaigning for the UK to leave the EU I was arguing in the broader public interest, and against my own immediate interest."
Tory donors
Adding to the headache for Andrea Leadsom, a number of Conservative party donors are recipients of CAP payments, including donors to both herself and George Eustice.
Last year Eustice received a £5000 donation from Stalbury Trustees, a group of aristocrats including the Marquess of Salisbury, who have given over half a million pounds to the Conservative Party since 2001.
Estates linked to the Marquess of Salisbury, a former Conservative minister, received at least £280,913 in farm subsidies last year.
Similarly, Andrea Leadsom received a £5000 donation to her 2010 election campaign from Corran (Wakefield) Limited. This company is owned by Julian Richmond-Watson, who also owns Wakefield Farms, a recipient of £476,150 in payments last year.