Who is Scott Pruitt? Donald Trump's pick to run the EPA — in his own words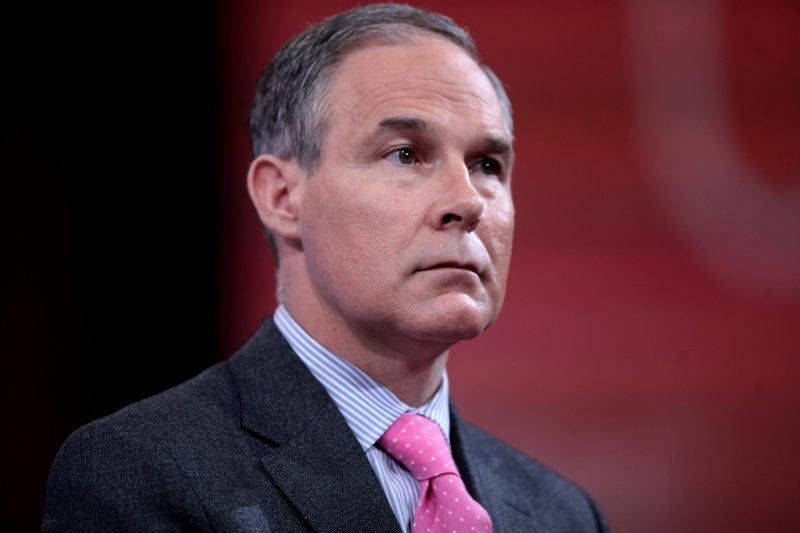 This blog is a crosspost from Greenpeace USA
Firmly eliminating any notion that he would maintain an "open mind" on climate change, President-elect Donald Trump has chosen a climate denier and fossil fuel shill for one of the top environmental positions in his administration.
Scott Pruitt, Attorney General of Oklahoma since 2011, is a favorite of the oil and gas industry and outspoken opponent of the Environmental Protection Agency (EPA) doing basically anything at all.
Like the rest of Trump's disaster of an energy team, he shares the president-elect's catastrophic views on climate change. And like Trump, he's been quite vocal about those views:
1. He claimed the science of climate change is 'far from settled'
https://twitter.com/AGScottPruitt/status/732686544792899585
In an editorial in the conservative magazine National Review, Pruitt railed against President Obama's efforts to reduce carbon emissions from U.S. power plants.
In it, Pruitt falsely claims that scientists "continue to disagree" about the science of climate change and that those who deny the science of climate change are having their right to "dissent" violated.
It is 2016 and we should not have to keep saying this, but climate change is real. Ninety-seven percent of scientists agree that human activity and reliance on fossil fuels is warming our planet. And whether you "believe" the science or not, we will all be suffering the impacts of climate change, even more so if Trump refuses to act during his presidency.
2. He said that if climate 'skeptics' can be prosecuted for fraud, so can 'alarmists'
https://twitter.com/AGScottPruitt/status/743832634111983616
Let's take a moment to translate that tweet, because what it really says has nothing to do with the rights of so-called climate "skeptics" to equal treatment under the law.
By "skeptics," Pruitt is referring to oil companies like Exxon — under investigation for fraud in New York and Massachusetts — who executed a decades-long campaign to seed doubt about the science of climate change after their own scientists discovered the truth as early as the 1970s.
By "alarmist," he's referring to the millions of people worldwide — including every single world leader except his new boss — who accept the science of climate change and want to see action to prevent its worst impacts.
And by "prosecute," he means that the oil industry and the politicians in its pocket will do everything in their power to see that companies like Exxon are not held accountable to people like you and me for their role in creating the climate crisis. In fact, that's exactly what he's done with the Republican Attorneys General Association, which has acted as a roadblock in the legal investigation into Exxon's climate denial at every step of the way.
3. He's campaigned against states complying with Obama's Clean Power Plan
President Obama's Clean Power Plan was a hallmark of the president's climate legacy, setting the first federal limit on carbon pollution from existing power plants and seeking to reduce that pollution by 30 percent over 2005 levels. Obama's EPA estimated that it would save Americans billions of dollars in public health and climate-related costs by 2030.
Pruitt hated it so much that he sued the EPA — the agency he'll be in charge of on January 20, 2017 — to try to block it and encouraged other states to join him.
And behind closed doors it gets worse
Trump's nominee to lead EPA, Scott Pruitt, is a climate denier who's worked closely with the fossil fuel industry. That's sad and dangerous.

— Bernie Sanders (@SenSanders) December 7, 2016
Pruitt's public statements on climate and energy are frustrating (to say the least) for anyone who understands basic science. But it's what he hasn't said that's even worse.
In 2014, Pruitt was caught in a secretive alliance with oil and gas industry insiders aimed at tearing down environmental protections. Emails obtained by the New York Times show Pruitt and other Republican attorneys general collaborating with corporations and lobbyists to file lawsuits and challenge federal regulations on everything from fracking to air pollution.
One of those fossil fuel insiders was Harold Hamm, Trump's top energy adviser and CEO of the country's largest fracking company. Hamm would go on to chair Pruitt's 2013 re-election campaign. More recently he's made news as one of the biggest proponents of the Dakota Access Pipeline; it's his company's fracked oil that would have flowed through the pipeline if it had been completed.
Meanwhile, Pruitt has received $318,496 in campaign contributions from the fossil fuel industry since 2002, leaving little doubt about whose interests he'll protect as EPA head — and it's not people or the environment.
Ryan Schleeter is a producer for Greenpeace USA