British Gas owner Centrica funding climate denial group linked to Trump
The UK's biggest energy company, Centrica, has donated tens of thousands of dollars to a Texas-based climate denial think tank strongly linked to Donald Trump's new energy secretary Rick Perry, Unearthed can reveal. 
Centrica, which owns British Gas and is a major investor in UK fracking, has made a number of donations to the Texas Public Policy Foundation (TPPF) over the last five years and says it has no plans to stop.
When contacted by Unearthed, Centrica refused to disclose the total sum that it had donated to the group. But a leaked 2010 donor list reveals that its US subsidiary, Direct Energy, was among the TPPF's largest donors that year with a payment of $20,000.
Other donors in 2010 included ExxonMobil, Chevron, the Koch brothers, Devon Energy and a host of other energy companies and climate sceptic funding bodies.
The Austin-based think tank has played a central role in the US climate denial movement, which is now poised to take control of energy and environmental policy under Donald Trump.
Centrica has previously sought to position itself as corporate leader on climate action. 
In its last annual report the firm boasted: "We are also making an important contribution to address big issues in society related to energy: from energy pricing and vulnerability to energy security and climate change."
Responding to the news, Caroline Lucas MP told Unearthed: "For a company that has claimed to be at the forefront of action on climate change, it is simply astounding that Centrica is donating money to climate deniers." 
"Now that these links have come to light, we need a clear commitment from Centrica to end all further donations. It is shameful that one of our largest energy companies is linked to this reckless and irresponsible organisation, and I hope an apology will be issued shortly."
Ties to Trump
The TPPF holds strong relationships with leading Republican politicians, including former presidential candidate Ted Cruz, who was a senior fellow at the organisation, and new energy secretary Rick Perry.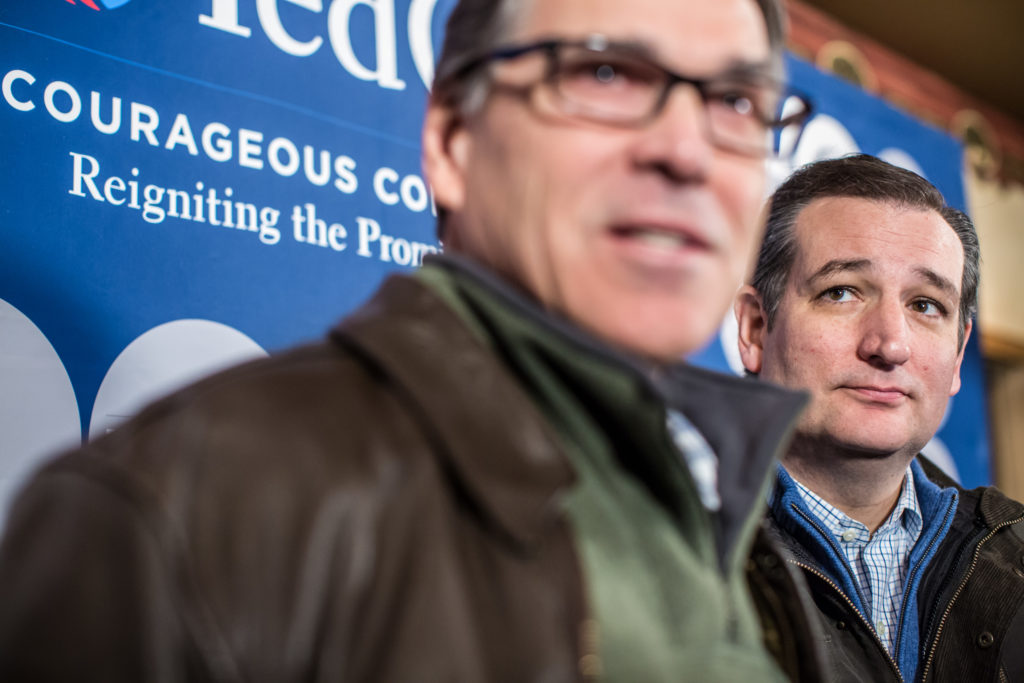 Perry published his 2010 book, Fed Up! Our Fight to Save America from Washington, with the TPPF, using his author's note to praise the think tank for its role in fighting the "perils of environmental policy based on the hysteria of global warming."
The think tank's ties to the new Trump administration also include Doug Domenech, who is leading Donald Trump's department of interior transition team.
Domenech, a former department of interior staffer under George W. Bush, leads the TPPF's "Fueling Freedom" project, which aims to "end the regulation of CO2 as a pollutant" and collaborates with the Heritage Foundation to organise an annual climate sceptic energy summit in Washington D.C.
This year's event was attended by prominent sceptics, including Senator Jim Inhofe, Willie Soon and Professor Will Happer, who was caught in an Unearthed undercover sting last year agreeing to hide the fact a fossil fuel company would be funding his research on the benefits of CO2.
Centrica's donations
Centrica has refused to disclose how much it has donated to the TPPF but admitted that it continues to do so and has no plans to stop the payments.
According to the Guardian, the company's most recent donation was of a similar size to the $20,000 payment in 2010. 
A Centrica spokesperson told Unearthed: "Centrica has a clear position on climate change and we believe in the need to take material action to reduce the effect of fossil fuels on climate change."
"The TPPF is a non-profit research organization and cannot by law lobby the Texas government or any governmental institution.  We share some of their views on the benefits of a well-structured retail electricity market to help consumers get the best possible price and product, fair tax policy for families and businesses, strong schools, quality health care and safe neighborhoods for our customers and employees."
When asked if Centrica felt it had been a mistake to donate core funding to a think tank so at odds with its views on climate change, the spokesperson said: "We do not make contributions to any organization to advocate specifically for a position on the environment. We believe the science on climate change is absolutely clear."
Nick Surgey, Director of Research at the Center for Media and Democracy in the US, told Unearthed:
"For decades, the U.S. climate change denial movement has been backed by millions of dollars in secret funding from the fossil fuel industry. Over the past eight years climate denial had been fading in the mainstream, increasingly pushed into the shadows of US politics. But fossil fuel funding for groups like TPPF had continued, mostly in secret, and they are now moving into a position of power and influence."
"With the election of Trump, the deniers are finding themselves with greater access to the incoming administration than they have had for years, possibly more than they have ever had. TPPF presents itself as an independent quasi-academic think tank. It is actually one of the more extreme climate change denial groups in the United States, promoting disinformation about the threat of climate change to the benefit of its corporate funders."
The Texas Public Policy Foundation failed to respond to a request for comment.