Frontrunner for Trump science advisor post agreed not to disclose fossil fuel funding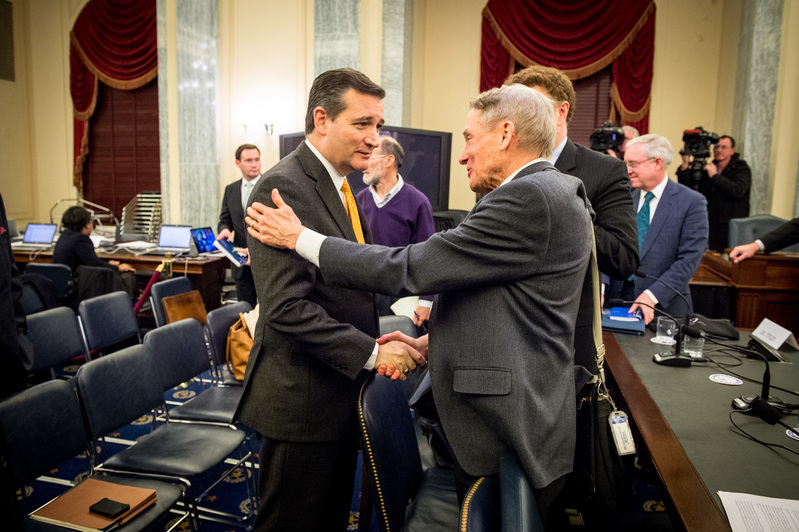 The rumoured frontrunner for the role of Donald Trump's scientific advisor is a prominent climate sceptic who was previously caught in an undercover Unearthed investigation agreeing to conceal fossil fuel funding of his research.
Professor William Happer, a Princeton University physicist, met with Donald Trump in January to discuss the role of science advisor and says he will accept it if offered.
ProPublica reports that he is on a shortlist of two for the role as director of the Office of Science and Technology Policy in the White House.  
The Unearthed sting further revealed Happer's concerns over submitting his climate research to the academic peer review process.
Happer is a leading climate sceptic scientist who believes that increased levels of CO2 will benefit the planet.
He holds positions at two think tanks that challenge the science of climate change, including a seat on the academic advisory council of the UK's Global Warming Policy Foundation.  
Want stories like this in your inbox once a week? Sign up here
The Office of Science and Technology Policy provides the President "with accurate, relevant, and timely scientific and technical advice on all matters of consequence".
Under President Obama the department focused on efforts to tackle climate change, but its page on the White House website has now been removed and can only be found on Web Archive.
Professor Happer told The Scientist that during the meeting Trump said that he agreed with his views on climate science.
Academic for hire
In the lead up to the 2015 Paris climate talks, Unearthed reporters approached Professor Happer posing as representatives of an anonymous Middle Eastern oil and gas company, looking to commission research on climate change that would protect its investments.
Happer said he would be willing to produce research promoting the benefits of carbon dioxide for $250 per hour. He asked that the money be paid to a climate sceptic campaign group – the CO2 Coalition – of which he is a board member.
When asked if the fossil fuel client's role in funding the research could remain hidden – in order to give the work more credibility – Happer replied: "If I write the paper alone, I don't think there would be any problem stating that 'the author received no financial compensation for this essay.'"
He also disclosed that he privately charged Peabody Energy $8,000 in return for his testimony in a crucial Minnesota state hearing on the impacts of carbon dioxide. This fee was also paid to the CO2 Coalition.
Happer's willingness to conceal the source of research funding contrasts with the ethical requirements of journals like Science.  
Science's editorial policy states that research must be accompanied by disclosures of: "any affiliations, funding sources, and financial or management relationships related to the reported research that might raise questions about possible sources of bias."
Peer review
The undercover investigation also revealed Happer's concerns over submitting his climate research to an academic journal.
When Unearthed reporters asked Happer if the proposed paper could be put through peer review, Happer replied that he didn't think it would get through the process while still making a strong case for why climate change is good for the planet.
"If you like, I could submit the article to a peer-reviewed journal, but that might greatly delay publication and might require such major changes in response to referees and o [sic] the journal editor that the article would no longer make the case that CO2 is a benefit, not a pollutant, as strongly as I would like, and presumably as strongly your client would also like."
Unearthed reporters then asked if he could put the industry funded report through the same peer review process as research published by the Global Warming Policy Foundation (GWPF) – which members of the organisation claimed had been "thoroughly peer reviewed".
Happer explained that this process had actually consisted of members of the GWPF academic advisory council and other selected scientists reviewing the work, rather than presenting it to an academic journal, but said that he would be willing to describe this as peer review.
"I would be glad to ask for a similar review for the first drafts of anything I write for your client. Unless we decide to submit the piece to a regular journal, with all the complications of delay, possibly quixotic editors and reviewers that is the best we can do, and I think it would be fine to call it a peer review", he said. 
Internal GWPF investigation
When contacted by Unearthed at the time, Professor Happer declined to comment.
The Global Warming Policy Foundation (GWPF) said: "Professor Happer made his scientific views clear from the outset, including the need to address pollution problems arising from fossil fuel consumption. Any insinuation against his integrity as a scientist is outrageous and is clearly refuted by the correspondence."
But in a further written statement, the GWPF said: "The Trustees of the Global Warming Policy Foundation (GWPF) will be reviewing the matters raised by Greenpeace's undercover investigation and as reported by The Independent  and i papers."
"However, in the meantime it should be clearly understood that Professor Happer's exchanges with the undercover operator were carried out in his own name and not in his capacity as a member of the GWPF's Academic Advisory Council."