Coca-Cola U-turn on bottle deposit scheme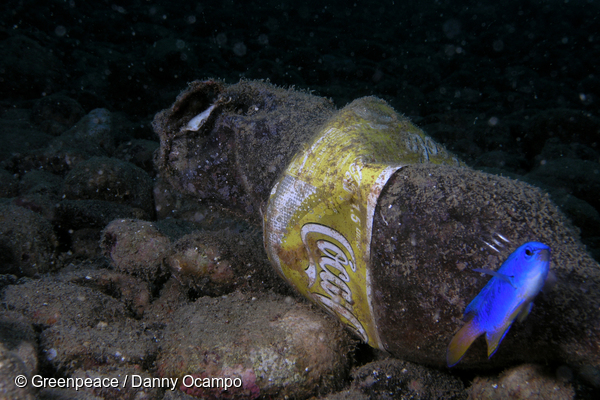 Coca-Cola are set to back a deposit return scheme in Scotland, following an announcement that marks a complete reversal of their previous policy.
The "landmark moment"  comes less than a month after an Unearthed investigation revealed that the drinks giant had launched a "fight back" against EU moves to introduce deposit return schemes (DRS).
It also revealed Coca-Cola has been lobbying Scottish politicians against DRS for years.
As many as 16 million plastic bottles go unrecycled in the UK every day. The average household recycles just 270 of the 480 plastic bottles they use a year, according to campaign group Recycle Now.
Many of those bottles that are not recycled can end up littering beaches and polluting the seas.
Want stories like this in your inbox once a week? Sign up here
DRS schemes are designed to encourage consumers to return their drinks bottles by adding a small refundable charge at sale.
Around 80% of people polled in Scotland said they would support a national scheme.
But campaigners warn that DRS alone will not solve the problem of ocean plastics. Sarah Baulch from EIA International said: "We need companies to step up in eliminating sources of marine plastic pollution throughout their supply chain.
"From ensuring zero pellet loss in bottle manufacturing and supporting refillable and deposit-return schemes to reducing the use of single-use plastics and moving towards closed loop recycling and 100% recycled content. Companies have a major role to play in taking responsibility for their products at end-of-life and ensuring they don't end up in our oceans."
Read: Investigation: Coca Cola and the 'fight back' against plans to tackle plastic waste
At an event on Tuesday hosted by Holyrood magazine, a Coca-Cola spokesperson announced "the time is right to trial new interventions such as a well-designed deposit scheme for drinks containers, starting in Scotland where conversations are underway".
Other organisations invited to the event include representatives from industry group the Packaging Recycling Group Scotland, who have actively lobbied against DRS, and Keep Scotland Beautiful, who have in the past been criticised for their close links to Coca-Cola.
John Mayhew, Director of Association for the Protection of Rural Scotland, said:
"This is truly a landmark moment… I am optimistic that Cabinet Secretary Roseanna Cunningham will in due course announce that Scotland will join the growing community of countries around the world which use deposits to boost recycling, cut litter and promote the circular economy."
Richard Lochhead, former Cabinet Secretary for the Environment, previously told Unearthed that he had been lobbied by anti-DRS drinks manufacturers, including Coca-Cola, in the past.
He said: "This change of heart by the world's biggest soft drink company is a very welcome and highly significant development in the campaign to introduce deposit and return schemes for drinks containers to improve recycling and tackle litter.
"It is refreshing that such a major player in the industry is willing to change its mind after looking at how such schemes work in countries around the world. This injects momentum and credibility into the debate in Scotland and we can lead the UK on this issue and this helps brings the introduction of such a transformative policy a big step closer."
Nationwide scheme
The news has shifted attention to calls for DRS to be introduced in other nations in the UK.
Earlier this week, waste giant Suez UK came out in favour of DRS across the UK. The company's boss David Palmer-Jones, told the Daily Mail: "'It puts pounds in the pockets of both households and business through reduced waste disposal costs and reduced need to buy virgin raw materials."
Now Coca-Cola have told Sky News:
"We've also been talking to and listening to our consumers and know two thirds (63%) of them support the introduction of a deposit return system in the UK, and half (51%) say they'd be more likely to recycle as a result."