Analysis: Why diesel demand is falling in China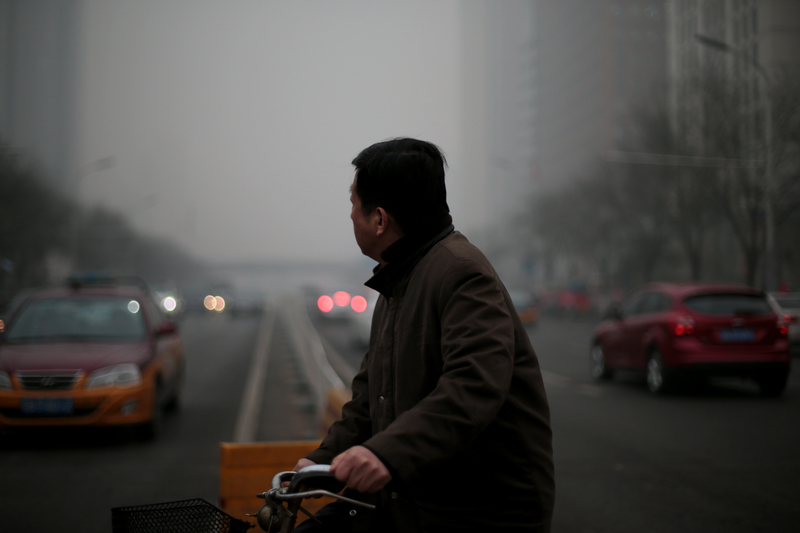 China's oil use may be growing, but diesel is definitely in decline, according to an analysis of government data.
Buried beneath the topline figure that crude consumption rose by 5.5% in 2016 is news that diesel demand actually fell by 5.3%.
The dramatic overhaul in China's transport sector – driven by a combination of extreme air pollution and a changing economic and industrial model – suggests diesel demand could fall again in 2017 by roughly 1.5%.
Meanwhile alternative types of transport – such as LNG vehicles – are growing at an astonishing rate, up 60% year-on-year.
The new normal
Since China first surpassed the US as the largest oil importer in the world in 2015, there's been little sign that its craving for crude is slowing down.
The latest data shows oil consumption growing by an impressive 5.5% last year.
But, if you look a little closer, the dynamic of oil demand in China is actually changing dramatically.
In 2016, petroleum products use growth slowed to 2.8% (from 4.3% the year before) — driven by a historic -5.3% fall in diesel demand.
The recently released 13th Five Year Plan – which covers the period up until the end of the decade – expects the annual petroleum product growth rate to be 1.5%, a marked decrease from the 4.8% in the 12th FYP and the 7.8% in the 11th.
This suggests flatter petroleum product demand will become the new normal, rather than just some short term shock.
Cheap oil opportunity
So why was there still a rampant crude oil demand growth in 2016 despite slower domestic demand?
There are two reasons:
1. New demand was spurred by the government's decision to loosen restrictions on refineries for importing and using overseas crude oil — which lead to the increase of purchase quota from 2.9 million tonnes in 2011 to 3.7 million tonnes in 2015 to 8.7 million tonnes in 2016.
2. The low oil price has driven China to stock up on cheap crude oil reserve. Now, as the market returns to equilibrium, crude oil demand will soon follow petroleum products consumption to enter the new normal of flatter growth.
Peak diesel?
Looking at the breakdown of oil consumption by product type, it is clear that diesel, which accounts for nearly 30% of China's petroleum demand, has hit its peak and is now leading the new trend.  

By region, diesel consumption falls hard in both the east and west.
Although the scale of fall is similar, they happened for two very different reasons.
| | | | |
| --- | --- | --- | --- |
| | % in total consumption | 2016 consumption growth | Reason |
| Eastern region | 43% | -5.2% | Industrial upgrade, more stringent air quality control, economic transition |
| Central region | 28% | 1.1% | Industry moving to inland |
| Western region | 29% | -5.3% | Economic downturn in resource exporting provinces such as inner Mongolia and Shanxi |
The main driving force of diesel demand's decline in the east is the profound industrial upgrade and economic transition towards service-oriented sector the region is undergoing.
Traditional energy intensive industries are shrinking as factories move to the west in search of cheaper labour and land.
The east is also under mounting pressure to alleviate air pollution problems, with local governments looking for cleaner and more efficient alternative types of transport — such as LNG vehicles, which saw 65% annual growth in recent years.
In the west, however, the sharp fall in diesel consumption is directly linked to the drop in rail and heavy duty vehicle freight for coal and industrial output.
Coal and industrial production slumped in 2015 and 2016 due to falling demand, with the region's diesel pattern conforming closely to coal production — which plummeted by 9% in 2016.
Coal-to-chemical
Despite this groundbreaking happening, it's important not to lose sight of the Chinese government's drive to preserve national energy independence.
It is currently developing a large coal-to-chemical and coal-to-oil sector, for instance.
The 13th FYP set a target of 13 million tonnes of coal-to-oil capacity by the end of the decade, which – since current capacity stands at roughly 2.5m tonnes – would mean a rapid ramp up.
The head of China Coal Economics and Research Institute says industry ambitions are even greater than that, and it's planning for 50m-tonne capacity in the 'short-term' and 100m in the 'mid-term'.
By that point, China will be able to reduce its oil import dependency to less than 50%.
Global picture
Falling domestic demand has put oil refineries within China in the danger of overcapacity, much like its coal and heavy industry sectors.
The operation rate, according to CNPC research, stands at 76.7% — but will fall further this year, down to 75%.
This doesn't look like a terribly bad number, but – at the same time – Chinese-made petroleum products are flooding Asian market.
Petroleum exports shot up by 50% in 2015, followed by another 28% increase in 2016, while diesel exports have increased by an eye-watering 107.4%.
All in all, international investors in both oil drilling and refinery business should be aware that the dynamic of oil demand in China is far from as straightforward as it seems on the surface.