Conservative MP who championed biomass received thousands in donations from industry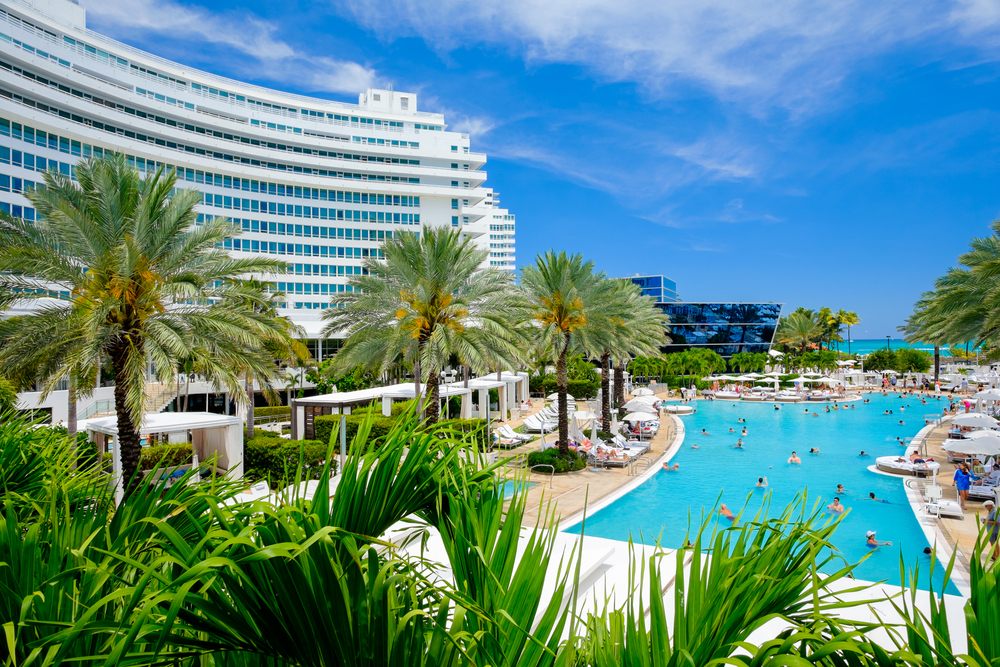 One of parliament's strongest champions of biomass, Nigel Adams MP, has received tens of thousands of pounds in political donations and hospitality from the controversial industry, Unearthed can reveal.
The Conservative MP accepted £62,411 in donations to fund his political work between 2012 and 2016, including £30,376 to attend a series of conferences at luxury hotels in Miami Beach and New Orleans.
Adams has consistently called for increased public subsidies for the industry and in 2012 lobbied then Prime Minister David Cameron to divert onshore wind farm subsidies to fund biomass power stations.
Want stories like this in your inbox once a week? Sign up here
The MP also chairs the All Party Parliamentary Group (APPG) on biomass, which Drax – one of the UK's leading biomass players – helped to set up and fund.  
The news comes after a recent report by think tank Chatham House claimed that most forms of biomass energy – which the industry argues is a solution to climate change – actually produce more carbon than coal.
When contacted by Unearthed, Adams described concerns over the donations as an attempt to "smear the biomass industry and those associated with it".
"It should not come as a surprise to anyone that I am a champion for electricity generation via biomass given that two of the largest employers in my constituency, Drax and Eggborough, who between them directly employ well over 1100 local people, are involved in electricity generation using sustainably sourced biomass."
"Additionally, as Chair of the All Party Parliamentary Group on Biomass, it is not unusual for domestic and international companies looking to invest in my constituency or the wider UK energy sector to want to engage with me at meetings or conferences on broader energy issues. It is also not unusual for these companies to fund the cost of travel and accommodation for MP's including myself to take part in these conferences or meetings", he continued.
Higher emissions
Large scale biomass involves burning wood pellets in power stations to generate electricity – often old coal plants that have been converted to use wood instead.
According to the new report: "while some instances of biomass energy use may result in lower lifecycle emissions than fossil fuels, in most circumstances, comparing technologies of similar ages, the use of woody biomass for energy will release higher levels of emissions than coal and considerably higher levels than gas."
Operators of biomass power stations, such as Drax, have managed to secure billions of pounds in subsidies by presenting it as a low carbon form of energy.
The new report raises the prospect that public subsidies intended to help tackle climate change could have been wasted on supporting a technology that actually makes it worse.
However, both the biomass industry and a biomass subgroup of the International Energy Agency have said that the Chatham House report is flawed and that sustainable biomass can help tackle climate change.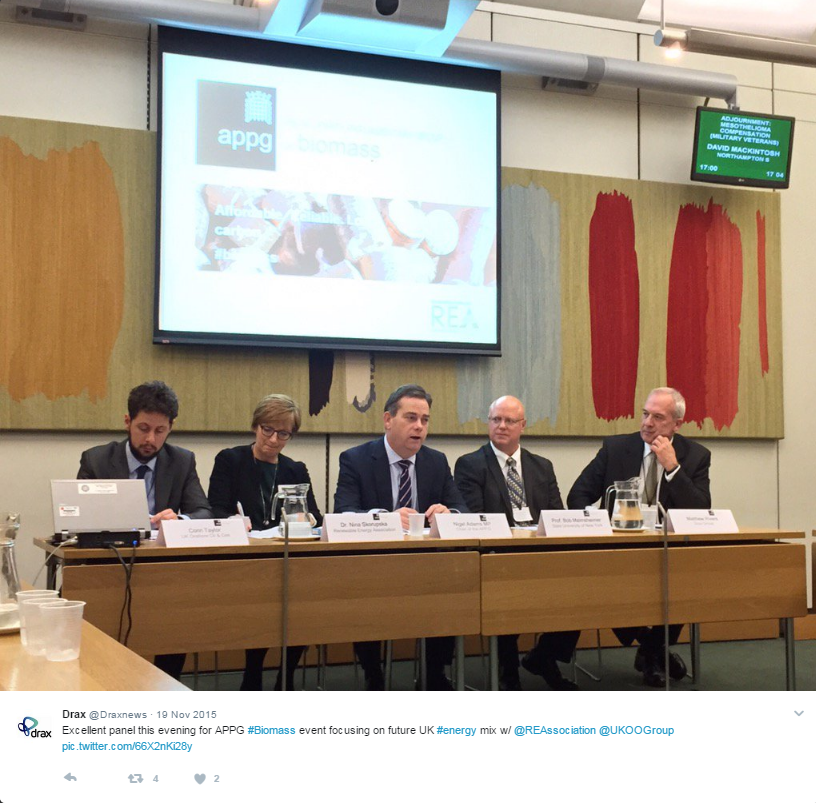 Ditch onshore wind and fund biomass
Adams' interventions on behalf of the biomass industry include lobbying ministers; securing parliamentary debates; hosting parliamentary events; penning op-eds and asking numerous parliamentary questions.
In January 2012 he asked then Prime Minister David Cameron to ensure that biomass be given subsidies over onshore wind in a government review of renewable energy support.
Later, in March 2013, he secured a Parliamentary debate to call on energy ministers to help fund Eggborough coal power station's conversion to biomass and defended the sustainability of the sector.
More recently, Adams asked then energy minister Andrea Leadsom to consider "extending the support of biomass after 2027 to treat it equally with other low-carbon technologies."
In addition to promoting biomass, Adams has led efforts to end subsidies for onshore wind – a technology that is proven to reduce carbon emissions.
In January 2015 he sponsored the Onshore Wind Turbine Subsidies (Abolition) Bill, which helped pave the way for the 2015 Conservative manifesto commitment to end subsidies for onshore wind farms.
In the bill's first reading Adams described onshore wind turbines as "about as much use as a chocolate fireguard" and said that biomass provided a better alternative for public support.
The amount of money that can go to the various forms of renewable forms of energy is capped under the government's Levy Control Framework (LCF).
See also: Full statements from individuals and companies connected to this story.
Dubai and Miami trips
According to the register of MPs interests and Electoral Commission data, Adams has received £62,411 in political donations and foreign trips from power station operators – most of which has been donated in the last two years.
Drax and Eggborough power stations – which are located in Adams' Selby and Ainsty constituency – have made numerous donations.
In 2016, the companies jointly paid £4,950 for a five day trip to Miami Beach, where Adams delivered a keynote speech at a biomass conference held at the luxury Fontainebleau hotel.
Between them the companies have paid for Adams to make five trips to this conference, which has been held in Miami since 2013.
In 2012, Eggborough paid £8,578 for Adams to attend the same conference at the Ritz-Carlton Hotel in New Orleans.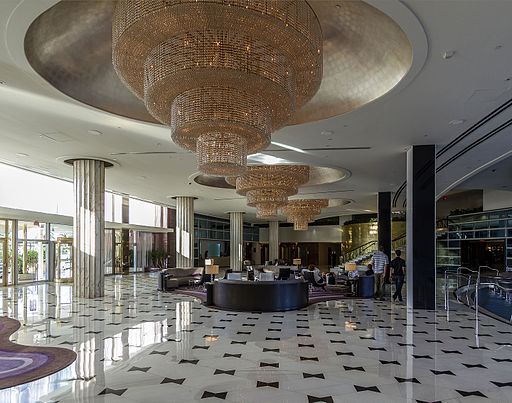 However, more than half of the industry contributions were made by donors outside Adams' constituency.
Simec Uskmouth Power Ltd – which is owned by industrialist Parduman Gupta through his company, Simec Group – has donated £20,685 to Adams since August 2015.
Uskmouth is a 393MW coal power station in South Wales that can co-fire with biomass and is being converted to run fully on wood pellets. It also plans to construct a plant to manufacture biomass pellets to feed the power station.
The company's donations include a four day visit to the United Arab Emirates in April 2016, costing £2,885. The purpose of the trip was for Adams to attend meetings on energy and biomass, as well as a Brexit event for expats.
Sanjeev Gupta, Parduman Gupta's son and executive chairman of Liberty House Group, has donated £11,350 to Adams. Liberty House Group works with Simec Group under a "strategic alliance" called the Gupta Family Group Alliance.
A spokesperson for the Gupta Family Group Alliance said that biomass is a significant part of its strategy to develop a low carbon steel industry in the UK: "We believe that with the right sourcing and shipping of pellets that Biomass can give new life to existing infrastructure and provide a vital green energy source. Biomass is not the only renewable energy source we are pursuing. We are already actively delivering hydro and biodiesel power and are investing significantly in the development of other sources including tidal lagoon power and gasification of waste"
"Contributions to any public representative's travel and accommodation costs by the company to attend meetings or donations at fundraising events by the company or individuals associated with our company are made with full transparency and declared in the appropriate manner", he continued.
Back Biomass campaign
Adams' efforts to secure ongoing subsidy support for biomass have formed part of a wider political campaign by the biomass industry.
This has primarily been coordinated through the Back Biomass campaign, established by the Renewable Energy Association (REA) in 2011 on behalf of the biomass industry. Its sponsors include coal power station owners and the North American wood-chip industry.
The initial focus of both the Back Biomass campaign and the biomass APPG was to lobby MPs and ministers for the continuation of subsidies for biomass under the Renewables Obligation scheme.
These efforts were successful and in July 2012 Drax welcomed the government's announcement that biomass would be eligible for subsidies under the scheme between 2013-17.
More recently, in 2014, the biomass industry was successful in gaining £4.7 billion in subsidies – through a scheme that has been heavily criticised by the National Audit Office for being uncompetitive and too expensive. Drax alone secured a contract for £1.7 billion.
When contacted by Unearthed a spokesperson for Drax said: "Drax, along with others in the industry, was involved in setting up the APPG on biomass. Its role is to explain how sustainable biomass provides reliable and affordable renewable electricity and heat."
"As you'd expect, our local MP, Nigel Adams, plays a vital role in chairing the APPG, and championing the important role that the largest employer in his constituency plays both nationally and in the Selby area."
A spokesperson for the REA said: "The Back Biomass campaign was set up in 2011 by a wide range of companies across the biomass sector, including miscanthus, straw, combined heat and power, dedicated power and conversion projects. The campaign was focused on promoting the benefits of the cost effectiveness, energy security and sustainability of biomass and was coordinated by the REA."
"The work of the Biomass APPG is led by parliamentarians, with the REA taking over the secretariat in 2015″, he continued.
Full statements from individuals and companies connected to this story can be found here.