What does the Democratic Unionist Party say on the environment?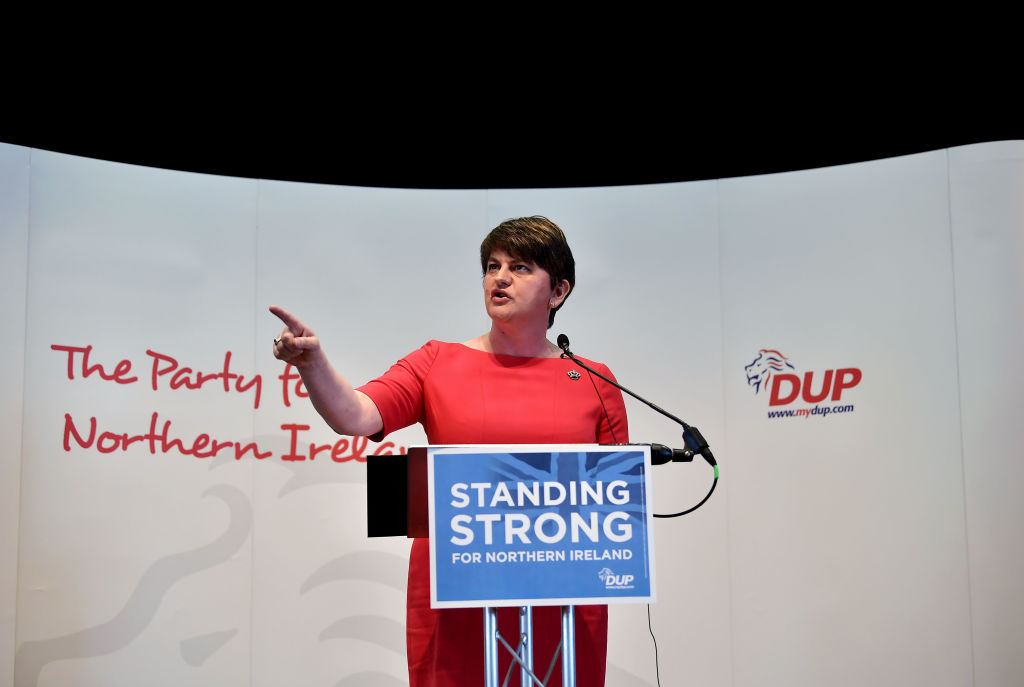 The first thing to say about the DUP's environmental stance is that they don't say very much at all. The second is that one of them is a fairly well known climate skeptic.
Manifesto
The words "environment" and "climate change" do not appear in the manifesto (pdf) of the DUP, which is lead by Arlene Foster.
It speaks of the need to push down the cost of energy bills, and of encouraging energy companies to do so.
They want Northern Ireland to develop a new energy strategy, focused on security of supply, by strengthening the UK-Ireland single electricity market and interconnection between Northern Ireland and the Republic.
They also want the new strategy to tackle renewable energy policy, without saying what that means.
That's it for the manifesto.
But their manifesto last year focused on littering, pedestrian rights and coastal protection, while other major parties called for a climate change act, action on illegal dumping and a ban on fracking.
Climate change laws
Northern Ireland is the only part of the UK not to have its own legally binding targets to cut carbon emissions.
Friends of the Earth Northern Ireland said this was the "biggest issue" for the environment in Northern Ireland.
Director James Orr told Unearthed: "There have been a series of attempts to get climate legislation here over the last ten years. The DUP are the most reluctant party to embrace greenhouse gas reduction targets."
In December, then environment minister Michelle McIlveen blocked attempts to introduce a Northern Ireland Climate Change Act.
Sinn Fein, the SDLP and the Alliane Party all backed the introduction of a bill.
McIlveen said UK-wide legislation was sufficient, despite recommendations by the Committee on Climate Change. They cite emissions data showing that Northern Ireland has disproportionate carbon emissions compared to the UK as a whole and have cut their levels by 16%, compared to a 30% UK – based on 1990 levels.
The DUP have also resisted attempts to introduce an independent environmental protection agency, instead proposing to introduce an advisory division within the environment department.
"They are very much a deregulation party in terms of environmental protection – it's in their DNA," said Orr. 
Climate sceptic
In 2008 the DUP appointed Sammy Wilson as environment minister.
Within a year cross-party MPs had called for his resignation for banning TV and radio adverts by the UK government that encouraged people to cut their carbon emissions.
He called the adverts "propaganda".
At the time he also said the climate change debate was a "giant con" and a waste of billions of pounds, surrounded by a degree of "fairly uninformed hysteria".
In 2010, Wilson hosted a celebration of "Climate Fools Day" at parliament, bringing together climate sceptics to lambast climate change science. It was organised with Piers Corbyn (that's Jeremy's climate denying brother), with whom he has also attended other climate sceptic events.
He backs fracking, and more recently lent his support to Theresa May's proposals to pay local people in communities so that fracking could take place.
He expressed pleasure at the policy because it would "take on the Green Luddites".
"The UK needs to fully exploit the natural resources available to it", he added.
Wilson was re-elected to the East Antrim constituency last night by a margin of more than 15,000.