Forest fires rage across Indonesia as dry season begins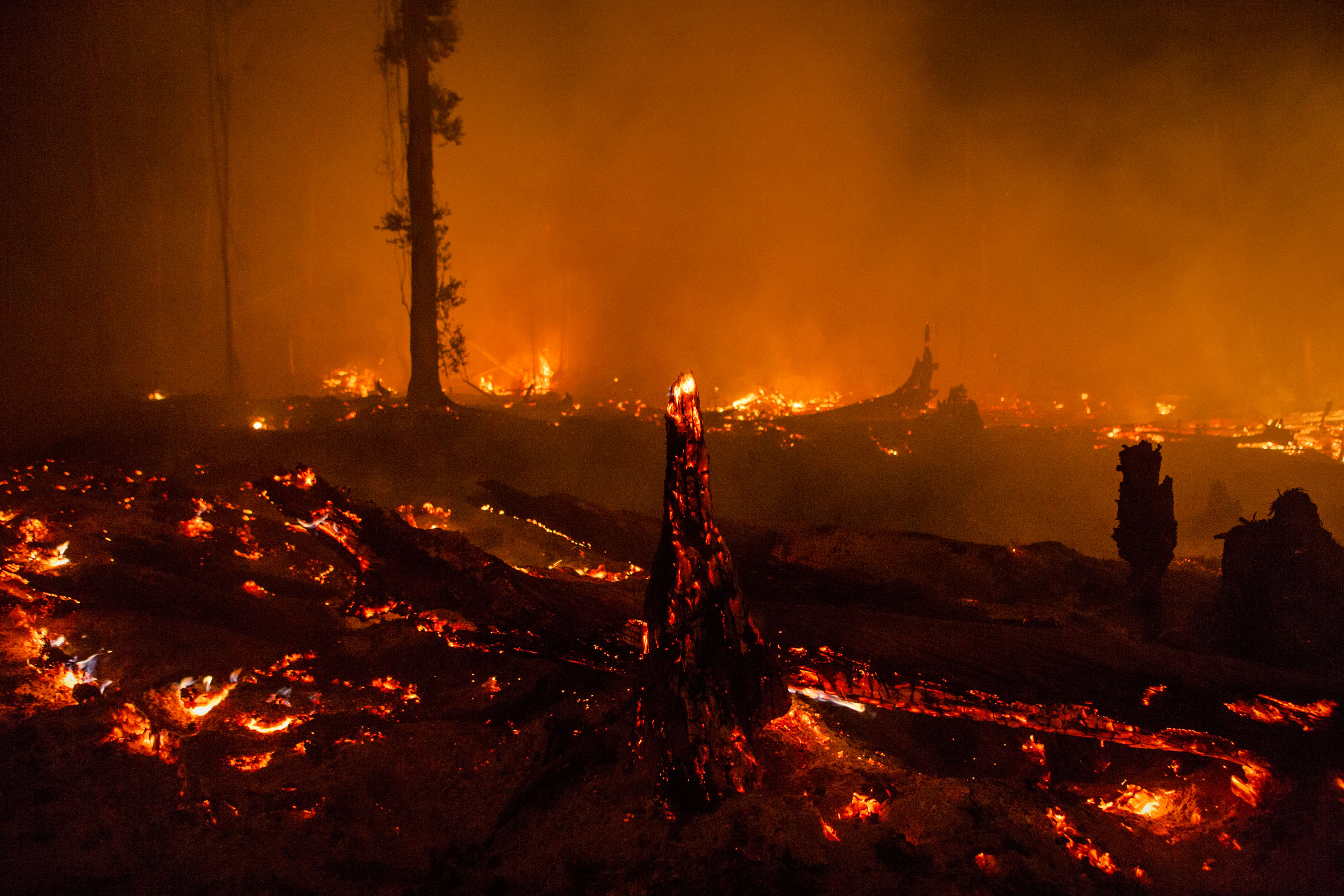 Forest fires are once again sweeping across Indonesia, with academics warning that the blazes, which have become an annual event since the mid-1990s, have become the "new normal".
So far five Indonesian provinces have declared emergencies as result of forest fires, according to officials.
Satellite images collected by Indonesia's National Disaster Management Authority showed 170 hotspots in the country at the end of July, with the regions of East Nusa Tenggara, West Kalimantan and the province of Aceh in northern Sumatra the worst affected.
Local media reports suggest that dozens of people have been hospitalised due to smoke inhalation in Aceh.
According to experts, it is unlikely that this year's fires will have the same impact as 2015, when unusual weather caused by El Nino led to much of southeast Asia being enveloped by a thick yellow haze – leading to transport chaos and school and hospital closures.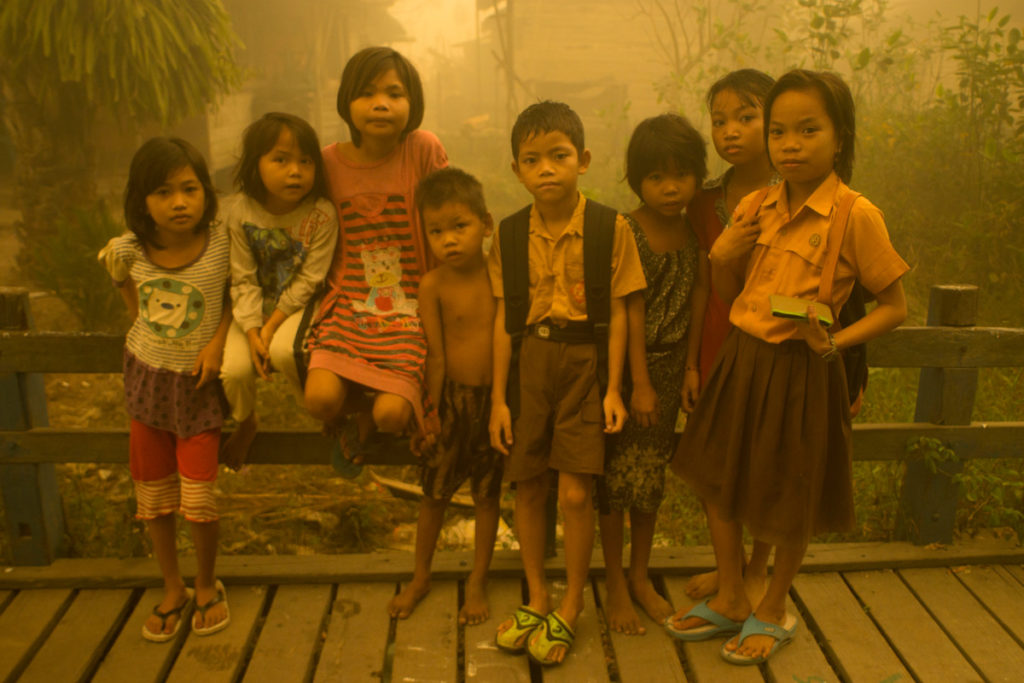 The World Bank estimates that the crisis two years ago caused $16.1 billion of losses for the Indonesian economy.
The situation is however being monitored, with fires likely to continue until the dry season ends in September.
Sue Page, a professor of physical geography at the University of Leicester told Unearthed:
"Although 2015 was exceptional, every year now we're seeing fires. This is the new normal. Trying to control fires in landscapes which are now incredibly fire prone is a really big challenge."
Global problem
Devastating forest fires have become an annual event in Indonesia in the last 20 years, a period that has seen extensive deforestation and agricultural development, related in part to the booming palm oil industry in the country.
Fire has long been used by smallholders to clear land in southeast Asia, but large-scale farming has made this practice more dangerous.
Industrial agriculture in the region has disturbed ancient peat swamps, draining them of water and making them more susceptible to burning.
Burning peatlands could release tonnes of carbon into the atmosphere, meaning that the fight to contain forest fires in Indonesia has been linked to the battle to prevent climate change.
Back in 2015, Greenpeace warned that the amount of CO2 released by the Indonesian forest fires was equivalent to the annual emissions of the UK.
Data collected by the Copernicus Atmosphere Monitoring Service (CAMS) and its global fire assimilation system shows that carbon emissions from forest fires this year have so far been less than the average daily figures from 2003-16, but that number is rising daily.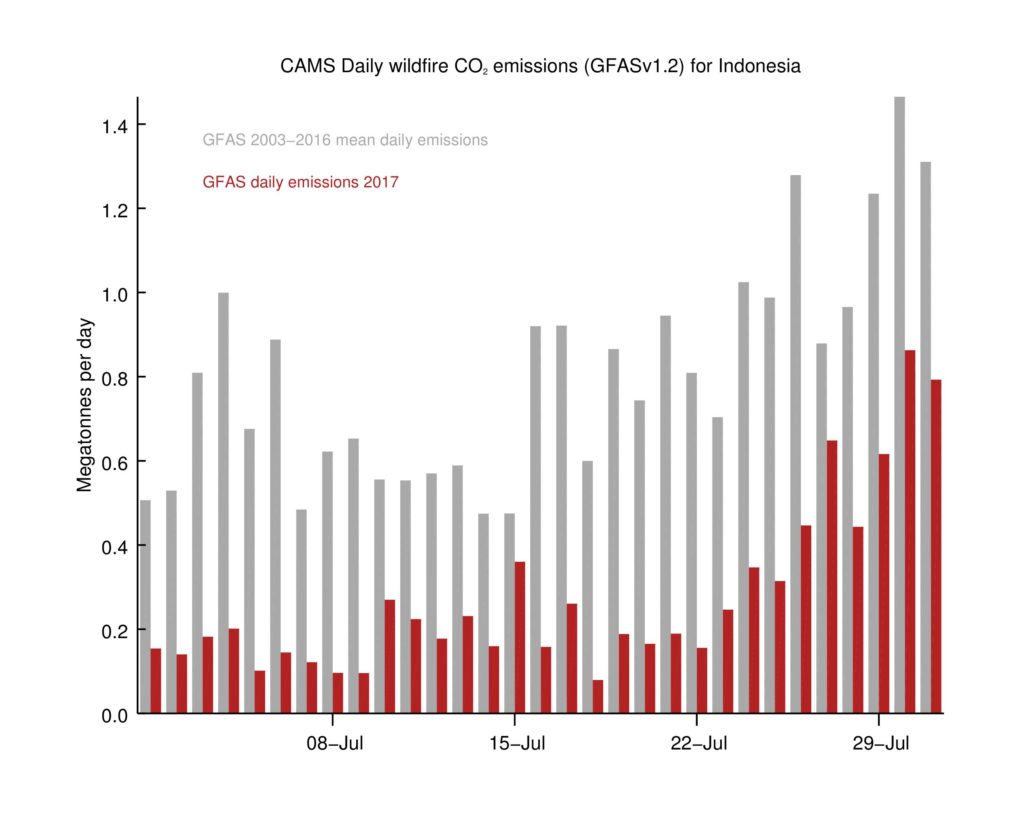 "If you go back to before the peat swamps were being extensively disturbed, they were more or less fire free," explained Page.
"Fire has always been used in Indonesia and across other parts of southeast Asia to clear land and there have been other fires in the past, but we never saw this as an annual event and that's now what it has become."
Health risk
As well as posing a risk to the environment, the fires also threaten human health.
Last year, a study by scientists at Harvard university estimated that pollution caused by the 2015 fires had led to more than 100,000 premature deaths in southeast Asia.
Another study, focusing on the short term impact of the fires, suggested that 12,000 people had died, with 69 million exposed to poor air quality. 
The Indonesian government disputed both studies, pointing to official statistics showing that only 19 people were killed by fires that year.
To date, the impact of the fires on surrounding countries has been limited. Official data from Singapore's environment agency, which badly affected by haze in 2015, shows that air quality remains normal in the area, at the time of writing.
Dominick Spracklen, a professor of biosphere-atmosphere interactions at Leeds University, who worked on the latter research explained that while the numbers in the two studies differed the studies "were relatively consistent. At least, in showing that the fires had a very significant effect on human health."
In recent months, the Indonesian government, led by President Joko Wikodo, has made international headlines for efforts aimed at tackling the blazes.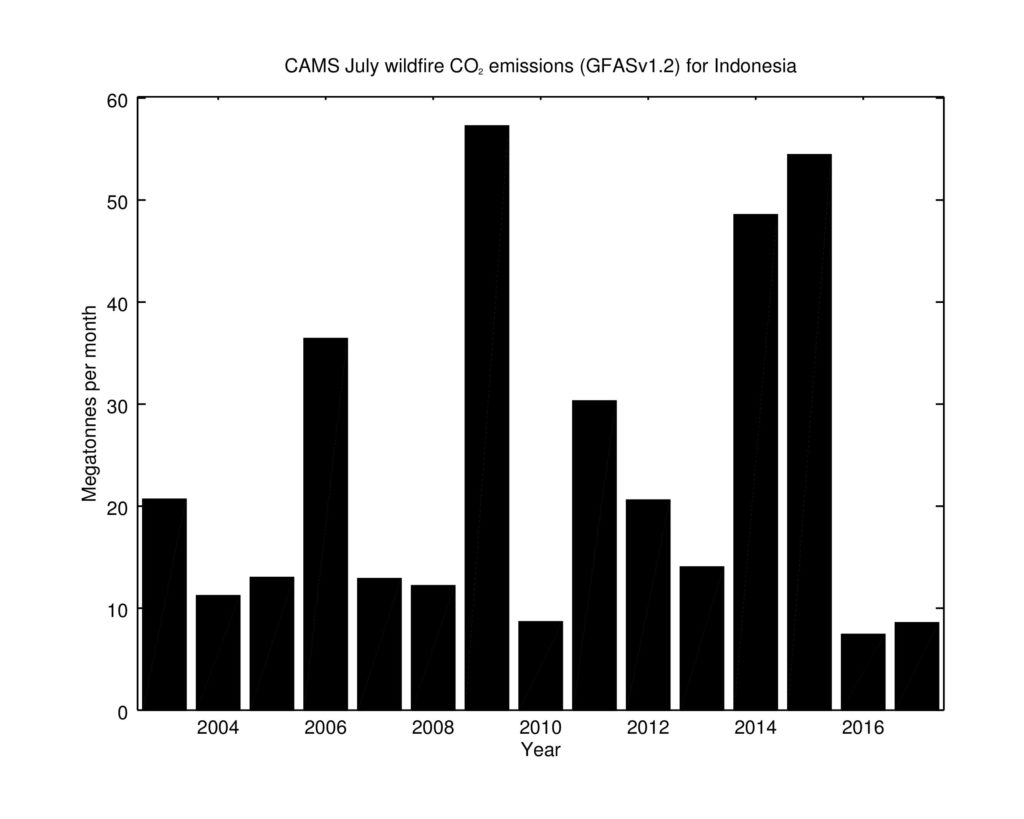 In December 2016, the President announced a move to ban industrial activity on the country's peatlands.
At the same time, new initiatives like the peatland restoration agency have been established.
Nazir Foead, head of the agency, told reporters last year there would be no repeat of the 2015 haze.
"With the preparation the government is making, the re-wetting activities, I would say there should be no more haze going to the [neighbouring countries]."
But despite these efforts, moves to increase air quality monitoring have been lacking.
According to Spracklen, even after the haze, monitoring remains patchy, even though the Indonesian authorities, have invested in new systems in recent years.
"Very few stations report and even fewer report all the time. At the moment, a lot of the ones in southern Sarawak where it looks like there might be some haze are not reporting. Another station in Kalimantan is showing numbers that are way off.
"The monitoring has definitely improved in the last few years. Until recently, there weren't any air monitoring stations in Indonesia. Now there are quite a few, but the data availability is quite sporadic."