Offshore wind is now competitive with gas, as analysts hail 'energy revolution'
The price of offshore wind has dropped by 50% in just two years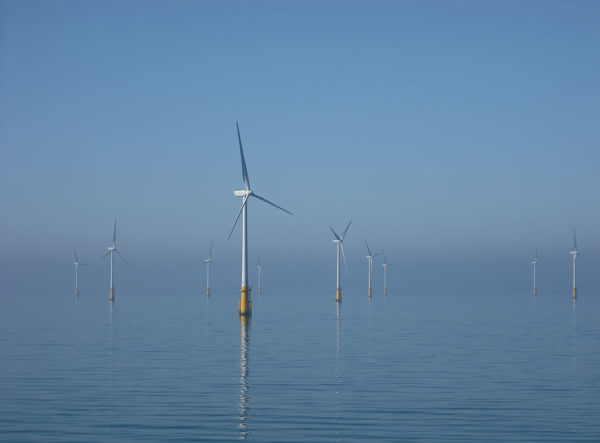 Energy from offshore wind just got a lot cheaper.
The cost of subsidies for new offshore wind farms has halved to £57.50 per megawatt hour (MWh) since the last government auction in 2015, after two developers – Denmark's Dong Energy and Spain's EDP – bid aggressively for subsidy contracts to build new farms in 2022-23.
The results of the auction shocked industry analysts, who had expected prices to be around the £70-80 mark.
That figure would still have been way below the cost of power from the controversial new nuclear power station Hinkley Point C, which has been set at £92.50.
Now the news of the major price drop is likely to cast further doubt on the UK's flagship nuclear project.
Even EDF says intermittency only adds £10/MWh. You can add that on to today's prices if you like, but they'll still be cheaper than Hinkley. https://t.co/7bh2G7oufa

— Emily Gosden (@emilygosden) September 11, 2017
So where does that leave gas?
For years offshore wind has been derided for its cost.
Back in 2013, climate sceptic Matt Ridley derided offshore wind farms as "very expensive" and "the elephant in the energy debate".
But after the latest price drop, it appears that offshore wind is not only far cheaper than new nuclear but competitive with gas.
Unlike gas, the wind can't be turned on and off – so there are some additional costs involved in ensuring the grid can cope when the wind doesn't blow.
But what is startling is that even taking those costs into account wind now appears competitive with the only viable fossil fuel alternative.
Intermittency costs add £10 MWh according to an analysis by e3g (Third Generation Environmentalism).
Professor Gordon Hughes from Edinburgh University put that cost at £22 MWh.
That would put the cost of new offshore wind at between £68 and £78 for each MW/h of power it produces.
According to the government's own estimates, energy from gas is estimated to cost £66 MWh by 2020, but that figure could rise to £76 depending on fuel prices and could rise higher if carbon prices increase.
Energy for millions of homes
The dramatic news will pose a challenge to the industry. Previous auctions left developers shocked by low prices with one Solar industry source noting "we got our Cfd, oh dear".
The government said the subsidies for new offshore wind, paid for out of consumers energy bills, will allow for enough power to supply 3.6 million homes.
Energy minister Richard Harrington has said the offshore wind sector will now invest £17.5billion in the UK in the years to 2021.
The price reduction has also freed up government money. According to the Guardian, it had allocated £240m in subsidies for new offshore wind, but now would only have to spend £175m.
Michael Grubb, professor of energy policy at University College London, told BBC News that the news was "a huge step forward in the energy revolution".
Grubb added that, as with the early days of North Sea oil, prices would continue to fall as the offshore wind industry grew.
The persistent myth that green energy is expensive has been shredded https://t.co/Um1Jtkyy1F <my analysis on offshore wind subsidies

— Adam Vaughan (@adamvaughan_uk) September 11, 2017