Shell worked with Myanmar government despite 'reputational risk' of Rohingya violence
Documents from the Foreign Office show oil company was aware of unrest in Rakhine State as far back as 2015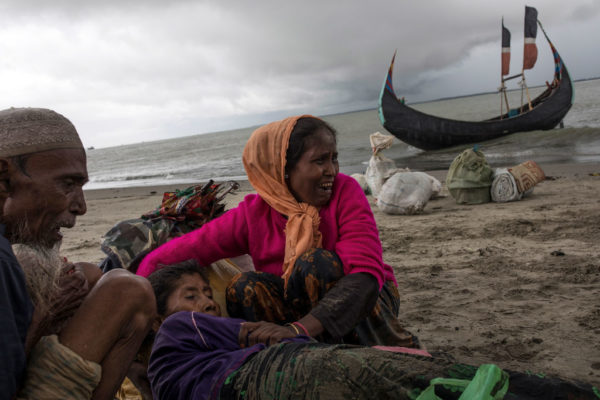 Shell worked with the government of Myanmar after securing lucrative oil blocks, despite seeing the ongoing ethnic violence against the Rohingya people by the country's armed forces as a "reputational risk", according to documents obtained by Unearthed.
A recent spate of murders against the Muslim ethnic minority in western Myanmar, formerly known as Burma, has sparked international condemnation and led to hundreds of thousands of people fleeing their homes.
Contacted by Unearthed, Shell declined to condemn the ongoing violence in Rakhine State but said it was "committed to human rights", adding:
"We recognise that this is a complex and highly sensitive issue. We hope for a peaceful solution to the issue in northern Rakhine State."
The company, which holds equity interest in seven offshore blocks in Myanmar, said will not be adjusting its business plan as a result of the situation in the country.
'Ethnic cleansing'
At least 1,000 people have died in fighting between militias and security forces in the last few weeks, according to the UN special rapporteur on Myanmar, Yanghee Lee.
Added to that, roughly a third of the population of Rohingya-dominated Rakhine state have fled their homes since August 25th, according to the UN refugee agency.
The Rohingya people are widely considered to be one of the most repressed ethnic minority groups on earth.
Refugees arriving in neighbouring Bangladesh have told the press that the recent intensification of violence against them amounts to ethnic cleansing.
'Reputationally damaging'
The news comes after Foreign Office (FCO) emails, obtained by Unearthed under the freedom of information act, show that Shell saw violence committed against Rohingya Muslims as a potential reputational risk as far back as June 2015.
One message between FCO officials from June of that year discussing the company's work in Myanmar reads: "the difficulties caused by fragile political/ethnic situation has the potential to be reputationally damaging for all involved".
In 2015, the UK government encouraged British oil companies to get into Myanmar's fossil fuels industry
Another email exchange between FCO officials in November that year shows that the company was concerned about boats carrying Rohingya refugees capsizing near Shell oil rigs.
"One key risk identified was capsizing boats carrying Rohingya refugees / migrants near Shell installations. The company would fulfil its obligation to provide humanitarian assistance to those in distress."
Partnering with Shell
Shell signed a production sharing agreements with the Japanese-based Mitsui Oil Exploration (MOECO) and Myanmar's national oil and gas company Myanma Oil and Gas Enterprise (MOGE) for three deep water oil blocks in February 2015.
U Zay Yar Aung, Myanmar energy minister said at the time of the Shell deal: "We look forward to partnering with Shell and MOECO, who will bring international standards and expertise to an expanding offshore industry."
On entering the country, Shell sought to foster better relations with the military-backed Myanmarese government by hiring U Thaung Tun as a government relations adviser.
U Thaung Tun was formerly the military regime's ambassador to Washington and was described in 2005 as the first point of contact for the government's foreign office in US diplomatic cables leaked to Wikileaks.
After leaving Shell he was appointed a national security adviser by the government of Myanmar in January 2017.
Shell cooperation with the Myanmarese regime extended to taking part in a "formal joint workshop on maritime security" with the country's navy in 2016.
In November that year, John McKissick, a senior official at the UN refugee agency, told BBC News that the Myanmarese government was seeking an ethnic cleansing of the Rohingya minority, as he accused armed forces of killing civilians in Rakhine state.
Oil in Myanmar
Myanmar is one of the world's first oil producers and exported its first barrel in 1853, six years before the United States. This means that despite being one of the poorest country's in the world, Myanmar's oil and gas sector is quite developed.
'Hotspot for exploration'
Shell's entrance into Myanmar followed extensive efforts from the UK government to increase trade with the nation, after democratic reforms saw it emerge from the international wilderness in 2010.
According to UK Trade and Investment (UKTI), now part of Liam Fox's department for international trade, "UK goods exports to Burma increased by 239% between 2012 and 2013".
In 2015, UKTI described Myanmar as a "hotspot for exploration" and listed opportunities for British oil companies to get a foothold in the country's oil and gas industry.
The British Chamber of Commerce in Burma and the department for international trade hosted an event in September 2016, celebrating the Chamber's involvement in the country. It was attended by U Myo Myint Oo, managing director of MOGE.
In a statement sent to Unearthed, a spokesperson for the oil company said:
"Shell is committed to respecting human rights as set out in the Universal Declaration of Human Rights and the International Labour Organization core conventions.
"Our human rights approach is informed by the UN Guiding Principles on Business and Human Rights and applies to all our employees and contractors. Human rights are fundamental to Shell's core values.  This is reaffirmed in the Shell General Business Principles (SGBP) and our Code of Conduct.
"Human rights are fundamental to Shell's core values.  This is reaffirmed in the Shell General Business Principles (SGBP) and our Code of Conduct.
"We conduct our business activities in Myanmar in accordance with Shell's business principles, international best practice and the regulatory framework of Myanmar.  This includes risk and impact assessments, engaging with various stakeholders and where relevant with the Government of Myanmar."