'No scrutiny at all': farm pollution limits at risk post Brexit
Legal experts warn that environmental protections in EU law may not be easy to enforce after Brexit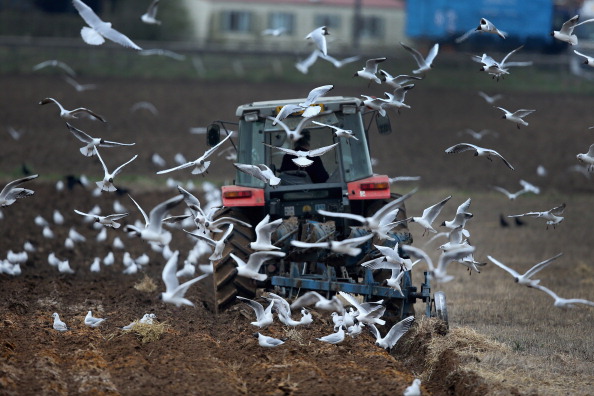 The government could unpick laws limiting farm pollution after Brexit with "no scrutiny at all" unless new powers are given to parliament, a group of environment lawyers has warned.
The legal taskforce, set up by the UK Environmental Law Association (UKELA) to examine the risks of Brexit, identified nitrate pollution as an example of the protections that will be at risk when European laws are rolled over into domestic legislation in 2019.
Rosie Oliver, a lawyer and UKELA advisor, told a Brexit conference organised by the association on Friday: "The government wants to allow farmers to spread more muck than the directive normally allows. [At present] there is a procedure for the Commission to decide if that is justified."
Muck spreading is a key way for farmers to boost their crops, by adding fertiliser on their land. But following Brexit, this procedure that holds the government to account if it wants to loosen standards would not automatically enter the British legal system, as it is a duty contained in a directive and carried out by the Commission, she explained.
"On the face of it that would just fall away unless there is provision to repatriate that role to parliament," Oliver said. "But does parliament really want to be examining evidence on muck-spreading? If it doesn't, you can see there might be no scrutiny at all for the government deciding to relax standards."
Nitrates
Serious pollution incidents from farms are now a weekly occurrence in the UK and a recent data analysis suggests incidents are going unprosecuted.
Nitrates are produced when the fertiliser mixes with the soil. It aids food production, but can be damaging to human health and wildlife if it enters the water system.
Before Brexit, farming minister George Eustice criticised EU nitrates legislation as "outdated and clunky", calling for its reform in his arguments for leaving the bloc. The National Farmers' Union has also called for change.
'Vacuum left by the European Commission'
The government's Great Repeal Bill intends to transpose all EU law into domestic legislation upon withdrawal, but the environment department has said that this will be difficult for one third of its legislation.
We would question relying on a single solution to legal accountability. Is that really going to provide adequate protection for our environment going forward after Brexit?
Michael Gove has since identified 850 pieces of environmental legislation that will need to be amended. These primarily concern legislation affecting agriculture, fisheries and animal and plant health.
Much of the conference focused on how such laws, which are currently enforced by the European Commission, would be enforced after the UK exits the EU.
Air pollution and urban waste water were also identified by UKELA as areas in which the European Commission had played a crucial role and where it was not clear who would intervene post-Brexit. In both cases, the threat of infringement proceedings and a large fine have prompted the government to take action.
A report published earlier this year by the House of Lords' EU committee warned of the "vacuum left by the European Commission in ensuring the compliance of the government and public authorities with environmental obligations".
Judicial review
Judicial review – a legal challenge to state decisions – was identified in the report as the main mechanism through which laws would be enforced after Brexit.
But lawyers at UKELA questioned its ability to uphold environmental protections.
Speaking at the conference, Jill Crawford, lawyer and convenor of UKELA's environmental litigation group, said: "We would question relying on a single solution to legal accountability. Is that really going to provide adequate protection for our environment going forward after Brexit?
Crawford listed a number of problems with judicial reviews that would mean they could be an inadequate replacement for the role of the Commission after Brexit. They need to be brought quickly, can be very costly and are open to interference from government ministers, she said.
David Cameron sought to clampdown on judicial reviews when he was prime minister by introducing tighter time limits and higher costs. Proposed as a move to be more business friendly, it was criticised for making it more difficult for environmental and human rights groups to challenge government decisions.
ClientEarth, RSPB and Friends of the Earth challenged the price hikes, with the court ruling partly in favour, ordering a cost cap to be set at the beginning of the case so that groups could assess the cost before starting legal proceedings.
Crawford added: "The protection of our water and air, countryside and wildlife will rely solely on the courts and it would be up to citizens, organisations to challenge decisions affecting the environment and that could be fraught with difficulty."