Buried in the budget: renewables support frozen until 2025
Meanwhile elsewhere in budget 2017, North sea oil gets a boost, there is new funding for air pollution and the promise of a plastic tax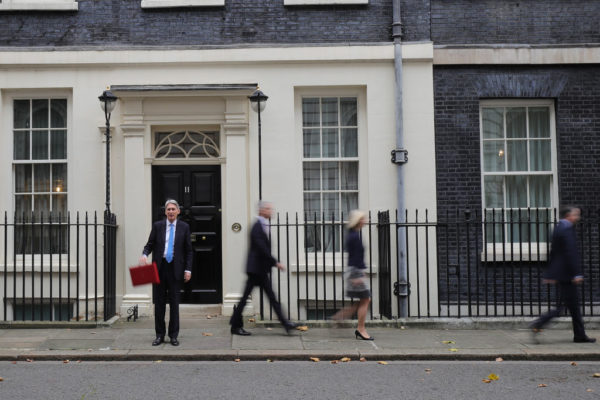 He didn't mention it in his speech, but buried in the detail of Philip Hammond's budget document is major news for renewable energy in the UK.
With an eye on "keeping energy costs as low as possible", the document states there will be "no new low carbon electricity levies until 2025".
This takes an important source of funding off the table for new renewable energy initiatives and could mean that there will be no money for new renewable energy projects for eight years.
This could have a major impact on emerging new technology like tidal.
In fact, as the just published 'Control for Low Carbon Levies' report shows, the 'central estimate' of renewables growth out to 2025 shows no increase in any technology except offshore wind, once the projects in the works have been built.
Implicitly this also means that the projections for decarbonisation of the power sector published last month in the Clean Growth Strategy, are just wrong.
But North Sea oil gets a boost
The Chancellor announced there will be a tax break for North Sea oil and gas fields.
The news will be welcomed by an industry which has been battered by cheaper cost oil and gas from overseas. Back in September, the FT reported that exploration activity is at its lowest level since the 1970s.  
Just yesterday, BP announced that it was selling £300m worth of North Sea assets to oil minnow Serica Energy, though the company insisted it remained committed to the North Sea.
Here's a reminder of the plunging tax take for HMRC from North Sea oil & gas production. Look how it actually went negative over past two years #Budget2018 https://t.co/JIDGRlKhXC pic.twitter.com/VZPdI6ervF

— Leo Hickman (@LeoHickman) November 22, 2017
At the same time, chemicals firm Ineos made a big move into the North Sea, news that was welcomed by Oil and Gas UK as a sign of "gathering strength of belief in the future of the UK North Sea".
Hammond described his policy as "an innovative tax policy that will encourage new entrants to bring fresh investment to a basin that still holds up to 20 billion barrels of oil".
More money for electric cars
Hammond made some key announcements in relation to air pollution in the budget.
He made a significant new funding pot available to support electric cars: £400 million for charging infrastructure, £100 million for plug-in cars and £40 million for research and development.
He also announced a further £220 million fund to help councils implement clean air plans. That's significant, but given that the government has put the responsibility for bringing down toxic air levels firmly in the hands of local authorities, is it enough?
Hammond: I'll crack down on air pollution, but not too much.

— James Murray (@James_BG) November 22, 2017
But diesel charges are less than expected
The new money for clean air zones will be funded by taxes on diesel.
But Green party leader Caroline Lucas dismissed the new measures as "incredibly weak".
Summary of environmental measures in #Budget2017
Good (hopefully): Action on plastics
Bad: No new support for solar
Very Bad: Incredibly weak measures on air pollution
Ugly: Continued fuel duty freeze
Very ugly: Tax breaks to oil and gas exploration

— Caroline Lucas (@CarolineLucas) November 22, 2017
That's probably because the diesel taxes were much lower than anticipated.
Hammond announced an increase in VED on diesel vehicles – a tax paid when vehicles are bought – but it's pretty small. The increase is by one band: this will amount to an increase of £20-40 for popular family vehicles, up to a few hundred for the biggest cars.
It's a long way from the (up to) £800 that the think-tank Policy Exchange says is needed to compensate for the impacts of air pollution. And cleaner diesel vehicles that meet the latest European regulations in real world testing will get off the hook. Taxes on diesel company cars will also go up by 1%. 
But Hammond sidestepped what could arguably be the most impactful – and controversial – change of all. For the eighth year running, he cancelled a rise in fuel duty, a policy that has cost the treasury £46 billion since 2010.
Their policy document boasts that the cancellation "will benefit motorists by over £4 billion over the next five years, nearly nine times more than the changes to diesel taxation will raise for air quality".
Or in other words, a rise in fuel tax would have been nine times more effective than the changes they have introduced – in terms of raising funds to tackle air pollution that is.
Once again, fuel duty rise for petrol and diesel is cancelled. No attempt to square that with comments about importance of kids breathing clean air, or switch to electric cars #budget2017

— Adam Vaughan (@adamvaughan_uk) November 22, 2017
A new tax on plastics, well maybe
After Hammond trailed measures to tackle plastic pollution for much of the week and Gove made a romantic pledge to take action after being "haunted" by Blue Planet Two, details about what the Chancellor is actually going to do about the issue were thin on the ground.
Instead, Hammond promised to look into the issue, stating that he would examine how charges on "single use" plastic items can reduce waste.
Strong words from UK chancellor in budget speech announcing plans to investigate charges on single use plastics, saying "We cannot keep our promise to the next generation to build an economy fit for the future, unless we ensure our planet has a future" #Budget2017

— Jocelyn Timperley (@jloistf) November 22, 2017
He told the Commons: "I want us to become a world leader in tackling the scourge of plastic."
But whether that means a charge on coffee cups a price on packaging or a clampdown on plastic bottles remains to be seen.