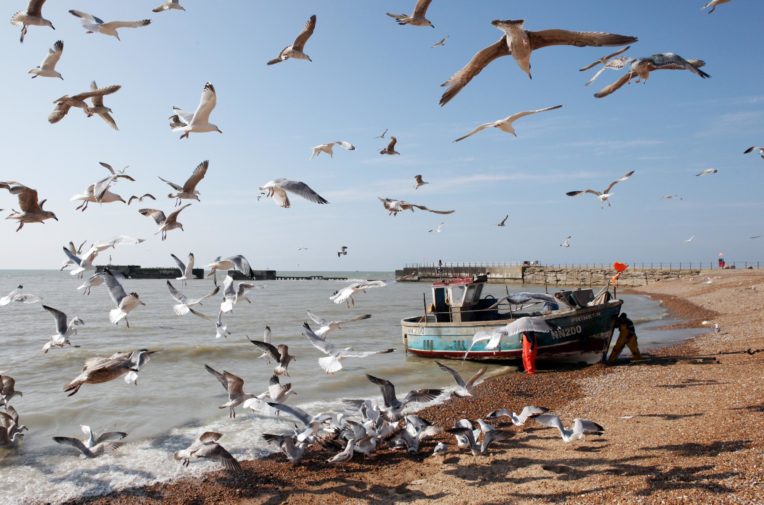 Small-scale fishers have long hoped for a greater share of UK fishing quota. Photo: David Sandison/Greenpeace
Revealed: the millionaires hoarding UK fishing rights
A painstaking five-month long investigation shows that a small group of wealthy families control huge swathes of the country's fishing quota
Revealed: the millionaires hoarding UK fishing rights
A painstaking five-month long investigation shows that a small group of wealthy families control huge swathes of the country's fishing quota
Small-scale fishers have long hoped for a greater share of UK fishing quota. Photo: David Sandison/Greenpeace
More than a quarter of the United Kingdom's fishing quota is in the hands of a tiny group of the country's wealthiest families, an Unearthed investigation has found.
Just five families on the Sunday Times Rich List hold or control 29% of the UK's fishing quota.
The finding comes from a new Unearthed investigation that traced the owners of more than 95% of UK quota holdings – including, for the first time, those of Scotland, the UK's biggest fishing nation.
It reveals that more than two-thirds of the UK's fishing quota is controlled by just 25 businesses – and more than half of those are linked to one of the biggest criminal overfishing scams ever to reach the British courts.
Meanwhile, in England nearly 80% of fishing quota is held by foreign owners or domestic Rich List families, and more than half of Northern Ireland's quota is hoarded onto a single trawler.
The news comes as the government is preparing to publish a new fisheries bill, which will set the legal foundations for the UK's fishing industry after Brexit. But while the government is hoping it can net access to more fishing rights in the Brexit negotiations, it has said the new bill will not see any redistribution of the UK's existing quota rights. 
As Unearthed's investigation reveals, this would leave the bulk of UK fishing rights in the hands of a small domestic elite and a handful of foreign multinationals.
Responding to Unearthed's findings, shadow environment secretary Sue Hayman said ministers needed to take "urgent action to use the powers that they have domestically to redistribute fishing quota to deliver a fairer deal for smaller boats".
"Fishing was the poster child of the Leave campaign and [environment secretary Michael] Gove has already broken promises he made to the industry to secure full control of our waters during the transition," she continued. "With all the talk of 'take back control', ministers have the power to distribute UK quota now and put the smaller-scale fleet first. So why wasn't it mentioned in their white paper?
"This [Unearthed story] shows that, while it points the fingers at others, this government is to blame for a sector rigged in the interests of the super-rich. Any future fishing policy must consider how new and existing quota can be more fairly distributed and we will treat this as a priority in the upcoming fisheries bill."
The investigation found:
The five largest quota-holders control more than a third of UK fishing quota

Four of the top five belong to families on the Sunday Times Rich List

The fifth is a Dutch multinational whose UK subsidiary – North Atlantic Fishing Company – controls around a quarter of England's fishing quota

Around half of England's quota is ultimately owned by Dutch, Icelandic, or Spanish interests

More than half (13) of the top 25 quota holders have directors, shareholders, or vessel partners who were convicted of offences in Scotland's

£63m "black fish" scam

– a huge, sophisticated fraud that saw trawlermen and fish processors working together to evade quota limits and land 170,000 tonnes of undeclared herring and mackerel

One of the flagships of the "Brexit flotilla" – which

sailed up the Thames in 2016

to demand the UK's exit from the EU – is among the UK's 10 biggest quota-holders

Around 29% of UK fishing quota is directly controlled by Rich List families. Some of these families have investments in dozens of other fishing companies, meaning companies holding 37% of UK quota are wholly or partly owned by these Rich List families.
What is a fixed quota allocation?
Most fishing rights in the UK are distributed by fixed quota allocations (FQAs). An FQA gives the holder the right to land a certain share of the UK's "total allowable catch" (TAC) of a particular stock. The TAC for each stock varies from year to year, based on scientific advice and negotiations in Brussels. There is an active market in the trading and leasing of FQAs.
The latest revelations follow Unearthed's 2016 investigation into English quota holdings which revealed that a tiny fiberglass dinghy apparently "held" more than a fifth of the fishing quota for the entire South-West.
Now, Unearthed's first UK-wide dive into the opaque world of fishing rights has uncovered further striking statistics.
Those with the biggest hoards of quota can earn millions leasing it to others without casting a net. In one recent case a company got rid of its boat and – while waiting for a new one – carried on earning millions from its quota alone.
That boat, the Voyager, holds more than half (55%) of Northern Ireland's fishing quota. In late 2015 the owners disposed of their old, 76m trawler and ordered a replacement . Company accounts show that the new Voyager was not delivered until September 2017, and in the meantime, the company made money by leasing out the quota.
In 2016-17 the company made an income of nearly £7m from its quota – reporting an operating profit of £2.5m – despite having no vessel for the full financial year.  
Despite holding more than half of the country's quota, the new 86m-long Voyager has not landed its catches in Northern Ireland, because it is too big for Kilkeel Harbour. Instead the vessel operates out of the Republic of Ireland port of Killybegs.
Unearthed approached Voyager Fishing Company and its owners, but they were unavailable for comment.
The black fish millionaires
In Scotland – the biggest fishing nation in the UK, with two-thirds of the quota – the domination of the fishing industry by Rich List families is most pronounced.
Five Rich List families control a third of Scottish quota and have minority investments in companies that hold a further 11%. This means, in total, companies holding close to half (45%) of all Scottish fishing quotas are wholly or partly owned by five wealthy families.
But the investigation also reveals how many of those at the centre of one of Scottish fishing's most infamous episodes – the black fish scandal – continue to dominate the industry.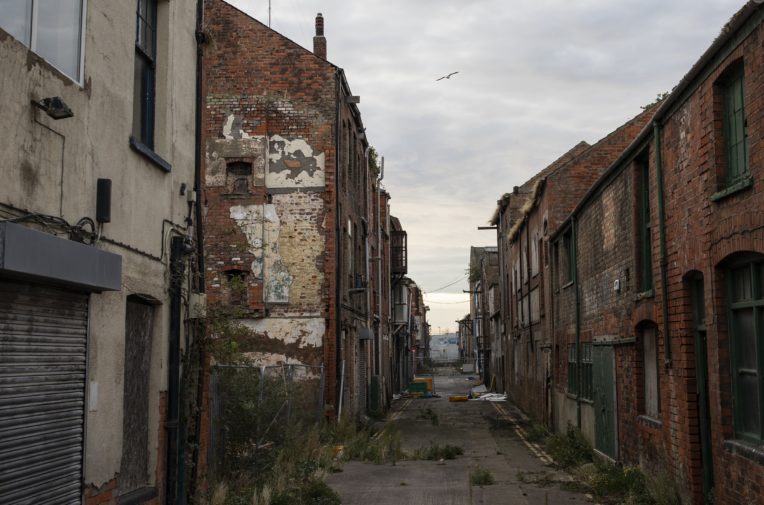 The scandal came to light in 2005, when Scottish officials raided fish factories to uncover "serious and organised" schemes to systematically evade quota restrictions for mackerel and herring, using underground pipes, secret weighing machines, and extra conveyor belts to land 170,000 tonnes of over-quota fish over several years.
A multi-year police investigation followed, resulting in a series of court cases over 2011 and 2012 in which three fish factories and more than two dozen skippers were hit with fines and confiscation orders for "black landings" of undeclared fish.
Unearthed's investigation found that of the 20 biggest holders of Scottish quota, 13 have directors, shareholders, or vessel partners who were convicted of sea fishing offences in the black fish scandal.
Among those prosecuted were four members of the Tait family – worth £115m according to the Rich List – whose Klondyke Fishing Company is the second-largest quota holder in Scotland.
The four men – all skippers on its vessels – were hit with fines and confiscation orders of more than £800,000 for their part in the scam.
Two years later, one of those skippers, Peter Tait, 50, reportedly bought the most expensive house sold in Scotland that year. Over the past five years Klondyke has paid out shareholder dividends totalling £56m.
Unearthed has reached out to Klondyke but the company declined to comment.
The Scottish top 10 also includes the vessel partnership that runs the trawler Christina S. In 2012, two men involved in that partnership – Ernest Simpson, 71, and his son Allan Simpson, 49, both of Aberdeenshire – were handed fines and confiscation orders totalling more than £800,000 for their involvement in the black fish scam.
Four years later, the Christina S was among the flotilla of vessels that sailed up the Thames with Nigel Farage, to protest EU fisheries policy weeks before the Brexit referendum.
John Anderson is chief executive of the Scottish Fishermen's Organisation, a huge fish producer organisation which has several members – including the Christina S – that were involved in the black fish scandal.
He told Unearthed: "The pelagic fishermen and processors involved will be the first to acknowledge that, in the past, mistakes were made."
As a result, he continued, the sector had founded the Scottish Pelagic Sustainability Group to oversee the certification of its main fisheries to Marine Stewardship Council (MSC) standards. Since that time, he added, "98% of the group's stocks have been certified as sustainable and well managed by the MSC."
Foreign flagships
In England, the UK's second largest fishing nation, three Rich List families control around 30% of the quota.
A further 49% is ultimately held by Dutch, Spanish and Icelandic interests who have bought up English vessels and quota.
The most significant of these interests is Cornelis Vrolijk Holding, a Dutch multinational whose UK subsidiary alone holds 24% of English quota, making it the biggest quota-holder in England, and one of the five biggest in the UK.
Matthew Cox, chief executive of North Atlantic Fishing Company, Cornelis Vroljik's UK subsidiary, said the company had been established in the UK since 1984, employed around 60 UK fishermen, had two UK offices, and had launched a UK apprenticeship scheme. He also suggested that the type of fishing his company does is not well suited for small-scale fishermen.
He added: "North Atlantic does not operate at the expense of small-scale fishermen. Pelagic [midwater fish such as mackerel and herring] and whitefish fishing are very different and a simple comparison/substitution between each is not possible.
"The deep sea nature of the environment make pelagic fishing difficult, dangerous and not very attractive for artisanal fishermen who tend to focus on low volume, high value fish such as cod or monkfish."
The bulk of the company's quota is for pelagic fish – which swim at midwater – and it has always emphasised the fact that its nets do not damage the sea bed.
However, after the Brexit vote in 2016 the company bought a beam trawler – with nets attached to a heavy beam designed to trawl for "demersal fish" that are found close to the sea bed – and bought up quotas for plaice and sole.
Mr Cox said: "Following the 2016 decision for the UK to leave the EU it was very clear early on, to the directors of North Atlantic Fishing, that there would be changes to the UK fishing industry. North Atlantic had always focused on pelagic fishing and it was therefore decided that the company should spread its risk in the interests of the company and its workforce and enter the demersal fishing industry in a very limited manner."
Privatising a public resource
Small scale fishermen told Unearthed that successive governments had mismanaged fishing rights, allowing quota to be consolidated on a handful of supertrawlers while smaller, low impact fishermen had been progressively starved of access.
Jerry Percy, director of the New Under Ten Fishermen's Association, told Unearthed this had resulted in a situation where the smaller inshore vessels that make up 77% of the fleet had ended up with "less than 4% of the quota".
"This is privatisation of a public resource," added Mr Percy, who campaigns on behalf of fishermen with smaller, under-10m long, vessels.
Large scale fishing interests contacted for this piece argued that their businesses generated hundreds of direct and indirect jobs, and that it was misleading to rank businesses by quota holdings alone, when the amount and value of fish that can be landed against those holdings varies between species, and area, and from year to year.
Several also pointed out that many of the biggest quota holders identified by Unearthed were trawlers focused on midwater pelagic stocks, like mackerel and herring.
These fisheries, they claimed, were environmentally friendly – with a low carbon footprint and no impact on the seabed – but the fish were too low-value and far from the coast to be attractive to small-scale fishermen.
John Anderson is chief executive of the Scottish Fishermen's Organisation – a huge fish producer organisation with several of the top 25 in its membership.
He told Unearthed: "While it is true that there has been considerable consolidation within the pelagic catching sector over the past 20 years, with a trend towards fewer, more efficient vessels each with a greater concentration of fishing opportunity, the economic reality is that small-scale, inshore fishermen, many of whom are also members of the SFO, do not have the necessary capacity or markets needed to fully utilise the pelagic quotas that are already available to them."
Mr Percy retorted: "If you go back years ago, there was any number of smaller inshore boats that were reliant on mackerel and especially herring in the North Sea before the inshore herring fisheries were decimated by overfishing by larger-scale interests."
Nick Underdown, of the Scottish campaign group Open Seas, said it was hard for smaller boats to take up mackerel quota without investment in onshore facilities to support them. "At the moment, the supply chain infrastructure favours bigger boats," he told Unearthed.
"But if we invest in processing with the strategic intention to help the smaller-scale fleet, then inshore fishery could bounce back.
"This would be a lifeline for those harbours where fishing has declined due to consolidation."
A spokeswoman for the Department for Environment, Food and Rural Affairs said: "We are clear fishing communities and our wider economy should benefit as much as possible from those fishing the UK's quota, and we are working closely with fishermen to review and reform the rules around the economic link condition."
Who are the families on fishing's Rich List?
Alexander Buchan and family are ranked 804 in the 2018 Sunday Times Rich List, with an estimated net worth of £147m. The family's Peterhead-based Lunar Fishing Company owns or controls 8.9% of the UK's quota holdings (739,153 FQAs), making it the biggest quota holder in the UK.
Jan Colam and family are ranked 882 on the Rich List (estimated worth: £130m). The Colam family-owned company Interfish is the second largest quota holder, with 7.8% of the UK total (643,927 FQAs)
Robert Tait and family are ranked 980 on the Rich List (estimated worth: £115m). The family's Klondyke Fishing Company is the UK's third-largest quota holder, with 6.1% of the UK total (506,953 FQAs).
Andrew Marr and family are ranked 567 on the Rich List (estimated worth: £209m). The family's Hull-based Andrew Marr International owns or controls 5.1% of UK quota holdings (419,937 FQAs), making it the UK's 5th largest quota holder. It also has minority stakes in companies and vessel partnerships that hold a further 5.4% of UK quota (445,981 FQAS).
Sir Ian Wood and family are ranked 77 on the Rich List, with an estimated worth of £1.7bn (a fortune built largely on oil and gas services). Sir Ian's fishing business, JW Holdings, holds 1% of the UK's fishing quota (83,463 FQAs) and has minority investments in businesses/partnerships that hold a further 2.3% (192,169 FQAs).