Liz Truss met with 'dark money' think tanks during taxpayer funded trip to Washington DC
The libertarian groups have close ties to the Koch brothers and are key backers of the Trump administration's drive to slash environmental regulations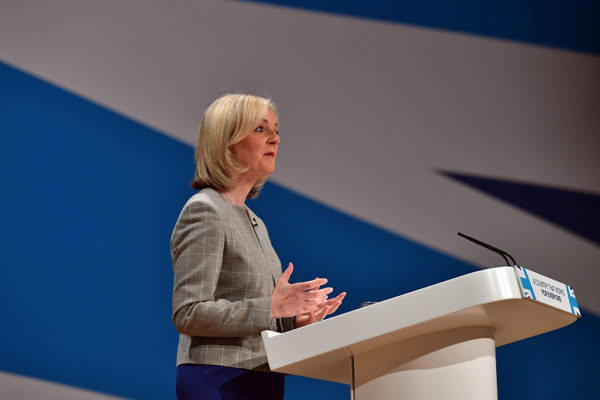 Treasury minister Liz Truss met with representatives of five libertarian groups during a recent visit to Washington DC that cost taxpayers more than £5000, Unearthed can reveal.
The groups include think tanks such as the Heritage Foundation and American Enterprise Institute, that aim to shrink the size of the US government and scrap environmental protections and which often fail to declare the sources of their donations
Truss also met with the American Legislative Exchange Council (ALEC), a controversial organisation that brings together corporate interests and state-level politicians to draft business-friendly legislation that is then enacted in state legislatures across the US.  
A number of businesses, including Shell, BP and ExxonMobil, have withdrawn from ALEC in recent years due to its continued attacks on efforts to tackle climate change.
Truss further attended a roundtable with Americans for Tax Reform, an influential campaign to slash taxes that has strong links with the UK's TaxPayers' Alliance (TPA).
The TPA's founder, Matthew Elliot, worked with Americans for Tax Reform early in his career before transplanting its model to the UK in 2004.   
Truss' meetings
17th September – Cato Institute; American Enterprise Institute
18th September –  American Legislative Exchange Council   
19th September –  Americans for Tax Reform – Roundtable
19th September – Heritage Foundation – Regulatory Reform Roundtable
Truss has long standing links with UK libertarian groups such as the Institute of Economic Affairs (IEA); TaxPayers Alliance and Adam Smith Institute.
An honour to address the @ASI Christmas Party. The ideas scene on the right of politics is buoyant. As are the guests….#battleofideas #changingtheweather pic.twitter.com/l2trX171RK

— Liz Truss (@trussliz) December 11, 2018
And so it begins! The launch of @Freer_UK, which will be working towards the spread of economic and social freedom throughout the UK #FREER pic.twitter.com/AP7hDKoQau

— IEA (@iealondon) March 19, 2018
Both the IEA and TaxPayers' Alliance, which Truss met in May, view Brexit as an opportunity to slash regulations and cut taxes.
A Treasury spokesperson referred Unearthed to the press release it put out at the time of Truss' visit, in which she said that the UK and US are: "Bound together by a shared belief in liberty".
Truss added: "Our Brexit plan gives us a huge opportunity to re-invigorate liberalism, unshackle entrepreneurs, build a more dynamic economy, and shape a new relationship with America."
Shadow Treasury minister, Clive Lewis, told Unearthed that Truss' meetings with "dark money" groups linked to the Koch brothers: "tells you, if anyone was in any doubt, what the motivations of Brexit are for the vast majority, not all, of Conservative MP's. When they say 'take back control' they're talking about taking back control for a small group of wealthy individuals."  
"That ultimately is what Brexit is all about, Brexit is about understanding that Europe, as neoliberal as some people think it is, is actually a bulwark in many ways against deregulation and liberalisation."