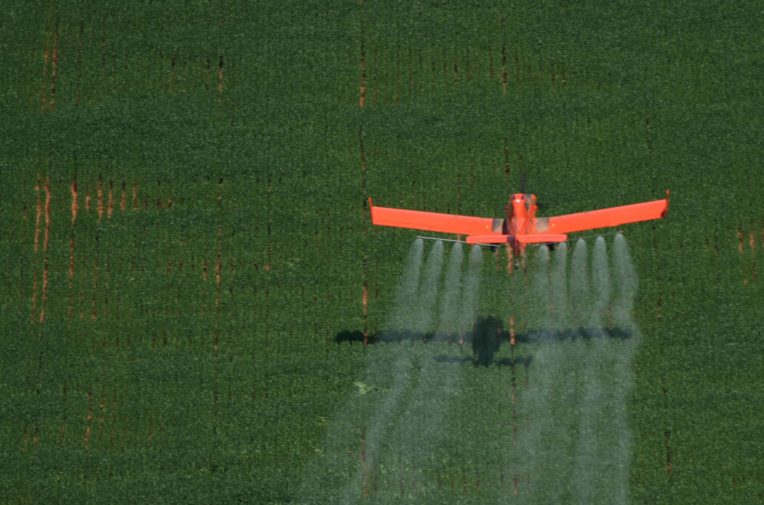 A plane sprays pesticides on a soy crop in Mato Grosso. Brazil is largest buyer of pesticides in the world, having overtaken the US in 2012. Photo: Daniel Beltrá/Greenpeace
Brazil pesticide approvals soar as Jair Bolsonaro moves to weaken rules
Unearthed investigation reveals 193 products have been approved since 2016 that contain chemicals banned in the EU
Brazil pesticide approvals soar as Jair Bolsonaro moves to weaken rules
Unearthed investigation reveals 193 products have been approved since 2016 that contain chemicals banned in the EU
A plane sprays pesticides on a soy crop in Mato Grosso. Brazil is largest buyer of pesticides in the world, having overtaken the US in 2012. Photo: Daniel Beltrá/Greenpeace
More than 1,200 pesticides and weedkillers, including 193 containing chemicals banned in the EU, have been registered in Brazil in just three years, according to an Unearthed investigation.
Official data shows a significant spike in approvals of new environmentally hazardous pesticide products under the governments of Michel Temer and current president Jair Bolsonaro. Both leaders are close to Brazil's powerful agribusiness lobby.
Our investigation found that a number of foreign companies have registered products in Brazil which contain chemicals that would not be approved in their home countries. This includes German companies Helm and BASF and Chinese firm Adama.
Meanwhile, almost half of all products approved since Bolsonaro took office contain active ingredients featured on Pesticide Action Network's (PAN) list of highly hazardous pesticides, indicating they pose a risk to human health or the environment.
The news comes as the far-right Bolsonaro government is looking to further deregulate pesticide rules in the coming months, with plans to strip Brazil's environmental and health regulators of their say on product authorisations.
What is an active ingredient
Active ingredients are the part of a substance which causes a biological or chemical effect. Paracetamol is often the active ingredient in cold and flu medication, for example, while glyphosate is the active ingredient in the popular weedkiller Roundup.
Brazil has one of the richest biodiversities on earth and there are concerns that the widespread use of pesticides in the country could have major consequences for the country's wildlife and environment.
Sônia Guajajara, the activist and leader of Articulação dos Povos Indígenas do Brasil, which represents over 300 indigenous groups in the country, told Unearthed: "Since Jair Bolsonaro took office, we have lived with constant attacks against our people, Mother Earth and food sovereignty.
"Every week new pesticides are registered. Besides contaminating our soil, our groundwater and negatively impacting our collective health, it is preposterous that the Brazilian Government allows foreign companies to sell products which contain chemicals that are banned in their domestic markets."
Sold in Brazil, prohibited at home
Brazil is the biggest buyer of pesticides in the world and the country allows chemicals to be used that have long been banned in other countries.
Unearthed identified several companies selling products in the country that are banned in their domestic markets.
Since September 2016 German firm Helm has registered nine products in Brazil that the company would not be allowed to sell back home. One product, registered in November 2016 contains the controversial chemical Paraquat – banned in Europe since 2007 and linked with Parkinson's disease. Brazil's government has said it will ban the chemical in 2020.
This year Helm put forward another pesticide containing diquat, a hazardous chemical that was banned in the EU last year after the European Food Standards Agency (EFSA) found it may disrupt human hormonal systems and poses a threat to birds and mammals.
Helm failed to respond to repeated requests for comment.
Helm isn't alone among multinational firms benefiting from Brazil's looser rules on hazardous chemicals. Other multinationals hold licenses for products that are now banned in their home countries.
People who live near large farms, including children, continue to suffer from acute poisoning because of unchecked use of hazardous pesticides
Syngenta, which was recently acquired by ChemChina, has long had a license to sell the paraquat-containing pesticide Gramoxone. The chemical is manufactured at the company's plant in Huddersfield, despite being banned in the UK for more than a decade.
Syngenta also sells several products containing atrazine, a weedkiller which scientists say "wreaks havoc with the sex lives of male frogs" and has been banned in the EU since 2003.
Though Syngenta acknowledges that it can't sell products containing atrazine and paraquat in the EU, the company has long insisted that the two chemicals are not "banned". It also disputes research linking paraquat to Parkinson's disease.
A Syngenta spokeswoman told Unearthed: "We manufacture in a few countries to make sure that all our customers benefit from the same high standards, and of course to manage costs. Atrazine and paraquat are registered in many so-called developed countries."
According to data collected by PAN International, atrazine is banned in 37 countries, while paraquat is banned in 46.
How we did it
Unearthed examined nearly three years worth of data from Brazil's agricultural ministry, using former President Temer's entry into office on August 31, 2016 as a starting point. We looked at every active ingredient in the registry and checked to see what it's legal status was in the EU and whether it featured on PAN's list. We found a 46% increase in the number of pesticide products approved by regulators in 2017, Temer's first full year in power.
Syngenta's products were registered in Brazil before 2016. Brazilian firms have registered three more products containing atrazine since Bolsonaro took office.
In April this year, German chemical giant BASF registered a product containing an active ingredient it's also not able to sell back home. The product contained the insecticide fipronil which "causes damage to organs through prolonged or repeated exposure" according to the European Chemicals Agency. The European Commission partially banned the products containing the chemical in 2013.
In May 2018, the European Court annulled the ban having found that officials imposed it "without performing an impact assessment", the FT reported. Nevertheless, Fipronil can't be used in the EU, as its approval expired in 2017.
A BASF spokeswoman told Unearthed: "All approved uses of fipronil have been subject to an in-depth evaluation process. When used according to label instructions, approved fipronil-based products are safe for humans and the environment."
The spokeswoman argued that "the decision to discontinue registration efforts in the EU was made due to economic reasons" as the patent for the active ingredient expired some time ago.
It is not only chemicals banned in the EU that are on sale in Brazil – even products banned in China have recently been approved.
Last year, Adama – a multinational owned by ChemChina that has its UK office in Thatcham –  registered two products containing acephate. Acephate has not only been banned in the EU for nearly two decades but the Chinese agricultural ministry introduced restrictions on the chemical in 2017.
Adama has registered 25 products in Brazil since 2016 containing chemicals prohibited in Europe. Chemicals include atrazine, glufosinate – which the European Chemicals Agency has said can "damage fertility" – and paraquat.
A spokesman for Adama told Unearthed: "human and environmental safety, as well as meeting the very strict regulatory requirements, are key commitments for us."
Not all chemicals that are prohibited in the EU have been explicitly banned by European regulators. Occasionally companies decide not to register chemicals in Europe and instead focus on other markets. In some cases, this could simply be because a chemical is intended for crops that are not grown in Europe. As Syngenta argued in their response to Unearthed's questions: "Each country's regulation is different because each country has different pests and different agricultural challenges."
 Of the products registered in Brazil since Bolsonaro took office, 14% contain chemicals explicitly prohibited in the EU. One in four of those products contain chemicals not approved in Europe.
'Poison package'
In 2018, Temer's final year in office, 450 new pesticide products were approved by the agricultural ministry, a 13-year-high. The most recent data – which goes up to May 21, 2019 – shows that 169 products have been approved since Bolsonaro was elected – suggesting the new government is maintaining the same high rate of approvals.
In its first few months, Bolsonaro's government has pressed ahead with moves to undo key environmental standards. In April the administration moved to scrap a body that oversees the government's environmental policy. The government has also moved to undo legislation protecting indigenous land. More recently the country's environment ministry saw its budget for climate work cut by 95%.
In addition to concerns about the impact of Brazil's pesticide use on biodiversity, there are also fears about its impact on public health.
Human Rights Watch (HRW) released a report last year on how people in rural parts of Brazil were being poisoned by dangerous pesticides sprayed near their homes.
Responding to our story, HRW Brazil's director Maria Laura Canineu said: "The government of Brazil is approving an increasing number of pesticides without taking steps to reduce exposure to hazardous pesticides. People who live near large farms, including children attending rural schools, continue to suffer from acute poisoning and other serious health effects because of unchecked use of those chemicals. Brazil should adopt and enforce a prohibition on ground spraying near sensitive sites."
What are highly hazardous pesticides
Each year Pesticide Action Network updates its list of highly hazardous pesticides. This list, based on criteria developed by the UN's Food and Agricultural Organisation and the World Health Organisation, shows chemicals with the highest levels of acute or chronic hazards to human health and the environment. Chemicals featured on the PAN list include substances which can be used in Europe but are controversial, like the insecticide chlorpyrifos and the weedkiller glyphosate. So far this year eight glyphosate and two chlorpyrifos products have been approved in Brazil. For the period back to September 2016, a total of 87 glyphosate and 14 chlorpyrifos products were registered.
As a member of Congress Bolsonaro's agriculture minister Tereza Cristina was the architect of legislation aimed at deregulating pesticides. Bill 6.299/2002 would undo key environmental and health protections first signed into law in the late 1980s.
The so called "poison package" would mean that pesticide products would only need to be approved by the agricultural ministry. Currently, three federal agencies regulate the use and approval of pesticides in Brazil: agriculture, health, and environment.
The bill would also mean that pesticides could be licenced for an unlimited period. In the UK, pesticide licences are examined after 10 years. The legislation could be voted on this year by the Brazilian congress after it passed a congressional committee last June.
This story was also covered by the Guardian.