Sacked climate chief encouraged oil exploration in North Sea
Former COP 26 president Claire O'Neill met with oil firms during her term as energy minister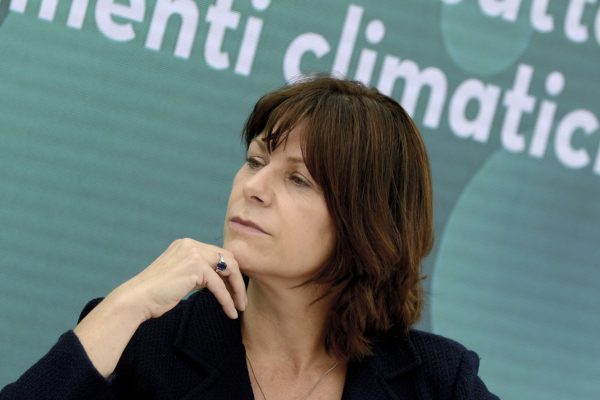 The sacked president of this year's international climate summit held meetings with fossil fuel companies to encourage oil exploration in the North Sea, Unearthed has learned.
Documents released under Freedom of Information rules suggest government officials are working to further develop oil exploration off the coast of Scotland, even as the UK hosts a major climate summit there this year.
They reveal details of meetings which Claire O'Neill held while energy minister in Theresa May's government.
O'Neill, who was removed as president of COP 26 last month by Boris Johnson, met with oil companies Statoil, Total, Shell and ExxonMobil in 2018.
Briefing notes for these meetings, obtained by Unearthed, show that they were arranged in part to encourage oil exploration in the North Sea, a policy which is still in place under the current government.
On February 5, 2018, O'Neill, who was at the time called Claire Perry, met with the Norwegian company Statoil, which has since been renamed Equinor.
Her briefing note reads: "Congratulations on your recent discovery of at least 25m recoverable barrels of oil in the Moray Firth basin."
The discovery was of between 25m and 130m barrels of oil. When burned, this could produce up to 56m tonnes of carbon dioxide, according to average figures from the United States Environmental Protection Agency.
This figure is roughly equal to the annual emissions of Portugal.
The briefing note added that there is "a clear and significant continuing role for gas", saying: "It is still expected to remain at at least two thirds of current demand over the next two decades."
At other meetings throughout 2018, briefing notes for O'Neill encouraged her to:
Discuss North Sea oil exploration with the bank Macquarie

Welcome the French oil company Total's "continued commitment to investing in the UK Continental Shelf"

Welcome Shell's investment in a range of North Sea oil fields and its interest in further oil exploration

Welcome ExxonMobil's presence in the UK
O'Neill told Unearthed: "Any briefing notes would have been prepared by officials in line with UK government policy."
As much oil as possible
The former energy minister was removed from her post of COP 26 president at the end of last month. Shortly afterwards, she told the BBC Radio 4 Today programme that Boris Johnson had told her "he doesn't really get" the issue of climate change".
The government's policy towards oil exploration in the North Sea is likely to come under increasing scrutiny ahead of the UN summit. Last year's Conservative manifesto said the industry "had a long future ahead" even as the UK moves towards net-zero. 
When teenage Swedish activist Greta Thunberg spoke to MPs in April last year, she criticised the government for supporting further oil exploration in the North Sea.
Current government policy is to recover as much oil from the North Sea as possible. But a report released last year by Oil Change International found that the 5.7bn barrels in already-operating oil and gas fields will cause the UK to miss its climate goals under the 2015 Paris Agreement.
Despite this, the oil and gas industry and UK government aim to extract 20bn barrels from the North Sea in total.
A spokesperson for the Department for Business, Energy and Industrial Strategy said: "The oil and gas industry continues to be important for the UK's economy, energy security and jobs, contributing over £334 billion in production taxes to date. 
"But we also recognise the urgent need to tackle climate change. That is why we've invested over £3 billion in low carbon innovation, and, since 1990, reduced emissions by over 40%, while growing the economy by over two thirds."