Anglo American, eyeing copper on protected indigenous land, failed to consult Amazonian community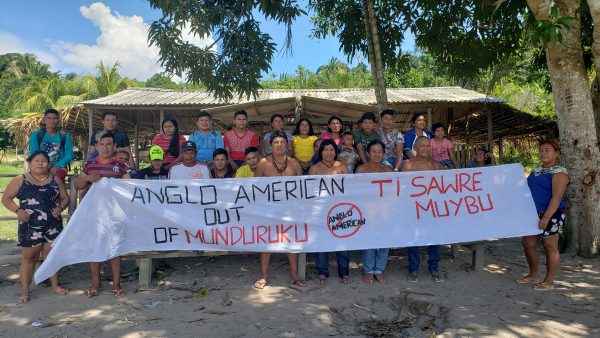 British mining giant Anglo American made three copper mining research applications on the protected lands of Indigenous people in the Amazon without consulting them, a community leader told Unearthed. 
Anglo American made the applications in the territory of the Munduruku people in 2019, despite commercial prospecting and mining in Indigenous lands being illegal under Brazil's constitution, unless Congress specifically permits it. 
Anglo American has also pledged to seek consent for projects that are likely to have significant impact on the lands of Indigenous people as part of its membership of the International Council on Mining and Metals.
Anglo American did not deny making the applications, but said it had "never carried out any activity" on the ground within the territory. It added that the three applications were withdrawn on January 27, after the applications were revealed by Amazonia Minada, a Pulitzer-funded InfoAmazonia project mapping mining applications against Indigenous territories. The requests for withdrawal from Anglo processes were logged in the database of the mining agency, ANM.
In a statement, the company said:"The mineral research requirements requested from the National Mining Agency (ANM) are based, initially, on public regional geological data. In this phase, there are no field activities."
The government defines this type of application as "authorisation for mineral research, in which works are carried out to define the deposit, its evaluation and the determination of the feasibility of its economic use."
'Sleeping Beauty' requests
Recent years have seen a proliferation of what Brazilian public prosecutors have called "Sleeping Beauty requests": speculative applications made by mining companies – and individuals – betting that Congress would open up Indigenous lands to commercial exploitation, a campaign promise of President Jair Bolsonaro. 
The Amazonia Minada project overlaid data drawn from Brazil's mining agency ANM, showing the locations of applications, with data from Brazil's Indigenous rights agency Funai, which shows the locations of Indigenous territories. The resulting map flags any instances where these datasets overlap. 
Mining within protected territories is illegal, but Amazonia Minada identified more than 2,500 mining applications overlapping Indigenous lands in the Amazon that are still marked as active in the ANM database. These vary from applications that are made entirely within Indigenous territories to those with very slight overlap along the borders. 
For Anglo American's applications that overlap the Munduruku Indigenous territory, under the Munduruku's own protocol, as well as the International Labour Organisation Convention and UN Declaration on Indigenous rights, the company should have formally requested the Brazilian government to start a consultation process with the Mundurukus on their behalf for any project that could affect them. Only after this consultation process could the company ask for the Mundurukus' "free, prior and informed consent".
But Alessandra Munduruku – who is vice-coordinator of both the Pariri Association, which represents all the Munduruku in the Medio Tapajos area, and of the Pará Federation of Indigenous Peoples – says that no government officials, at federal or state levels, have ever contacted the Mundurukus about the applications, nor have they ever been contacted by Anglo American. 
"We would never accept it," she added. 
Alessandra Munduruku said the Sawré Muybu land is still awaiting official demarcation as Indigenous territory, which she believed made them more vulnerable to speculative applications – even though Indigenous land does not need to be officially demarcated to warrant protection under the constitution.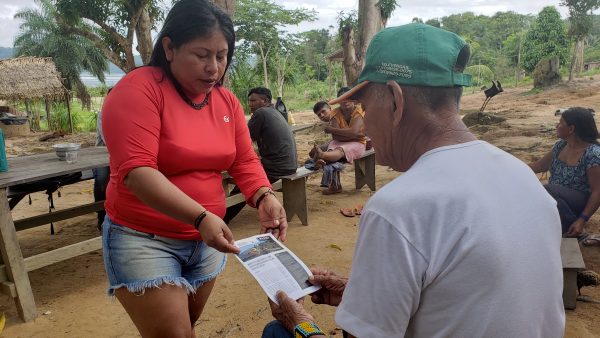 However, formal demarcation shouldn't make a difference to the level of protection offered to Indigenous communities, said Rosana Miranda, of AmazonWatch.
"It is not dependent on demarcation, it's a kind of birthright," she told Unearthed. "These applications should not be admitted into [ANM's] database at all, and if they are then afterwards [the ANM] should immediately tell them 'no'."
Anglo American has made 19 other applications that border the Sawré Muybu territory and, according to the Amazonia Minada project, may have small overlaps. Of these, 12 appear to have been suspended by a court ruling late last year. 
Anglo American said that these further applications, which had been approved by the ANM, were outside the limits of the Sawré Muybu TI. The company said that the lawsuit had focused on preventing legal or illegal mining within Amazon conservation areas called National Forests Itaituba I and II. Itaituba I borders Sawré Muybu territory; Itaituba II entirely overlaps it. 
A president on the side of the miners
There has long been frustration on the right wing of Brazilian politics that large tracts of land rich in natural resources are off-limits under the law to agribusiness and extractive industries. In 2017, former President Michel Temer attempted to unilaterally allow mining in an Amazonian nature reserve bigger than Denmark, called Renca, but an international backlash forced him to revoke the decree. 
Current president Jair Bolsonaro capitalised on these frustrations in a divisive, at times explicitly anti-Indigenous electoral campaign.
The Tapajós basin is a hotbed of illegal gold mining – Itaituba is known locally as "Nugget Town" and locals say that this activity increased with Bolsonaro's election, and has surged again during the latest phase of the pandemic. 
"And with the covid, it's even more worrying," said Beka Munduruku, a young member of the Sawre Muybu people. "Because while we are not going out much, they are taking advantage."
Last month, the Federal Prosecutor's Office opened an investigation into the failure of Brazilian authorities to tackle illegal gold mining in the Tapajos basin. 
But applications made through official channels are soaring too. Since Bolsonaro came to power in 2019, the number of applications made to the ANM for mining permits has increased sharply. In 2020, a total of 143 applications were made and not rejected by the end of the year – the highest number in 24 years and almost three times as many as in 2018, before Bolsonaro assumed the presidency. The surge of requests followed Bolsonaro's February 2020 unveiling of a bill to allow commercial mining on protected Indigenous lands, making good on one of his most controversial campaign promises. The bill has stalled, but in February Bolsonaro declared that it would be one of his legislative priorities for 2021. 
Even more worryingly, 71 of the 143 applications made last year were on land on which isolated, or uncontacted indigenous people live. Some uncontacted Indigenous communities are down to their last few members and are highly vulnerable.   
Anglo American's most recent requests were made between 2017 and 2019 and focused on land which extends into the Sawré Muybu territory, in the southeast of Pará. The land is traditionally occupied by the Munduruku people. 
Alessandra Munduruku said that her community would continue to oppose any commercial activity in their territory. 
"Suddenly there are some people from outside Brazil who want to explore our home? This is absurd," Alessandra added. "We are not going to let this mining company enter our territory. We are going to fight." 
Last month in response to a letter from AmazonWatch and Indigenous organization APIB, Anglo American refused to rule out mining on Indigenous lands in Brazil, regardless of changes to Brazilian legislation. 
Anglo American told Unearthed: "We are aware of the difficult history that exists between Indigenous Peoples and the mining sector. In many cases, legal and illegal mining has had a negative impact on the lives of these peoples and on the environment. However, we know that mining, when carried out responsibly, can bring sustainable development to host communities and regions."
The company added: "The company will always respect local laws and international standards and, if it eventually becomes involved with Indigenous Peoples, it will seek to obtain Free, Prior and Informed Consent (FPIC) from these peoples before carrying out any activities that require access to its territory."
But Rosana Miranda of Amazon Watch said this meant little when data showed that the company had already sought permission, and in some cases received it, to survey on land they were constitutionally forbidden from accessing. 
"Where does [the consultation] begin, who gets to decide, is it when they are already working there? Or after they did the research?" said Miranda. "They told us they know these applications overlap with Indigenous land, so if they intend to carry out research in that area why aren't they already in consultation with the Munduruku people?"
Regardless of how consultation processes were followed, the Mundurukus would never agree to their land being exploited for profit, said Alessandra Munduruku. 
"We don't even want this type of mining that will open up your territory, that will scare your game, that will make your river more dirty, that will lose your freedom and autonomy, because when these companies arrive, everything changes," she said.
"The future is not just destruction, the future is having the tree standing, it is having the river, you can fish, you can bathe, you can wash your clothes, you can play with your children. That is the future."