COP mail: Pledges, money and rules
Unearthed's daily climate summit news roundup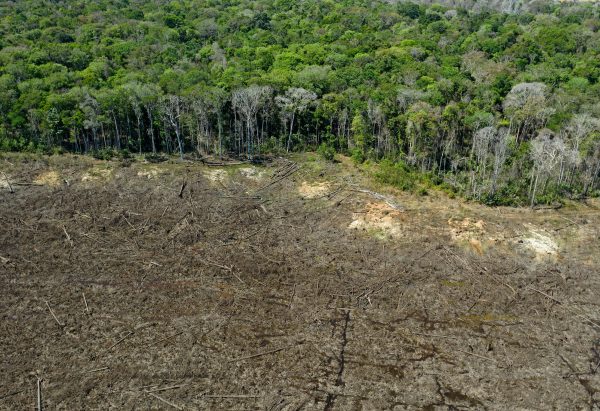 Hi there and welcome to the regular email from Unearthed where, over the next two weeks, we'll be keeping you up to speed with everything you need to know from both inside – and outside – the climate summit in Glasgow. At the same time we promise to go easy on you. This is designed to help mitigate information overload, not add to it!
It's a summit about pledges, money and rules in which we're probably going to get lots of the first, lots of pledges of the second and not so much of the third. But let's see how we're getting along.

At the summit..
World leaders promise to end deforestation by 2030: More than 100 world leaders have promised to end and reverse deforestation by 2030, in the COP26 climate summit's first major deal. The announcement came alongside a pledge by banks and financial institutions to eliminate their exposure to agricultural commodity-linked woodland destruction by 2025. Instead they'll make money on the other side. The pledge includes almost £14bn ($19.2bn) of public and private funds.
The only problem?  Signatories, which include Brazil, Russia, Canada and Indonesia as well as the US, UK and other western nations, did not detail how the implementation of the agreement would be tracked, or what might happen if nations reneged on the promise.
Biden administration moves to limit methane, a potent greenhouse gas: For the first time, the Environmental Protection Agency intends to limit the methane coming from roughly one million existing oil and gas rigs across the United States, The New York Times reports. The federal government previously had rules that aimed to prevent methane leaks from oil and gas wells built since 2015, but they were rescinded by the Trump administration. Mr. Biden intends to restore and strengthen them, aides said. The announcement came as more than 100 nations around the world joined together at a United Nations climate change summit here to promise to curb global emissions of methane 30 percent by 2030.
Many in the oil and gas industry have "welcomed" the US move but at the same time the industry appears united against a separate effort in Congress to impose a fee on methane leaks from oil and gas wells as part of a broader budget bill whilst over in the UK BP told reporters and investors that consumers will be threatened with even higher energy prices if the Government backs a "premature" ban on oil and gas drilling in the North Sea.
"If you take away supply but demand does not change, the only thing that happens is prices go up. "So we need to be very careful about prematurely taking away supply from the market," said Bernard Looney, the CEO.
 India PM Narendra Modi pledges net zero by 2070: Other pledges from India include  a promise for India to get 50% of its energy from renewable resources by 2030, and by the same year to reduce total projected carbon emissions by one billion tonnes. The reaction has been a mixture of dismay that the target is not really in line with any kind of science and significant relief that there are targets at all – and that they would suggest a much cleaner growth path than that followed by China (or the US & UK for that matter). It's all gone down very well in India which was probably Modi's main aim.
Deliver on promises, developing world tells rich at climate talks.
Deliver on promises, developing world tells rich at climate talks: Reuters picks up on arguably the most important theme of the summit. Money.  In 2009, the developed countries most responsible for global warming pledged to provide $100 billion per year by 2020 to help developing nations deal with its consequences. The commitment has still not been met, generating mistrust and a reluctance among some developing nations to accelerate their emissions reductions.  Leaders of countries such as Kenya, Bangladesh, Barbados and Malawi called rich nations to task for failing to deliver.
"The money pledge to least developed nations by developed nations … is not a donation, but a cleaning fee," Malawi's President Lazarus McCarthy Chakwera said.
South Africa hails deal to end reliance on coal: Speaking of… South Africa is set to receive $8.5bn (£6.2bn) to help end its reliance on coal in a deal announced at the COP26 climate summit. President Cyril Ramaphosa has called it a "watershed moment". The country is currently a major emitter of greenhouse gases as a result of its addiction to coal, which it uses to generate electricity.
In the world…
Madagascar is on the brink of famine caused by climate change: As world leaders meet in Glasgow for COP26, Sky's Alex Crawford reports from the front line of the climate crisis in Madagascar's Grand Sud, where babies are slowly dying of hunger as their mothers plead for help.
How loss of historical lands makes Native Americans more vulnerable to climate change: NPR reports that indigenous nations across the U.S. have lost nearly 99% of their historical land base over time. And it's not just the quantity of land that matters, but the quality too: Tribes were displaced to areas that are now more exposed to a wide variety of climate change risks.
Must read (and it has nothing to do with climate) 
The Most Detailed Map of Cancer-Causing Industrial Air Pollution in the US. A new ProPublica analysis shows for the first time just how much toxic air pollution they emit — and how much the chemicals they unleash could be elevating cancer risk in their communities.