Russian fossil fuels are the last thing the West wants to sanction. The reasons why are important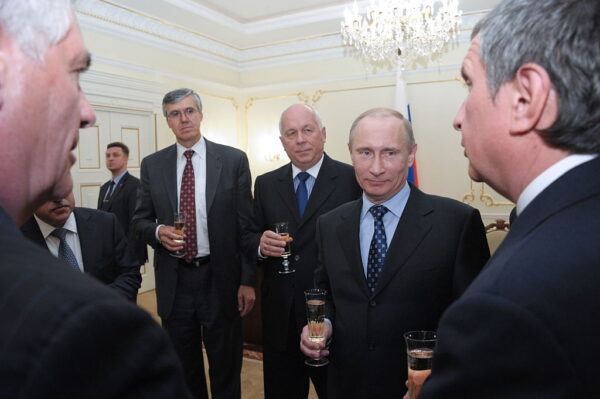 What to say? I never met my grandfather on my father's side. But in the 1920's, the family story goes, Stalin's men came to my grandfather's house in Crimea to count the number of rooms. It was just a few years after the end of the last Ukraine-Russia conflict.
The young Samuel packed up some of his belongings and walked. All the way to Turkey – changing his name subtly as he entered. Like millions of Europeans, I thought that kind of thing would help my children to understand our history in school. Not our present. 
We're way past the point where energy politics matter a great deal now, but let's go through the motions, because it does still matter – if only thanks to its connection to climate change.
Germany has cancelled the Nord Stream 2 gas pipeline (though number 1 is flowing fine). BP and Shell say they are leaving Russia. BP, in particular, found itself in hot water after Source Material revealed that its equity partner, Rosneft, was quite literally fuelling the Russian invasion. Gazprom has lost many of its sponsorship deals and faces some restrictions in the US, whilst the UK is banning Russian ships, including oil tankers, from UK ports. 
But there are still in fact few sanctions on the Russian fossil fuel industry, the industry which pays for, and fuels, the invading army. Russian oil tankers continue to deliver to the "energy independent" US. Given Russia is – economically speaking – a petrostate, it's a pretty big loophole. Even as the West targets Russian banks and foreign currency reserves, it continues to buy Russian oil, in dollars, at record prices. 
The US, apparently, wants to keep such sanctions "on the table" in case the situation worsens. One has to ask – as the Ukrainian government does regularly – what does 'worsen' look like exactly? 
Indeed, in the UK, even those many people who have enriched themselves from Russia's state energy sector, or who continue to do so, face few restrictions. The 'first wave' of UK sanctions was notable mostly for those it didn't target. Alexei Miller, chairman of the management committee of Gazprom, and Igor Sechin, president of Rosneft, both appear on the US list but not the UK's. They may make the next round. And in the UK, as elsewhere, almost no Russian energy companies are named, allowing them, at least in theory, to continue to sell, and raise money, on Western markets and from Western banks.
The lack of strong sanctions, not just on Russia's exports, but on its energy sector as a whole, explains why the only action from oil majors has been voluntary. While BP and Shell have promised to pull out (albeit have not yet actually pulled out) Exxon, Eni and Total remain heavily invested in Russian oil and gas. 
Only last year, we released footage of a senior Exxon lobbyist bragging about his success in warding off sanctions on Russia which might have impacted its investments. Exxon is in partnership with Rosneft there – suppliers to the Russian army. ENI, which boasts that it is Gazprom's "biggest buyer" is also working with Rosneft with whom it "has a joint venture for the exploration of promising assets in the Black Sea and the Barents Sea," according to the oil company's own website. A casual look at a map will reveal how deeply problematic that is. And 5% of Total's cash flow comes from its joint ventures in Russia. The ties run deep, and they are not (yet) being severed.
To some, all this is evidence of our need to ditch net-zero and pile into fossil fuels. To use a brutal and horrific war on European soil, enabled by fossil fuel cash, as a reason to invest further in a fossil fuel economy is a remarkable achievement in double-think. Indeed, part of the reason sanctions have been slow in coming is that there are so many other oil-fuelled despots already under sanction that options are increasingly limited. 
Even the case for new oil and gas extraction to reduce our reliance on Putin's regime is flimsy. That new extraction would only come on-stream at any meaningful scale years from now, just at the point when net-zero policies should render it relatively pointless. But perhaps if investors and policymakers want to invest, for reasons of geopolitical security, in supply we are unlikely to need, they can – just so long as there is also a plan to tax the carbon and manage those assets when they are left stranded. Cheap oil and broke oil firms are not necessarily bad things. The fear, of course, is that it doesn't pan out that way. That instead this new supply provides political fuel for maintaining demand – so undermining the security it is meant to provide. 
Because the more demand there is for oil and gas, the more money there is for Putin. The oil price is global and it rises like all other prices, with demand. It doesn't matter who uses what oil where, if there is less demand, dictators get less cash.
That's why – as we reported before COP and as has emerged again now – the Russians and the Saudis don't want action on climate change. They don't even want the UN to note that climate change is caused by humans. 
​​​​​​"As current events make all too clear, our continued reliance on fossil fuels makes the global economy and energy security vulnerable to geopolitical shocks and crises," said UN Secretary General António Guterres.
"Instead of slowing down the decarbonization of the global economy, now is the time to accelerate the energy transition to a renewable energy future."
Guterres was speaking at the launch of the latest report from the IPCC which revealed the sheer scale of the health and security risk now posed by climate change, in the very near term.
​​​​​Everything is happening faster. The Greenland ice sheet is melting faster, the coral reefs disappearing faster and climate-related impacts like droughts and hurricanes are hitting the world faster. Right now 40% of the world's population is "highly vulnerable" to the impacts of climate change.
I don't often mention the NGO that backs our reporting and gives us our power. I tend to think it's better to speak with a human rather than a corporate voice. But never have the words Green and Peace gone more clearly together.