How Nigel Farage could make millions from a company betting on net zero
Former UKIP leader has share options in a little known Dutch offsetting firm committed to helping companies meet net zero targets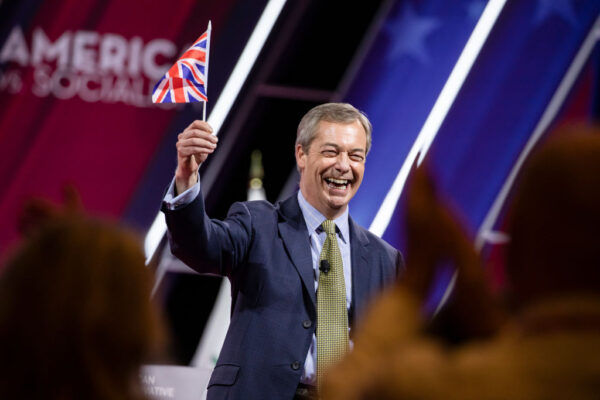 Nigel Farage could make 18.5m Euros from share options he holds in a carbon offsetting company that says it disagrees with his recent comments on net zero. 
The former UKIP leader, who opposes net zero but says he supports tree-planting, was widely reported to have taken an advisory role with Dutch Green Business (DGB) Group last year.
Documents published since then show Farage was also given one million share options in DGB after he was introduced to the business by John Mappin, a flag-flying QAnon conspiracy theorist. 
Mappin—a former commodities broker who flew a Q flag in support of the deep state American conspiracy theory at his hotel in Cornwall in 2020 and has spent the last few weeks amplifying pro-Putin propaganda on social media—was named chairman of DGB's supervisory board in 2020, but his involvement in the company is now subject to a dispute among its major shareholders.
While this is ongoing, Farage has had his position on DGB's advisory board put on hold. Farage's share options in DGB are, however, not affected though they will only manifest if the firm massively increases in value.
In a comment to the FT, who picked up this story, Farage played down the likelihood of making millions from his options in DGB. "If I had a better forecast at Cheltenham last week I would have won £20m," he joked.
He added: "At the moment my relationship (with DGB) is in abeyance."
Farage said in an interview posted on the company's website last year: "I'd like something that is a free market solution, that doesn't rely on government subsidy," before he noted that at least some government policies on climate change may be helpful to the bottom line.  
"It's a commercial company, you know, it wants to make money, and there are going to be vast amounts of money made in all of these areas over the next few years as firms are forced by legislation to offset their CO2 emissions."
For vast amounts of money to be made, for Farage and anyone else involved in the company, DGB's share price would have to improve significantly. 
Farage was given one million options in the company with a strike price of 20 Euros. The share price of DGB is currently sat around 1 Euro, but if it hits 20, Farage's share options will be worth 20m Euros, or £16.9m at today's exchange rate. The strike price for the shares is 1.50 Euros, meaning Farage would need to pay 1.5m Euros to access the shares. If he did that he would bank 18.5m Euros profit.
Selwyn Duijvestijn, CEO of Dutch Green Business, commented: "We contracted Nigel Farage last year as a spokesperson for the business – he worked with us for an initial six months – this relationship has been on hold since September and is under review… As part of the initial contract, Farage has share options which were issued with a very ambitious target given the share price would have to rise twenty-fold from its current price." 
DGB may struggle to hit those targets. 
The Dutch company aims to offset carbon dioxide emissions by buying and selling carbon credits and developing tree-planting projects. Curiously, it claims on its website to have been founded in 1957, many decades before carbon offsetting was invented. A bit of digging revealed that while the original stock market listing has been around since 1957, DGB itself has only been around since 2020.  
Selwyn Duijvestijn, DGB's CEO, told Unearthed that, having been put in touch with Farage by Mappin, he felt that he and the Brexit campaigner shared "a mutual passion for planting trees".
Farage has made several comments in the past doubting climate science and recently called for a referendum on the UK government's net zero emissions agenda, which is a key part of the country's plan to address climate change. Duijvestijn said: "DGB disagrees with Farage's recent comments on net zero".
Farage has been keen to show his support for DGB, saying in an interview posted on the company's website last year: "If people invest in this, they're investing in a company that has a mission in terms of what it wants to achieve that I fully endorse, and secondly if it goes well, they'll make money. As we know, there are no guarantees ever with buying stock, but it offers both those possibilities."
In 2017, while in a previous role as fund manager of Mountain Shield Capital, Duijvestijn was found by Dutch financial regulators to have disclosed "incorrect and misleading information" about the fund. He was threatened with a fine of 20,000 Euros for every new misleading statement he made for the following 12 months, up to a maximum of 100,000 Euros. Asked about this by Unearthed, DGB said in a statement: "The CEO of the company, Mr Duijvestijn has held positions in a number of different organisations, of which in one there was a dispute with the AFM [the Dutch regulator], which never resulted in any fine as a result of complete compliance."
Sceptical 'partners'
DGB listed a number of "partners" on its site, including satellite image specialist Maxar, a Peruvian offsetting organisation called Quadriz, and Amazon Web Services, the IT service subsidiary of the online retail giant.
When Unearthed contacted these firms, they all denied having a "partnership" with DGB. 
Quadriz, which runs an offsetting project aiming to protect an area of the Peruvian Amazon, said that they had been in discussions with DGB but these had fallen apart and that, rather than pursuing a more substantial project, DGB had instead opted to purchase a small number of credits—around 30,000—from the project. Quadriz added: "We were recently made aware that DGB, has listed our project on their website in an inappropriate/misleading way, hence we have already requested for this to be rectified. However, we were unaware of being listed as a partner on its website, so thank you for the heads up." DGB insisted, in emails to Unearthed, that it remained in contact with Quadriz in order to "source large-scale native forestland plots". Quadriz did not respond to a follow-up fact-checking email on this.  
Duijvestijn told Unearthed that naming Amazon and Maxar as partners had been an error and that DGB is merely a "satisfied customer of their software". He said that DGB would remove references to those companies from its site.