The oil industry's global south spills are underreported
The average life in the Niger Delta, which has been plagued by deadly oil and gas accidents, is 10 years less than in the rest of Nigeria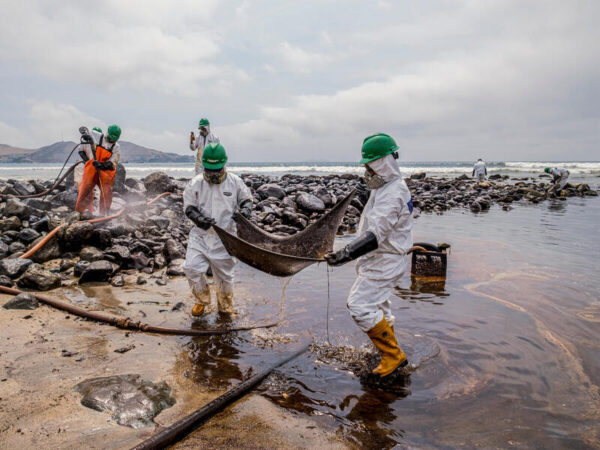 Hello!
Chris here today and as the EU and US continue to grapple to get off Russian oil and begin to look elsewhere for oil supplies, I wanted to share a little bit about what's been going on with the oil industry in the Global South. In particular when it comes to spills and accidents.
You might have heard about the situation off the west coast of Yemen. Last Wednesday donors raised $33 million for a UN plan to prevent a 45-year-old tanker moored there causing a major disaster which experts have suggested would be four times larger than the Exxon Valdez spill.
The floating storage and offloading facility, unironically named FSO Safer, holds 1.1 million barrels of oil and has been at risk of exploding for years. "If it were to happen, the spill would unleash a massive ecological and humanitarian catastrophe centred on a country already decimated by more than seven years of war," said David Gressly, the United Nations' Resident Coordinator in Yemen.
According to the UN, the disaster would instantly wipe out some 200,000 fishing livelihoods, expose families to life-threatening toxins, and "have a severe environmental impact on water, reefs and life-supporting mangroves". Saudi Arabia, Eritrea, Djibouti and Somalia would also be affected, not to mention that the clean-up would cost an estimated $20 billion.
However, whilst work is underway to avert this potentially disastrous spill, many actual spills have occurred in the Global South in recent months without capturing broad media attention. Each one of these spills and their impacts are shocking in their own right, but are especially alarming when viewed together.
Last month an explosion occurred at a makeshift refinery in the oil-rich Niger Delta region of Nigeria – birthplace of Ken Saro-Wiwa, the environmental activist hanged by the Nigerian state after protesting Shell's operations in Ogoniland. The explosion, which left charred bodies "scattered among burnt palms, cars and vans" according to a Reuters report, killed more than 100 people.
This isn't the Niger Delta's only major oil disaster in the last 9 months. At least 25 people, including children, were killed in an explosion at another illegal refinery in October. Meanwhile, in November last year, an extremely high order spill occurred in the Nembe region of the Niger Delta, lasting over 32 days before it was stopped. 
The Nembe spill left the region looking like "a war zone", according to Nigeria's environment minister, Sharon Ikeazor. Bayelsa State governor, Douye Diri, echoed Ikeazor's horror, saying: "In all my life, I have not seen such magnitude of oil spillage" after a visit to the spill site in November. Activists have called it the biggest spill in the history of oil and gas exploration in Nigeria.
Residents in the Nembe area were forced to flee their homes, complaining of breathing difficulties amongst other issues like a lack of drinking water and food. The area's fishing and farming based economy has also been ravaged by the spill.
There is no confirmed number of human casualties from the Nembe spill, but a BBC Pidgin article at the time reported that a four year old child was feared dead as a result of methane gas poisoning from the blowout. 
Shell's Nigerian subsidiary Shell Petroleum Development Company of Nigeria (SPDC) sold the oil mining licence linked to the Nembe spill (OML 29) to an indigenous Nigerian company, Aiteo, in 2015. Aiteo are currently undertaking legal proceedings against Shell, which predated the spill, seeking $2.5bn compensation over the sale of the mining licence where the spill occurred.
The Bayelsa State Oil & Environmental Commission, set up to investigate the environmental and human damage caused by the operations of multinational oil companies in Bayelsa State, said at the time that "Shell should at least share responsibility for the blowouts" after what they call "fifty years of underinvestment in infrastructure integrity". 
A Shell spokesperson told Unearthed: "Before Aiteo bought Shell's 30% interest in these assets, they used their own experts and advisors to conduct independent due diligence on the facilities. The responsibility for a spill six years after the sale rests with the new owner."
Regardless of the dispute between former and new owners, it's unlikely that the communities irreversibly affected by the spill will receive compensation anytime soon. It wasn't until 2015 that Nigeria's Bodo community were remediated £55m by Shell for a spill which happened in 2008.
Finally, on 4th February, an oil tanker, Trinity Spirit, holding 50,000 – 60,000 barrels of oil exploded off the coast of Nigeria before sinking. Two fatalities were confirmed. 
Counting the confirmed casualties from these four disasters alone, that's a minimum of 127 people who have been killed in the last 9 months from oil-related disasters in Nigeria, not to mention those who have reported breathing difficulties and other health complaints as a result of exposure to harmful toxins.
The average life expectancy is 10 years less in the Niger Delta than in the rest of Nigeria.
Elsewhere, on 15th January this year, a major spill occurred in Peru when a routine tanker discharge at the La Pampilla refinery – Peru's main oil processing plant 19 miles north of Lima – went wrong after being hit by strong waves linked to the Tonga volcano eruption. It sent almost 12,000 barrels of oil spewing into the Pacific ocean, spreading to marine protected areas, home to rare aquatic life. 
Local fishermen protested that they weren't able to go out and work because of the spill, which officials described as an "ecological disaster". Peru recently filed a civil suit against Spanish energy company Repsol and others, asking for $4.5bn in compensation for the spill.
Later that month a province in eastern Thailand declared a state of emergency after crude oil from a ruptured underwater pipeline reached its beaches, blackening the sand in the process, and a ruptured pipeline in Ecuador's Amazon region leaked almost 6,3000 barrels of crude into the Cayambe-Coca nature reserve. The Coca river serves as a water source of many indigenous communities.
This is of course just a snapshot of some notable oil-related disasters which have taken place since October last year. 
Oil-related disasters that don't make the news happen all the time, all across the world, but especially in the Global South where people are disproportionately impacted by oil industries –  as the series of recent spills in Nigeria bears witness to. 
Aside from the human angle to these disasters, they also raise several questions about the way that our international oil infrastructure is organised. Dominic Kavakeb, Senior Adviser at Global Witness, told Unearthed: "The regularity with which fossil fuels and the infrastructure they use are responsible for oil spills in the global south is yet another example of how the attempts by this industry to promote themselves as responsible is nothing but pure PR." 
"They spend millions trying to portray themselves as the good guys when in reality they are causing huge suffering, disproportionately in the global south."
Almost every spill has an impact on lives, livelihoods and ecosystems. The oil mined and transported from these countries in the Global South fuels the global market. These countries are likely to be tapped up for increased oil supplies as Russian oil is phased down. These spills are our problem too.