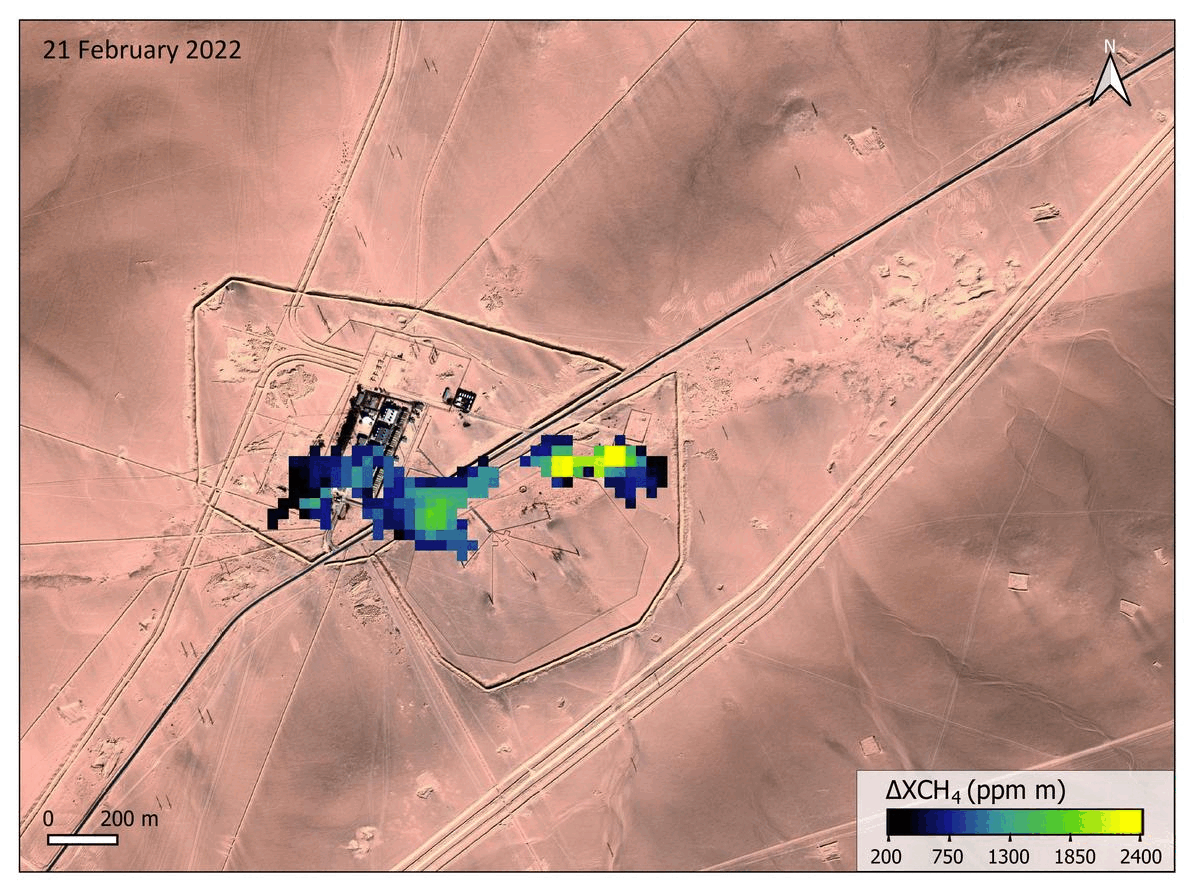 Scientists uncover decades old methane leak in Algerian desert
New satellite research shared exclusively with Unearthed reveals significant leaks in an important gas market for EU
Scientists uncover decades old methane leak in Algerian desert
New satellite research shared exclusively with Unearthed reveals significant leaks in an important gas market for EU
On Algeria's largest gas field, a key source of energy for the EU, a facility has been leaking a potent greenhouse gas into the atmosphere for almost 40 years.
The compression station, which helps pump gas from the Hassi R'Mel field to Europe, has been releasing methane regularly since at least 1984, according to new satellite research shared exclusively with Unearthed and published alongside Bloomberg. Satellite data shows methane leaking from the site as far back as November 5 of that year, seemingly from a flare pit.
The findings come with the EU looking to ramp up gas imports from Algeria—already a key source of energy for the bloc—in light of Russia's invasion of Ukraine. Amid the dash for gas, the EU is also looking to tighten controls on methane leaks from within the bloc and from key exporters.
Methane is a potent greenhouse gas and a key trigger of climate change. Stopping leaks from the oil and gas sector is seen as a vital way to stop the worst effects of climate breakdown while capturing and selling leaked methane, a key component of natural gas, could help the ailing global energy market.

At the facility, located just 14km south of the main gas hub at Hassi R'Mel, between 2017 and March 2022, there were 188 days where methane spikes were detected out of 384 days where good quality satellite images were available, with the most intense plumes spotted between 2017 and 2020. From 1984 to 2017—a period where the quality of satellite data was limited making leaks harder to see—there were 35 days where methane plumes could be spotted.
Unearthed was able to establish that the compressor station was on Hassi R'Mel field with help from open source specialists McKenzie Intelligence Services. These stations help gas flow from one location to another and this facility takes in gas from nearby fields, before sending it to the main hub, where a portion is then sent for export to the EU and other markets.
While this facility is the most potent and persistent source of methane on the Hassi R'Mel field, it is not the only one. Researchers from the Land and Atmosphere Remote Sensing (LARS) group at Valencia Polytechnic University in Spain identified other sporadic emissions sources near the main hub at Hassi R'Mel.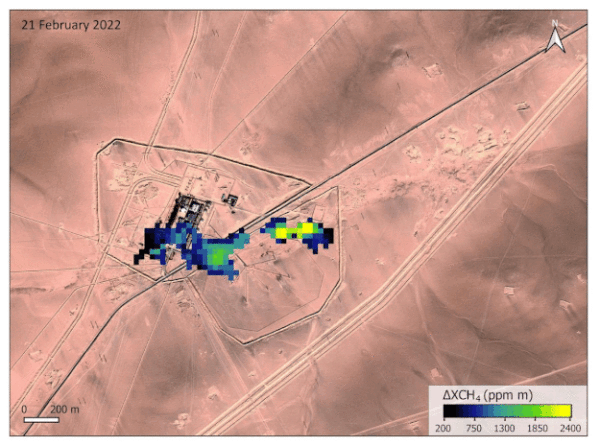 The largest methane plume from the compressor station was around 4.5 tonnes per hour and was spotted on 21 November 2021, with the detection threshold around one tonne per hour.
The Hassi R'Mel basin released an estimated 939,000 tons of methane last year,
up 67% from 2020, according to data from geoanalytics company Kayrros SAS, analysed by Bloomberg. To put that in context, that amount of methane is roughly equivalent to the annual emissions of 17 million American cars.  
A major cause of climate change
Methane is 84 times more potent than carbon dioxide as a greenhouse gas during its first 20 years in the atmosphere, before dissipating. With time running out to stop the worst effects of climate change, cutting methane leaks from oil and gas is seen as a relatively painless way to make rapid emissions reductions, compared with the challenge of reducing methane from agriculture and other sources.
Major leaks from oil and gas infrastructure are severely underreported, with emissions 70% higher than figures reported by governments, according to the International Energy Agency (IEA). The IEA also found that all the methane leaked in 2021 could have provided 180 billion cubic metres of gas for the market, a figure not far off all the gas used in Europe's power sector.
Luis Guanter, who leads the LARS group, said that methane leaks comparable to the ones in Algeria are likely happening all over the world, including in areas where, due to factors like vegetation and cloud cover, satellite detection is only possible for extremely large emissions.

"It is only that the satellite methods that we are using to map methane plumes are at the moment more easily applicable to semi-arid regions such as Algeria or Turkmenistan, where satellites have detected large methane plumes," he said. "Further work is needed to improve detection limits over vegetated and frequently clouded areas such as Alaska or Siberia."
To get a full picture of the extent of methane leaks in Algeria, on the ground monitoring would be required. This could be done using an infrared, methane detecting camera but this technology can cost up to £100,000 to buy and is subject to export controls, which makes it hard to use in countries like Algeria, where access to oil and gas sites is also tightly controlled.
LARS researcher Itziar Irakulis Loitxate, who led the Algeria work, told Unearthed that the recent rapid advances in satellite technology mean scientists like her can "obtain information that would not have been possible just a couple of years ago." She cautioned, however, that this is still a new area of study. "We hope that new satellite missions and improved image analysis methods will help overcome many of the limits we have today."
Algeria is regarded as a methane hotspot but the country has been unwilling to sign up for initiatives aimed at curbing the pollutant. Most recently at the UN climate conference in Glasgow last year, the country refused to join 105 others in signing a pledge to reduce methane emissions by 30% by 2030.
Significant methane leaks were also detected at two facilities on Algeria's largest oil field by a team of researchers in the Netherlands. 80 plumes from two gas compressor stations on the Hassi Messaoud oilfield were spotted in 2021 by scientists from SRON, a centre for space research. Most of the gas produced at Hassi Messaoud is reinjected in order to increase oil production, but some evidently leaks out.
At Hassi R'Mel and Hassi Messaoud, the amount of methane coming from the site could be significantly higher than researchers are able to detect using satellites. This is partly because the detection threshold for methane, one tonne per hour, is relatively high, while there are days when getting a clear image is impossible, owing to issues like cloud cover.
Sonatrach, the Algerian state oil company, dominates the oil and gas sector in Algeria and runs all the facilities mentioned in this story.
In response to a request for comment from Bloomberg for this story, Sonatrach CEO Toufik Hakkar said the company had made progress reducing emissions from flaring in recent years and that the firm's own emissions estimates are "much lower than what is announced elsewhere." He added:  "I would also like to specify that we impose in all contracts with our partners the recovery of flared gases."
Algeria is a key source of gas for the EU, with two-thirds of Spain and Portugal's annual gas imports coming from the country, according to an analysis by the FT. Last year, 12% of the EU's gas came from Algeria. For context, Russia accounted for 45% and Norway for 20%.
Italian Prime Minister Mario Draghi recently agreed a deal with Algeria to ramp up gas imports from the country, in order to ease the country's dependence on Russia. Spanish ministers have also looked to increase gas supplies from Algeria. The UK is heavily reliant on gas from the North Sea and Norway, with a fraction coming from Algeria.
Meanwhile, the EU is working on legislation aimed at curbing methane emissions from fossil fuels, with policymakers under pressure to extend rules tackling leaks to key export markets, like Algeria.
Charlotte Hanson, a lawyer with Client Earth who is closely monitoring the EU negotiations said: "New investigations are constantly emerging that prove methane leaks from the fossil fuel industry are serially under-reported. At the moment, there is little incentive for companies or governments of gas-exporting countries to clean up their domestic industry. Through its upcoming methane legislation, the EU has a vital opportunity to change this, by requiring that methane which is currently leaked is instead captured and used. This would help dismantle the argument for new gas extraction as well as the enormous damage that methane leaks are causing to our climate."