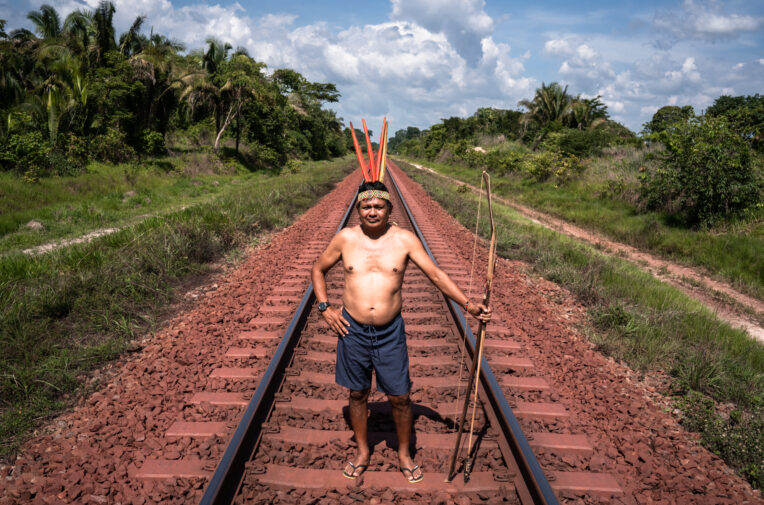 Zeca Gavião, the leader of the Gavião Kyikatêjê village poses for a portrait in traditional clothes at the Carajás Railroad, inside the Mãe Maria Indigenous Land, in October 2021. Photo: Ian Cheibub / Unearthed
In the Brazilian Amazon, an Indigenous community faces down an Iron Giant
Pará's Gavião people put a brake on Vale's ambitious railroad project
In the Brazilian Amazon, an Indigenous community faces down an Iron Giant
Pará's Gavião people put a brake on Vale's ambitious railroad project
Zeca Gavião, the leader of the Gavião Kyikatêjê village poses for a portrait in traditional clothes at the Carajás Railroad, inside the Mãe Maria Indigenous Land, in October 2021. Photo: Ian Cheibub / Unearthed
Ropré Kwyktykre Homprynti, an Indigenous leader in the Amazonian state of Pará, remembers life before an iron ore freight train line sliced through Mãe Maria Indigenous land. 
The community of roughly 760 Gavião people–made up of three ethnicities–lived together in one large village in their 620 sq km reserve. The forest leading to the Tocantins river, which makes up their southern border, was largely intact. 
Today, mining giant Vale's railway cuts off access to the southernmost part of the Gavião people's land. A dusty corridor of deforestation flanks the tracks, where trains thunder by 35 times a day, including overnight. Each train extends for 3.3 km, and carries as much as 40,000 tonnes of iron ore from Vale's huge Carajás iron ore mines to an Atlantic port in Maranhão state.
Within the Gavião community, Vale's attempts to compensate for damages caused by the railroad have sown dissent, fracturing a once-cohesive community into 19 villages.
Homprynti says the trains shed dust and iron ore. Vegetation along the railway line has been razed, including mature Brazil nut trees – traditionally the Gavião's main source of income since their first contact with non-Indigenous people – leaving only weedy grasses.  
"Every time a train passes, iron ore falls into our reserve. There are no more trees [near the line], only capoeira", he said.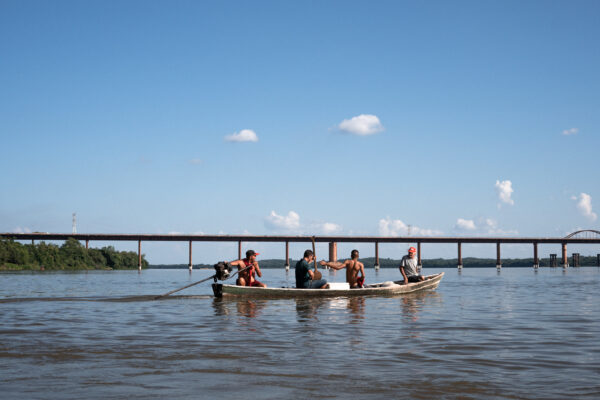 With few footbridges, scores of people along the length of the 970-km railway have been killed while crossing the tracks. Those animals that haven't fled because of the noise are routinely flattened, leaving little game to hunt. Walls vibrate and crack, causing dangerous living conditions, and there have been repeated reports of violent clashes between Vale-contracted security guards and locals. 
Now, Vale is building another identical line in parallel, which it says will increase its transportation capacity to 230 million tonnes, from 150 million tonnes. Construction began in 2013, and nearly half of it is built along other parts of the 970-km line. Iron ore is essential for producing steel, which is fundamental for large-scale construction and industrial infrastructure, from skyscrapers to bridges. 
But to build through the Mãe Maria Indigenous land again, the company needs permission from the leader of every Gavião village. And some of them – furious with how the existing line has turned their world upside down – are still refusing to give it.
"The railroad has brought all the problems we have here," said Kátia Silene, the chief of Akrãtikatêjê village, one of the 19 Gavião communities in the Mãe Maria Land. "If the duplication goes ahead, there will be more noise, pushing away the animals we hunt, and more dust, polluting our rivers, killing our fishes, and affecting bee pollination."
Vale says that: "Since 1982, Vale has maintained a permanent dialogue with the Gavião people, during the construction of the Carajás Railroad (EFC). The company maintains a specialised team, made up of anthropologists and other professionals exclusively dedicated to interacting with indigenous peoples, respecting their characteristics and current legislation."
Silene says that although Vale has compensated them, the relationship has forced them into a dependency on cash – with which they had little experience before – and wrought irrevocable changes to their culture.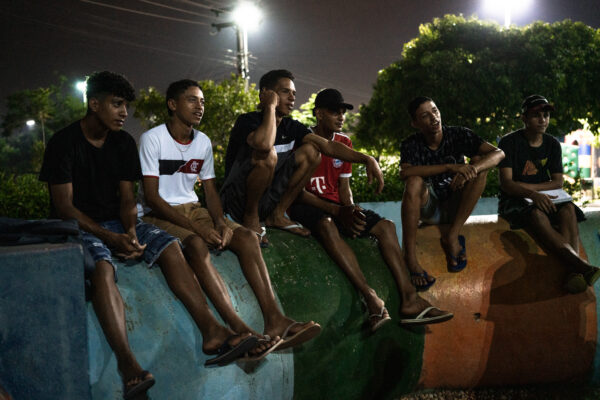 ​​The case illustrates how the advent of extractive corporations can change Indigenous culture and create conflict — even when well-intentioned compensation and consultation guidelines are followed.
A 2017 paper found similarly negative social consequences borne out in the effects of Bolivia's extraction sector on local Indigenous communities. Researchers found that, in practice, prior consultation and company-led negotiations over compensation "have often gone hand in hand with adverse social consequences for local populations, such as the exacerbation of conflicts, the division of communities and the weakening of indigenous organisations."
Despite her misgivings, Silene is one of the leaders that has agreed to the duplication project. Her logic is simple: The railroad has frightened away their animals, tainted their fruits; their children have bought smartphones. Her people now live like the 'kupen' – what the Gavião call non-Indigenous people. There is no going back to the old ways. 
But other chiefs have refused.
Divide and conquer
Much of Mãe Maria is still densely forested; Indigenous territories are theoretically protected – for now – from the mining, infrastructure projects, cattle farming and logging that have eaten away at much of south-eastern Pará's forests.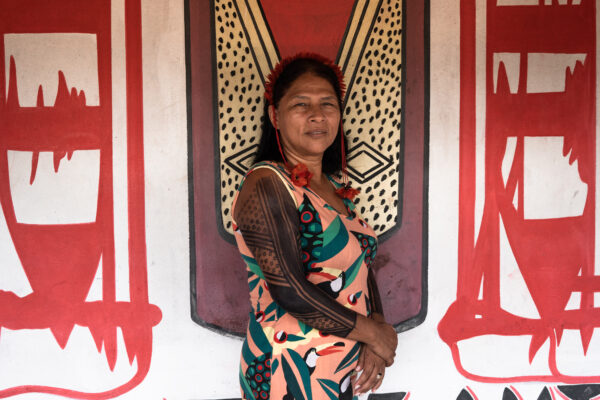 But anthropologist Ribamar Ribeiro, who has studied the Gavião people, says the 17-kilometre-long "deforestation corridor" opened by the Carajás railroad has made their territory vulnerable to invasions by illegal loggers. 
"The opening of a corridor with deforestation allowed easy access," Ribeiro writes. "The train itself already scared the Gavião but, coupled with that, it allowed other violent processes to take place in the Gavião area."
Vale's railroad is not the first project to affect the Gavião. Mãe Maria land is also bisected by a highway and power lines; these too caused division.
The Gavião people are composed of three ethnicities: the Parkatêjê, the Kyikatêjê and the Akrãntikatêjê. The Parkatêjê are the dominant ethnic group, and it is to them that corporations seeking access to Gavião land – including Vale – have gone to negotiate.
Before the arrival of industry to this part of the Amazon, the Gavião people had little experience with money at all. They made a small income by gathering and selling Brazil nuts, but their diet came largely from hunting game, growing mandioca and cará roots, and gathering fruits from the forest, like cupuaçu, açaí, and babaçu. 
"When the first company arrived, so did capitalism," said Zeca Sopré, chief of a Kyikatêjê village. "There was a clear divide between the Parkatêjê, who had access to the money, and those who didn't." 
Some of the other villagers felt sidelined by what they saw as preferential treatment of the Parkatêjê.
"The Parkatêjê didn't know how to handle this situation," said Concita Sopré, who is married to Zeca, the Kyikatêjê village chief. Concita said that animosity had intensified when people realised that the amounts of compensation handed out to each village varied significantly from village to village.
All three Gavião groups lived together until 2001, when Zeca founded his own village following a disagreement with the Parkatêjê over how to manage the compensation money. Further rifts over the cash followed, and more groups peeled off to found their own villages. Today, the Gavião people have scattered into 19 separate villages. Zeca has so far refused to give his permission for the duplication project.
Fundamentally, money has changed their culture, Zeca and Concita Sopré say, making them financially dependent on Vale in a way that runs counter to their traditional values. Their financial gains have meant a loss of autonomy, and the creeping erosion of their culture – especially in the younger generation. 
"Prejudice started to come from the inside of the community. The boys from the Parkatêjê [started] to make fun of us as we used to have long hair", said Zeca Sopré.
"Our relationship with Vale has pushed us away from our essence. Traditions like body painting, our games, our singing, the valuing of parental relations, the respect to the elderly… all that has broken", added Concita Sopré. 
Vale told Unearthed that any disagreement over the money they give must be discussed and resolved by the villages themselves. 
"According to the agreements signed, in the event of dissent between indigenous peoples, the division of resources transferred by Vale must be discussed and defined, either administratively or judicially, between the villages involved."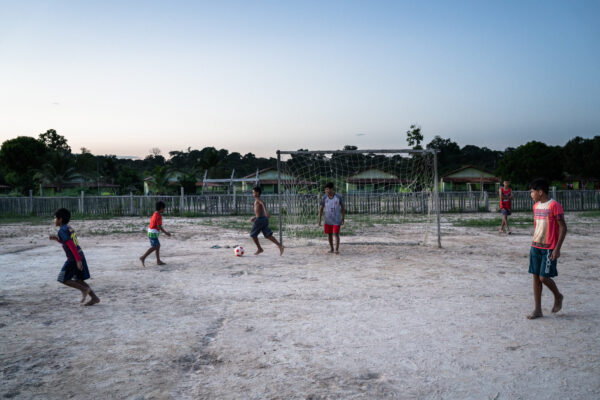 "Vale gives money, but has not helped us learn to manage these resources. Mostly, the people chosen to manage the money, the accountant, the treasurer, they all belong to the same family. And if they use it to their own advantage, the other families end up with nothing," said Npotomanti. "Vale is making us fight against our own." 
His sister Kátia Silene agrees – even though she has agreed to the duplication project. 
"This money is harmful to us. None of us has ever been instructed on how to responsibly manage this money".
"We held out until we couldn't anymore. I accepted the money because I need to be able to afford the essentials, like medical treatment for some of my people. But I signed it feeling revolted," said Silene. "'I will sign it', I thought, 'but I will never stop fighting for my people's rights.'" She added that her village's monthly payment of $20,000 is often delayed. 
The Parkatêjê chief who has led negotiations with Vale is more positive about the deal, as well as Vale's rail duplication project. 
"We don't want to prevent Vale from developing Brazil, from exporting to other countries", said Chief Kuia, who earns $71,000 from Vale per month for his village. "We want the company to see our community with good eyes,"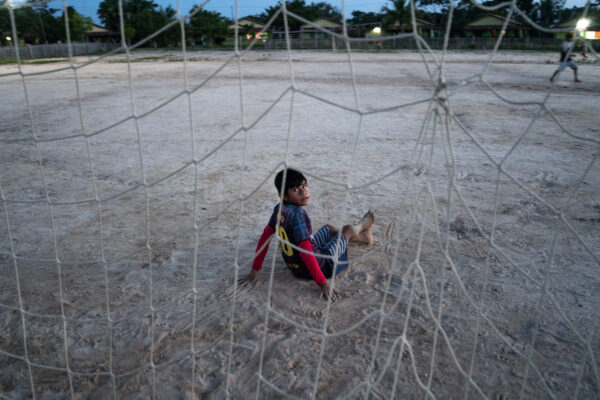 Impacts the length of the railway
The Gavião are far from the only people who have been affected by the Carajás corridor. At least 1 million people live near the line and communities flanking the 970-km long railway line report serious rights violations. With few footbridges, scores of people along the length of the railway have been killed while crossing the tracks. Recent numbers are hard to come by, but from 2010 to 2017 alone, 53 people died after being run over by Vale's trains. The victims included a 15-month-old baby who crawled onto the tracks, about 40m from his house.
In February, the International Federation for Human Rights, published a report on the human rights and environmental impacts of iron from Brazil's Carajás corridor. It concluded that the project "has led and still leads to a long list of severe human rights and environmental abuses along the Carajás Corridor." 
Saying 'yes' to Vale until they can say 'no'
Because of their relationship with Vale, other Indigenous people often call the Gavião the "Indigenous people who sold themselves to Vale". But some Gavião feel they had little choice.
Vale declined to say how many Gavião chiefs still had not agreed on the terms of the second railroad at the time of going to press – as recently as January, five were still refusing to sign. But Concita Sopré says she is sure that, eventually, all 19 chiefs will relent – though many won't be happy about it.
"Breaking this relationship [now] seems impossible," she said. We "are willing to live under these circumstances due to our financial needs, but we consider Vale responsible for disintegrating our people and for the sociocultural and environmental problems faced by the Gavião today."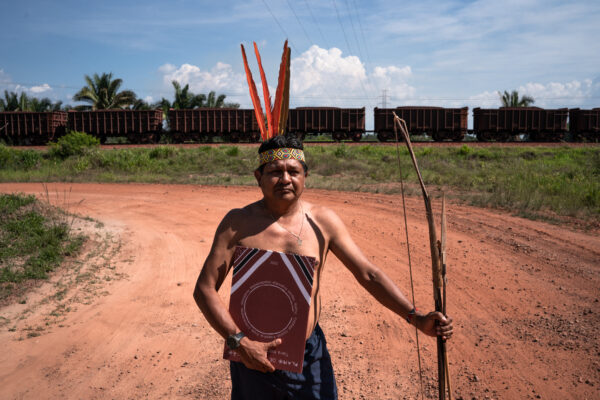 Akrãtikatêjê chief Katia Silene hopes her village, at least, will one day be able to extricate itself from Vale. She plans to use the compensation as seed money for long-term, sustainable projects to ultimately bring autonomy to her village. 
She has already invested some of Vale's money in planting new Brazil nut trees, and earmarked future payments for a fish pond, a Brazil nut processing factory, and an açaí berry factory. 
"I hope there will be a day when I will say 'Vale, I don't need your money. My project is making twice as much as you used to pay me'".