Beyond Beijing: 190 Chinese cities have hazardous air pollution amidst new targets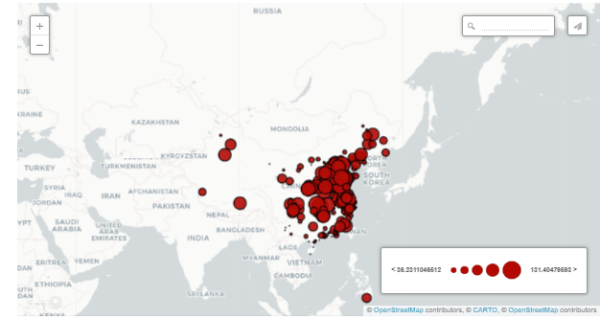 The Beijing smog may have over eight times as much toxic particle pollution as the WHO's recommended limit, but there are 25 Chinese cities where the air pollution is even worse, according to official data compiled and analysed by Greenpeace China.
China recently required four provinces in the key economic regions to set absolute coal consumption reduction targets, in addition to four others that already have ambitious targets. These provinces consume over 600 million metric tons of coal per year, almost as much as India as a whole.
They have already had an obligation to achieve negative growth of coal consumption by 2017, but the requirement for numeric targets is a clear step up in terms of ambition and accountability.
The WHO says urban air shouldn't average more than 10 micrograms of PM2.5 particulate per cubic metre — Every one of the 190 Chinese cities studied exceed that.
China itself is aiming to keep PM2.5 levels below 35 micrograms per cubic metre — but 179 of Chinese cities exceed that (90%).
Though Beijing doesn't feature amongst the country's most polluted, its neighbours make up the entirety of the top 10.
Xingtai, 200 miles south west of the capital, has the most PM2.5, with an annual average of 131.4 µg/m³ — that's more than thirteen times what the WHO says is safe, and almost four times what China wants to get it down to.
Like Xingtai, most of the worst-hit cities are in a Hebei region (7 from the top 10) continuing to suffer fallout from the enormous coal industry not far from China's supercity.
The Shandong province a bit further south is also dangerously polluted, including the beautiful water city Langfang which has 99µg/m³.
Beijing comes in at 26, with 83µg/m³, and Shanghai at 129, with 52µg/m³ — approaching the national target.
Here's the table of all 190 Chinese cities, and their PM2.5 levels.
China has long been beset by smog following years of unregulated industrialisation that saw the country climb out of the communist era to become one of the world's two economic titans.
The country's pollution problems are down to fumes from ubiquitous coal power plants, steel, cement and other heavy industry factories, as well as car exhaust pipes. The smog gets particularly bad in winter when atmospheric conditions more often trap pollution to the ground level, heating boilers are turned on and small-scale coal burning increases. A recent study found out that 60% of the particle pollution is due to coal-burning.
President Xi Jinping has put environment at the top of his agenda, with Chinese elites at risk of leaving the country unless it is addressed.
Still progress is slow; it's not easy to completely revamp the way a country works.
The Beijing smog may be reducing but the same can't really be said for the surrounding regions.
Residents of cities with hazardous smog, especially those near coal plants, will see years taken off their lives as respiratory and heart illness take hold.