Air pollution increases risk of premature death in Chinese cities
Over a quarter of a million people in some of China's major cities could face premature death because of high levels of air pollution, according to projections by Peking University based on 2013 data.
In the 31 provincial capitals on average 90 out of every 100,000 people could die prematurely every year as a result of high levels of fine particulate in the air.
The findings mean that one out of every seven deaths in the cities is due to air pollution, making early deaths from fine particulate matter as risky as smoking.
But if all 31 cities considered in the study were to apply national air quality standards then the number of deaths caused by air pollution as a result of 2013 levels would be reduced by about 41 premature deaths per 100,000 people each year, the researchers found.
This means over 100,000 lives per year can be saved by meeting the 2030 air quality targets.
The publication comes in the thick of China's annual 'airmaggedon' season – which has seen severe, persistent air pollution in Beijing, Tianjin and cities in neighboring Hebei Province.
Read more
The research by Peking University, one of China's leading universities, commissioned by Greenpeace China, is the first to map out the impacts of air pollution on premature deaths in the long-term in China.
It used recent (2013) fine particulate matter data (PM 2.5, highly dangerous when breathed in, according to the WHO) from the cities and the methodology from the Global Burden of Diseases to project the premature deaths that could occur as a result.
The premature deaths related to 2013 air pollution levels could occur at various points in the future – from one year to 10 years.
The level of risk placed on air pollution levels by the Global Burden of Diseases is calculated by looking at the impact on public health from specific diseases related to air pollution; ischemic heart disease, lung cancer, cerebrovascular disease and chronic obstructive pulmonary disease.
The Peking University researchers used the baseline of the WHO's air quality standard of 10 micrograms per cubic metre of PM 2.5 – annual average (mean) – which the data shows was breached several times over by the all of the cities.
The National Ambient Air Quality Standard – announced in 2012 – is 35 micrograms per cubic metre. Beijing's municipal government plans on reaching the standard by 2030 at the earliest.
If PM2.5 annual averages were at these levels for all of the provincial capitals then there researchers predict it would mean 41 fewer premature deaths compared to the effects of 2013 levels (excluding the cities that have already achieved the standard – Lhasa, Haikou, and Fuzhou).
If the cities that have set PM2.5 reduction targets stuck to them, it would result in on average a fall in premature deaths of 11 per 100,000, according to the study.
Shijiazhuang in Hebei province has the highest annual average of PM 2.5, and consequently it has a rate of 137 premature deaths per 100,000 – the highest rate of the 31 capitals.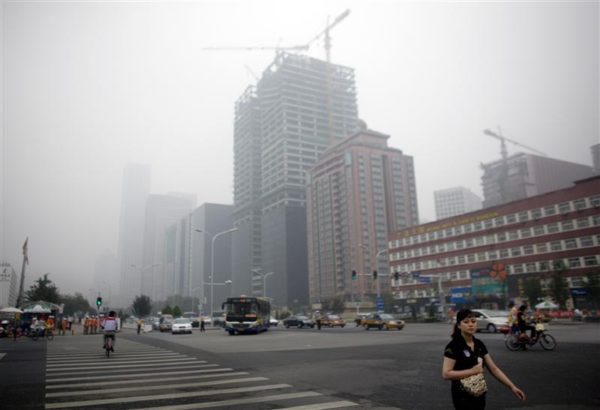 Although the smog in Beijing is notorious (pictured above), there are 21 cities in China with a higher rate of premature deaths based on this analysis. This echoes the Greenpeace analysis of air pollution data from 2014, which recently showed that there are 25 Chinese cities where the air pollution is even worse – out of 190.
Looking at the spikes in daily PM2.5 averages in 2013 has thrown up a similar finding, with nine cities in China experiencing more days of 'emergency' smog levels than Beijing. This latest study underlines that air pollution is a national problem, not just confined to Beijing.
PM 2.5 is small enough to penetrate the lungs, which is why long-term exposure can lead to heart disease, strokes, and lung disease, including cancer, according to the World Health Organisation. It can also trigger asthma attacks in the short-term.
According to another modelling study commissioned by Greenpeace, the level of emissions from coal plants in China in 2011 could have contributed to an estimated quarter of a million premature deaths that year.