China's 'war on pollution' leads to big improvements in air quality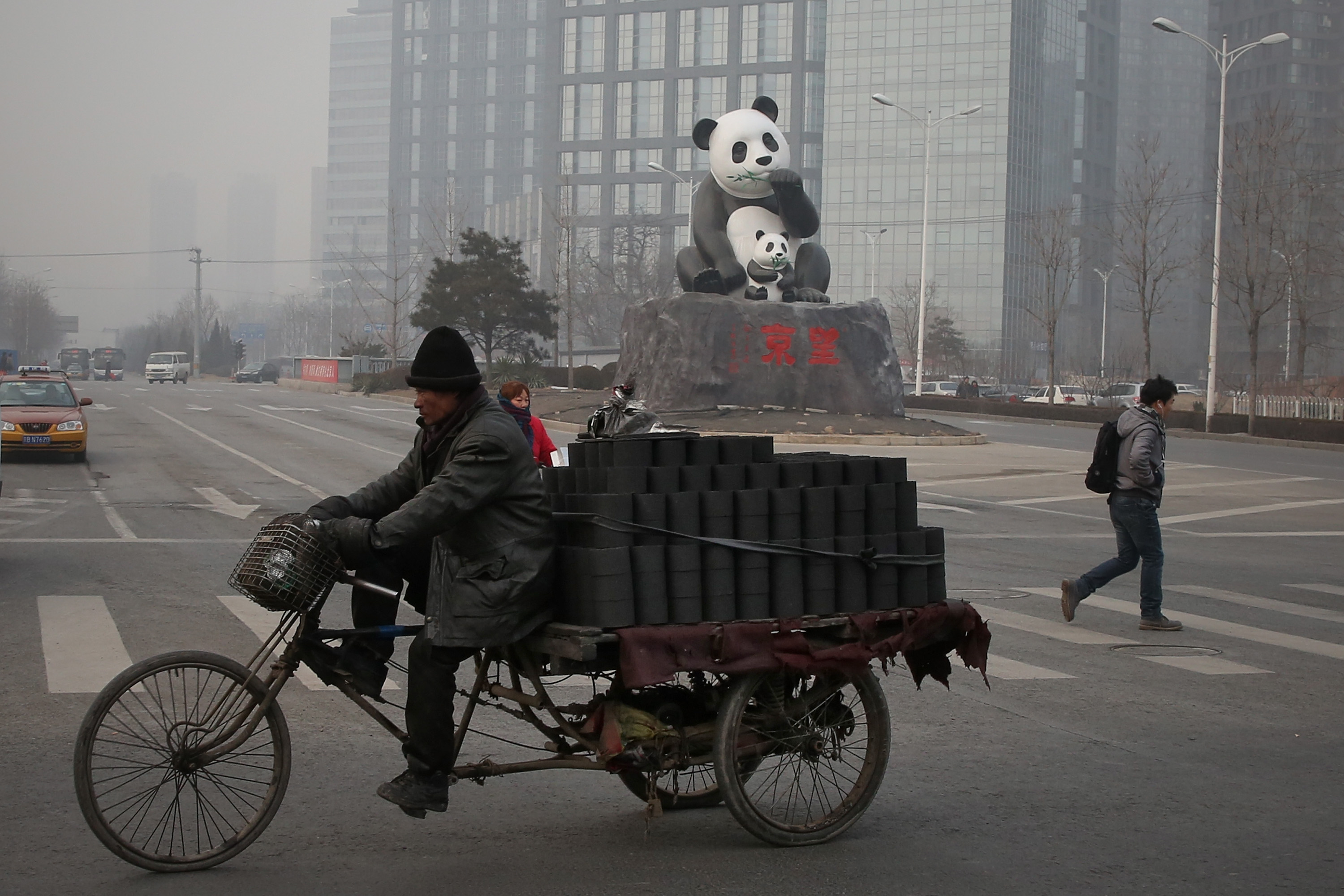 The Chinese government's "war on pollution" has led to a significant improvement in air quality in major cities this year; though levels of PM2.5, the deadly particles produced by burning coal and other fossil fuels, remain way in excess of international standards.
Data from 189 Chinese cities collected by Greenpeace East Asia show PM2.5 levels fell an average of 16% in the first half of 2015, compared to the same period last year.
In Beijing, where there are reports of children being forced to play in inflatable clean air sports halls, the research reveals dramatic reductions in pollution levels in 2015. PM2.5 levels fell 15.5% in the city compared to the same period last year, while sulphur dioxide (SO2) levels dropped 42.6%.
The data, which ranks Chinese cities and provinces according to the amount of concentration of PM2.5 in the atmosphere, puts Beijing third on the list of most polluted provinces, with Hebei, the province surrounding China's capital second.
The World Health Organisation (WHO) state that urban air shouldn't have more than 10 micrograms of PM2.5 particulate per cubic metre (µg/m3). In the first six months of 2015, the average PM2.5 level in the 358 ranked cities standing at 53.8 µg/m3, more than five times the WHO's guidelines.
China itself is aiming to keep PM2.5 levels below 35 micrograms per cubic metre (µg/m3). Despite the progress, only five of the 31 provinces ranked by Greenpeace East Asia meet the Chinese target, with over 80% of cities also failing to meet air quality standards.
With an average PM2.5 concentration of 77.8 µg/m3, Beijing is more than double government targets. Shanghai, with 57.8 µg/m3 is more five times the WHO standards.
Sichuan province, in south-west China, which dropped from 10th to 18th in the rankings, has seen the fastest improvements in air quality compared to the first half of 2014, along with Shaanxi province, which went from 11th to 17th.
In recent years, the Chinese government has made a concerted effort to improve air quality in major cities.
Four provinces in the key economic regions have been set absolute coal consumption reduction targets, in addition to four others that already have ambitious targets.
Investment in renewable energy has been dramatically increased. Last year, over 50GW of solar, wind and hydro power was installed.
Separately, the Chinese Premier Li Keqiang has vowed to fight air pollution "with all our might".
The problem of pollution in China has been well documented in the global media and Chinese scientists.
In February last year, the Guardian reported that air pollution had reached such a state in China, that parts of the country looked like they had experience "nuclear winter"; with the nation's food supply damaged by the massive burning of fossil fuels used to fire the country's unprecedented economic growth.