Massive Indonesian forest fires could emit more CO2 than the UK
According to a Greenpeace analysis, 40% of this year's fires in Indonesia have been on peatland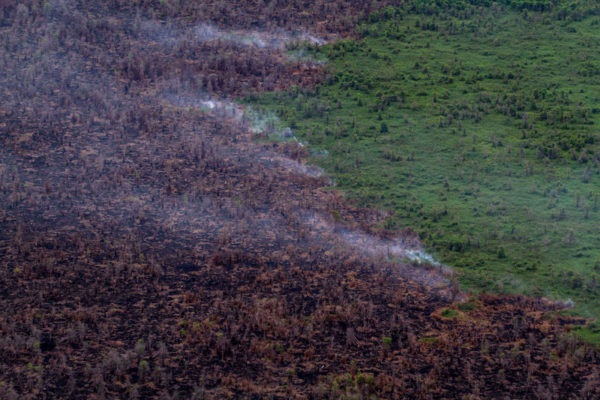 Forest fires ravaging Indonesia's rainforests will likely release far more carbon dioxide this year than the entire United Kingdom.
That's because the country's peatlands have also caught ablaze, and with them a reserve of 60 gigatonnes of carbon — which is 6 times greater than annual global fossil fuel emissions.
Add to that the biggest El Nino event in nearly 20 years and you've got a climate catastrophe in-the-making.
The last time Indonesia's peat and forest fires were this bad, they produced equivalent to between 13 and 40% of global carbon emissions from fossil fuels.
That was in 1997, when the region's fires were responsible for between 0.81 and 2.57 gigatonnes of carbon emissions.
For reference, the UK emitted 0.52 gigatonnes of CO2 just last year. So it's not even close.
Indonesia's forest fires are behind an estimated 110,000 premature deaths a year via respiratory and cardiac illnesses caused by the resulting smog — and that's just in your average year.
NASA says this fire season could become the worst one yet, with neighbouring countries Singapore and Malaysia already badly affected by the far-reaching haze.
And things may only get worse in the years to come since climate change is expected to increase the frequency and veracity of El Ninos.
Captured on film
Exclusive footage from Greenpeace Indonesia, captured by a drone with a GoPro, shows just how big – and bizarre – the fires and fumes are.
Gunung Palung National Park in Kalimantan, where much of the fire footage was taken, is home to the largest population of wild Orangutans in the world.
The haze erupting from the Earth is so thick you can barely see a thing.
Other national parks, including Tesso Nilo on Sumatra, where rare tigers roam, have also been devastated by forest fires this year.
But, as you'll note in the video, these aren't your usual forest fires.
Instead of deep red flames tearing down trees, the smoke is actually emerging from underground.
That's the deep peat.
Hunt for palm oil
According to a Greenpeace analysis, 40% of this year's Indonesia fires have been on peatland, of which there's not all that much.
Underground peat fire release three times as much smoke per kilogramme burned as a standard forest fire.
In its natural waterlogged state, peatland doesn't really burn; and neither do rainforests for that matter.
But decades of deforestation and draining the peatland in pursuit of palm oil has left the land vulnerable to worsening wildfires, many of which have been started deliberately and illegally.
"Burning the forest is the fastest, cheapest and most profitable method, instead of clearing with heavy equipment," Indonesia's director of forest fire control Raffles Brotestes Panjaitan told the Associated Press.
Since 2011, the government has had in place a moratorium on palm oil concession permits in primary forests and peatlands; but the policy has not been effectively enforced and it turns out 30% of last year's fire hotspots were in places that were supposed to be protected.
The Indonesian government says peat fires are responsible for more than 60% of its national greenhouse gas emissions — and yet it failed to detail a solution in its UN climate pledge submitted late last month.
So this kind of thing happens here every year. But it's getting worse.