Energy Files: Fracking company expressed concern over national park drilling ban months before it was repealed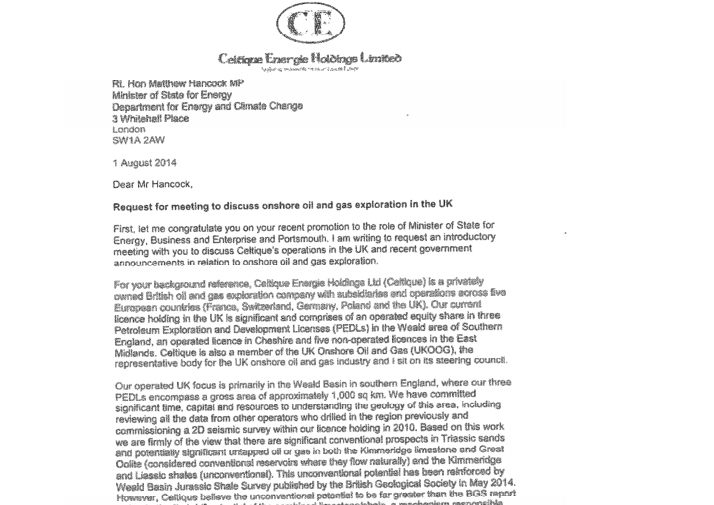 A fracking company wrote to the government to say it was "confused and concerned" by coalition plans to protect national parks from shale gas giants, months before the Conservatives decided to allow drilling under some of the UK's most prized wildlife sites.
The revelation comes as ministers move to push new fracking rules through parliament which would allow adjacent to and under national parks.
According to emails, newly disclosed under the Freedom of Information act, Celtique Energy wrote to then energy minister Matthew Hancock in August 2014 to express concern at government plans to make it more difficult for fracking firms to drill in national parks.
After a long passage congratulating Hancock on his new post, the company's chief executive Geoff Davis wrote on August 1st 2014 that the plans would make it "difficult" for the firm to explore for shale gas in West Sussex, while also harming their efforts to participate in the 14th licensing round for new shale gas sites.
Davis wrote: "we are concerned and confused by last week's government statements, which have been portrayed in the media as blocking shale exploration in national parks and AONB [areas of outstanding natural beauty]."
"As you will no doubt appreciate this will make it even more difficult for Celtique to explore in the Weald and apply in the 14th Landward Round.
"This would be shame [sic], given the very large area covered by national parks and AONB."
U-turn
Labour accused the Conservatives of making an "outrageous u-turn" when the party announced draft plans to allow fracking in some of the country's national parks in July. Energy secretary Amber Rudd promised to ban fracking in these areas before the election.
This week, government ministers had to defend themselves against accusations from Labour and anti-fracking campaigners that they were trying to sneak through rule changes to allow companies to drill under national parks and areas of outstanding national beauty by putting the rule changes through a select committee, instead of sending it for a vote in the commons.
Celtique decided to drop plans to drill in two sites in West Sussex in March, citing restrictions to drilling in national parks contained in the government's infrastructure bill.
Several sites of special scientific interest (SSSI) and areas of natural beauty were included in the blocks awarded to fracking companies in the 14th licensing round for shale and oil sites, though national parks were not included in this tranche of blocks. The second portion of blocks for the 14th round is likely to be announced later in the year.
IGas, Ineos, Cuadrilla
IGas, Ineos, Cuadrilla were among the firms to be awarded licences to frack in the UK in the 14th round in September, and a series of emails reveals the extent of their lobbying of the department of energy and climate change (Decc) in the months leading up to the decision.
All the emails from the companies are excessively cordial, offering congratulations to ministers for their work, new projects, and promotions, before launching into a pitch for why they should be given a licence to frack in the UK.

IGas makes a lot out of being a being a British company which recently employed two graduates, before launching into its pitch. While Jim Ratcliffe, chairman of Ineos, wrote a gushing email to Ed Davey in August last year.
Stating that his company's programme for the 14th round amounted to $1billion, Ratcliffe said that shale gas had the potential to "transform UK manufacturing" in the same way it had in the United States.
He also committed the company to sharing 6% of future gas revenues with local communities, and 4% of revenues with homeowners and landowners living directly above wells. The Ineos chairman also said his company would consult with the local community as part of the plans.
Ratcliffe was keen to talk up his company's work in Grangemouth, where Ineos "operates the largest manufacturing facility in Scotland" as an example of the quality of its work in the UK. In 2013, the company was caught up in a titanic battle with trade union Unite over workers refusal to accept the company's bailout package for the plant, which led to a defeat for the union and a legal challenge.