Coal diplomacy: India's adventures abroad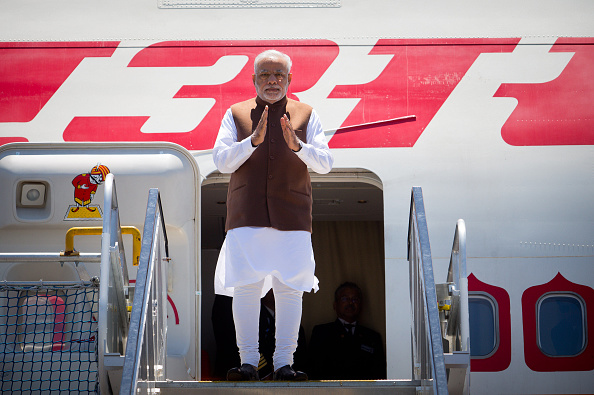 Indian Prime Minister Narendra Modi is travelling again, visiting the UK this week – his 29th trip abroad in 18 months.
In October, at the India-Africa Forum Summit hosted in New Delhi, Modi claimed that no one had done less to contribute to global warming than India and Africa – and that "the excess of few cannot become the burden of many".
In reality, India is the third-biggest carbon emitter in the world, mainly from burning coal.
The Indian National Thermal Power Corporation (NTPC), which generates one-quarter of India's electricity, is on the hunt for cheap coal projects which can supply at least some of the fuel for its fleet of coal-fired plants.
Previous Indian coal company adventures abroad have included deals in Mozambique, South Africa, Indonesia and Australia.
According to a report in the Financial Express, an Indian news site, "NTPC's plan to get coal blocks in Africa under bilateral pacts imitates a similar strategy by state-run Coal India, the world's largest coal producer, which is looking at such options in South Africa and Indonesia.
Coal India's only foreign assets so far are two coal blocks in Mozambique, which it got under bilateral pacts between New Delhi and Maputo."
For much of the last decade it has been standard fare for Indian companies – both privately and publicly-owned – to hype potential investments in overseas coal projects in the expectation they would supply cheap coal to coastal power plants.
The dominant thinking was that – with international coal prices rising rapidly and faced with domestic supply constraints – Indian "energy security" necessitated stitching up deals on yet-to-be-developed thermal and metallurgical coal projects in Indonesia, Mozambique and Australia.
Indian power generation companies decided the sensible business strategy was to buy coal mines to supply their own plants – "backward integration", as NTPC describes it.
But many of these projects were based on the idea that demand and prices would only keep on going up or, at worst, stay high. This justified loading companies up with debt to expand existing projects and connect new ones to this Indian market.
The unstated ethos of the high-rolling coal companies seemed to be "what could possibly go wrong?"
Coal India's Mozambique plans turn sour
If Coal India's Mozambique expedition is the template for NTPC's high hopes for overseas coal projects, then it warrants examination.
In 2006 the governments of Mozambique and India reached agreement to promote bilateral cooperation in the development of coal resources, granting of exploration rights to Coal India over two coal blocks in Tete province in Mozambique in 2009.
Coal India had high hopes for the project, stating that it would "start mining the block within six months" and proclaiming that "preliminary surveys" suggested the areas contained "1 billion tonnes" of coal.
Two years later Coal India's Mozambique subsidiary, Coal India Africana Limitada, concerned that there was no viable railway to get mined coal to the coast, became reluctant to spend funds on social programmes it had promised.
By 2012, without the promised spending on the social programmes, the Mozambican Government was becoming agitated and insisting the promises of social spending commitments be honoured.
Coal India conceded the point and the following year promised to spend US$42-million on social projects, including industrial vocational training.
But by then, the commencement date for the project had slipped further from the initial plan of late 2012 to 2015, assuming the export infrastructure existed. But before long the 2015 commissioning date had become 2016-2017.
As the project soured, anonymous Coal India officials complained that the project was delayed "because the Indian government's own interest in the African region hijacked what was a completely commercial deal for us." In short, the project was a dud with the company having spent US$80 million to find dirt.
Nor was Coal India's Mozambique project the only Indian company which made a bad bet on overseas coal projects.
A raft of other Indian companies – including Adani, Reliance Power, Jindal, Lanco and GVK – have all experienced major problems with their overseas coal adventures spanning  Indonesia, Mozambique and Australia.
Adani's Carmichael mine in Australia has faced huge community opposition due to its proximity to the Great Barrier Reef. This has coincided with the downturn in the global thermal coal market. Now – despite support from state and federal Australian governments – Adani can't find any significant friends in banking circles. Reliance Power has announced its wants to dump its Indonesian coal prospects and focus on solar power in India. Jindal has been losing money at its Mozambique mine while debt-laden Lanco and GVK have blown hundreds of millions on thermal coal projects in Australia which are going nowhere.
Read more:
Unfriendly coal in Bangladesh
NTPC itself has some experience of overseas projects going sour.
A 2010 deal with the Bangladesh Power Development Board (BPDB) to develop the 1320 MW Rampal power plant near the Sundarbans World Heritage Area.
The project has encountered strong opposition from the local communities, been challenged in the courts, triggered the Norwegian sovereign wealth fund to divest from NTPC and alarmed the World Heritage Bureau.
In October this year, peaceful protesters were attacked by baton-wielding police and supporters of the project. Media reports suggest that at least 25 people were injured as a result.
NTPC's pursuit of more overseas deals may well be every bit as controversial as its project in Bangladesh – or every bit as hopeless as Coal India's Mozambique adventure.
And the world has moved on a long way since the coal boom heyday of  just a few years ago. Coal projects have fallen out of favour with investors, insurers and international banks.
The global coal market is now so over-supplied that new projects are redundant and – especially where they require costly new infrastructure such as railways and ports – hopelessly uncompetitive.
Where the notion of "energy security" of a decade ago was premised on countries scouring the globe and stitching up deals for potential coal, oil and gas deposits, it now revolves around more effectively harnessing the freely available sun and the wind.
While Modi is unlikely to get his template of a successful widespread shift to renewables from his visit to the UK, he might find millions of dollars poured into dead coal projects more instructive.
A previous version of this article appeared on End Coal. Bob Burton is the Editor of CoalWire, a free weekly bulletin on global coal industry developments.