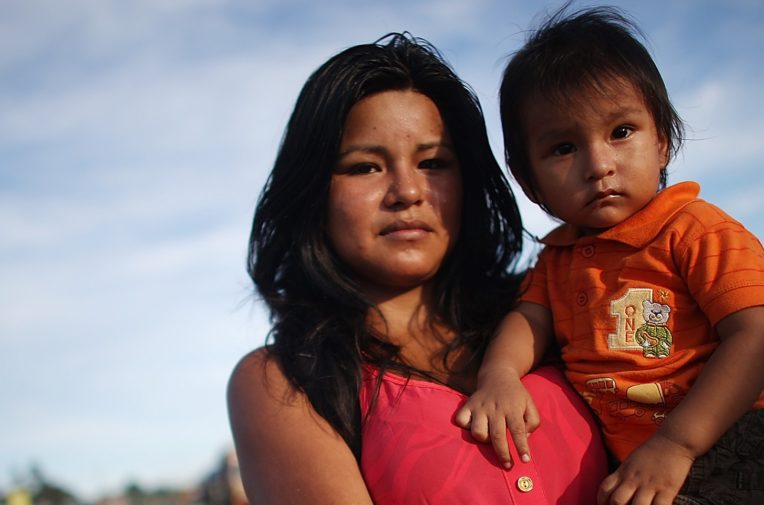 A woman poses with a boy in the 'La Pampa' gold mining boomtown in the Amazon lowlands in Peru in 2013. The Madre de Dios ('Mother of God') region saw heavy deforestation during the spike in gold prices some years ago. Photo: Mario Tama/Getty Images
Why climate change is a gender equality issue
From Bangladesh to the United States, women are on the frontline of our changing climate
Why climate change is a gender equality issue
From Bangladesh to the United States, women are on the frontline of our changing climate
A woman poses with a boy in the 'La Pampa' gold mining boomtown in the Amazon lowlands in Peru in 2013. The Madre de Dios ('Mother of God') region saw heavy deforestation during the spike in gold prices some years ago. Photo: Mario Tama/Getty Images
A 2014 EU study found that women are consistently more concerned about climate change than men, and are more willing to make sacrifices to reduce emissions.
Women are even statistically more likely to 'believe' in climate change.
Perhaps that's unsurprising since women around the world are both worse affected by climate change and prohibited from tackling it by their inequality.
The link between gender and climate change is gradually becoming more widely understood, as climate change is increasingly understood in terms of human rights and social justice.
But for those still in the dark, here are the two key things you have to know:
Women are affected by climate change differently due to their social and economic inequality. Just as all marginalised groups are affected differently according to their inequality – including indigenous people, people of colour and the global poor.
Women can be incredibly powerful solutions to climate change for a number of reasons, but they're consistently excluded from solution-making positions, from local government to international politics.
Now let's break these down into a bit more detail, because this is the internet and any suggestion that women have it harder than men needs to be backed up by many endlessly repeated hard facts.
Women are hit first and worst by the effects of climate change
Climate change is this huge, complicated planetary migraine with a million different symptoms, but in almost every scenario it's women who bear the brunt of the effects, firstly for the simple reason that women make up the majority of the world's most economically disadvantaged people.
Women accounted for 61% of fatalities caused by Cyclone Nargis in Myanmar in 2008
Living on or below the poverty line means you're less able to adapt to the effects of climate change, from increasing food and water insecurity to deadly weather events.
In countries where gender inequality is more severe, death rates for women in climate-related disasters – like hurricanes, floods, tsunamis – are shockingly high. The reason could be as simple as women not being taught to swim.
But there's also the fact that women in more unequal societies don't tend to move about in public spaces, which means they won't hear early warnings, and social expectations to stay in the house unless chaperoned means women don't get out fast enough.
According to the United Nations Development Program (UNDP), women accounted for 61% of fatalities caused by Cyclone Nargis in Myanmar in 2008, 70–80% in the 2004 Indian Ocean tsunami, and 91% in the 1991 cyclone in Bangladesh.
Even if women survive the event itself, the aftermath is just as perilous. When Hurricane Katrina hit New Orleans in 2005, 80% of those left behind in the Lower Ninth Ward after the storm were women.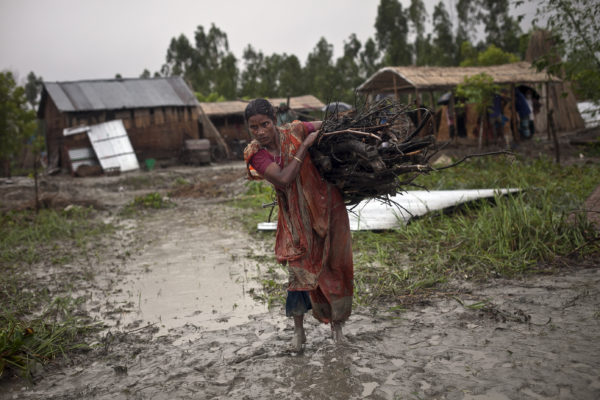 More women than men were living below the poverty line, fewer women had cars, and women were more likely to have dependents, such as children and elderly or sick relatives – all of which impaired their ability to leave the affected area.
Another problem is gender-based violence, including sexual assault and domestic abuse, which dramatically increases in the aftermath of extreme weather events; in the year following Katrina, incidents were almost four times higher than they had been before the storm.
Violence against women and girls also increases in conflict situations, which can arise when populations are displaced by climate change or when shared resources, such as food or fuel, become increasingly scarce.
Forced migration and conflict also leaves women more vulnerable to trafficking. None of this is helped by the fact that crisis response treats women's particular needs and vulnerabilities as an afterthought, rather than a primary consideration.
Women are also impacted by the more 'everyday' effects of rising global temperatures. Rising humidity and more frequent flooding means more mosquito-borne diseases, which women are exposed to as water-collectors.
Drought means food shortages, which means increased workload for women as food producers – plus women and girls are more likely than men and boys to go without food when there's not enough to go round.
There are literally countless other ways that women are affected differently by climate change based on their different social position to men – but in the interest of challenging perceptions of women as simple victims, let's move on to solutions.
Despite being obvious candidates to save the world, women aren't given the chance
Around the world, women are on the front lines of climate change, largely because they make up almost three-quarters of the global poor. This makes them uniquely placed to share information about climate impacts and to implement solutions.
Women across rural Africa are lifting themselves and their communities out of poverty by selling solar lamps that provide safe, clean energy and employment for women. The same thing is happening in rural Pakistan.
In El Salvador, women farmers are harnessing waste geothermal energy to replace wood and fossil fuels in their communities, which saves 1.8 tonnes of CO2 a year.
Human factors including climate change are drying out the paramos – high-altitude wetlands that provide water to huge areas of farmland – and to Bogota, Quito and other large cities, and women in villages around the paramos are leading efforts to conserve them, a task that falls to women because most of the men live and work elsewhere, coming back to their villages only rarely.
In many cases in the global south, women's work in adapting to or working against climate change helps to increase their political power. 5,000 Malian women in impoverished rural communities were trained to measure and send meteorological data to the central government, which helps the agricultural sector adapt better to the increasing severity of climate change impacts.
Thanks to their vital contribution to the success of local and national food production, these women earn a higher community profile and greater influence, both within their families and at local government level.
Meanwhile in Europe, that 2014 study mentioned earlier shows how women are more likely than men to care about climate change and want to do something about it.
The reasons for this aren't clear – perhaps something to do with the socialisation of women as caring and self-sacrificing, or maybe the feminisation of sustainable living (apparently taking reusable bags out shopping isn't very manly).
Either way, you can't help thinking that if we had gender parity in politics, climate change policy might have more teeth.
The gender imbalance in industries that contribute to climate change is also a problem. In the UK, more than two-thirds of the 100 biggest energy companies fail to count a single woman on their boards, and fossil fuels are the worst culprits: while women occupied 17% of board seats for power and renewables firms in 2015, the oil and gas sector managed a measly 7%.
But even the green guys aren't getting it right yet. Women are seriously underrepresented in leadership positions in big environmental non-profit organisations, despite making up the majority of the NGO workforce in total.
There are women all over the world who are working to mitigate and adapt to climate change, either through direct on-the-ground solutions or as researchers, organisers and campaigners.
But they face a towering and sometimes lethal task. Just this week the environmental campaigner and indigenous land rights activist Berta Cáceres was assassinated in her home in Honduras, yet another in a long list of dead climate heroines.