China coal bubble: IEA warns Beijing over coal investment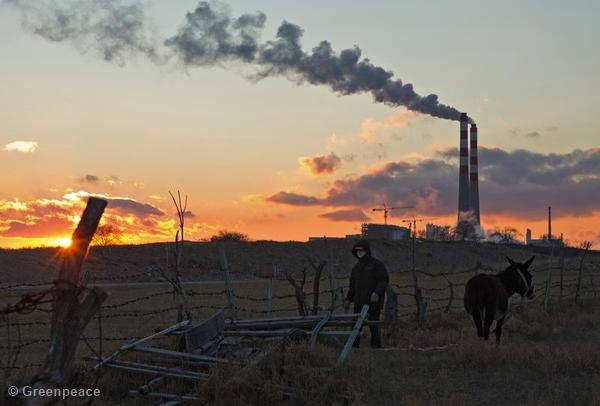 China is overinvesting in fossil fuels as energy demand slows and renewables make coal increasingly uneconomical, according to a new report by the International Energy Agency (IEA).
In its new World Investment Report, the IEA echoes the findings of Unearthed's China coal bubble series, with Bloomberg saying it "adds weight to concerns from environmental groups such as Greenpeace that China is apt to waste 1 trillion yuan ($150 billion) on excess power capacity by 2020".
Keep on building
Chinese energy companies have been starting two coal power projects a week despite a recent government policy designed to tackle the country's overcapacity crisis, Greenpeace has found.
China currently has over 900,000MW of coal-fired capacity, the equivalent of about 1,300 large coal-fired units.
But, due to the country's slowing power demand growth and rapid expansion of clean energy, demand for power generated from coal has been falling since 2013, rendering roughly 200,000-300,000MW of capacity redundant at 2015 demand levels.
Yet China has another 200,000MW of coal-fired capacity under construction, and a new Greenpeace analysis has identified a further 150,000MW of projects potentially able to enter construction — despite recent suspensions.
The coal power overcapacity crisis has continued to grow in 2016, with total power generation from coal falling by 4% in the first five months of 2016, another 25 large coal-fired plants brought online, and capacity utilisation falling by another 10% from the record-low levels in 2015.
New policy
Earlier this year, in an attempt to resolve the overcapacity, China's top energy planners established a new capacity control and retirement policy.
But the effects of loopholes in the policy are already showing.
Mapping shows that in the two months after the policy was introduced, new coal power plants projects started construction at a pace of two per week, with new projects started in ten different provinces.
Furthermore, six new 'coal power base' projects in Shaanxi and Inner Mongolia – with over 9,000MW of capacity – applied for environmental permits immediately after the policy was published, making May the busiest month of 2016 for new applications.
These new projects could go ahead because the policy contains exemptions for many provinces, for projects designed to export power from the west to the east and for combined heat and power projects.
On the other hand, preliminary information on China's new energy five-year plan broke out yesterdayfrom a government-controlled media outlet, indicating a more complete ban on new permitting will be forthcoming.
However, even without any new permits for conventional coal plants, there is still enough capacity under construction or allowed to go to construction for China to keep adding one GW of coal-fired capacity per week for four and a half years, until the end of 2020.
This would mean about 1.1 trillion yuan ($160bln) spent on redundant capacity.
The top two provinces, Shandong and Shaanxi alone would have  approximately 250 billion yuan worth of redundant capacity.
'Winter is coming'
Chinese energy industry publication Southern Energy Observer recently collected comments on the overcapacity situation from market participants across the country, and one phrase got repeated half a dozen times: the power industry's "winter is coming".
A commentator from the northeast said that the industry had anticipated a central government clampdown on new permits and rushed to grab permits at the last minute, with a lot of poorly planned projects going into construction.
A Cantonese reader noted that nuclear, hydro, wind and solar are competing with thermal power, resulting in a lot of existing units standing idle. Yet, more coal power units are under construction, surely worsening the situation and risking waste of capital.
Selling but not buying
A commentator from Xinjiang, in the far west of the country, lamented that the prospects for the massive fleet of new coal-fired power plants under construction in the province, equal to the total coal-fired capacity of Poland, are not bright: the plan is to export all that power to the eastern provinces but those provinces themselves have overcapacity.
Another commentator from Shandong, one of the relatively developed eastern provinces and a major destination for planned power exports from the west, said that capacity utilisation in the province would fall below 50% when the new transmission lines from west to east start to operate.
These comments highlight a key finding of Greenpeace research: almost all provinces in Northwest, Southwest and Central China plan to export large amounts of power, but there isn't going to be a supply deficit anywhere in the country.
Hence, the same market is supplied four times over by the provinces' own generation capacity and by planned exports from different parts of the country.
Fuel to the fire
Most of these export plans rely on so-called 'ultra-high voltage transmission lines' that are scheduled to be completed and begin operation next year. Their completion is bound to make the overcapacity situation even more acute.
The transmission lines will also further accelerate the fall in China's coal imports, as approximately 100 million tonnes per year of coal use will be eliminated in the coastal provinces where power plants have been importing coal.
This massive overinvestment in coal-fired power and the resulting overcapacity is exacerbating the problem of 'wasted' wind and solar power, as grid operators too often fail to prioritise renewable energy sources over coal.
Overall, the slow progress in bringing China's coal power industry to heel is a symptom of the Chinese government's conflicting priorities of maintaining the extremely high level of capital spending that makes up 50% of the country's GDP, and reducing overcapacity in a range of industries.
So far, the allure of loose credit has trumped administrative controls, but the government seems determined to take stronger measures.