Dakota Access: UK banks back pipeline builder Energy Transfer Partners
British financial institutions bankrolled the company behind the controversial pipeline project to the tune of $800m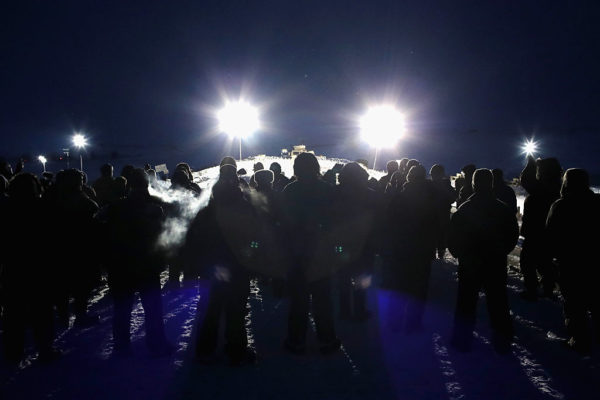 Some of Britain's biggest banks have loaned hundreds of millions of pounds to the company building the controversial Dakota Access Pipeline, according to an Unearthed analysis.
In the last 5 years Barclays, HSBC and the Royal Bank of Scotland (RBS) have together bankrolled pipeline firm Energy Transfer Partners and its subsidiaries to the tune of more than $800 million.
The news has prompted one lender – RBS – to distance itself from the project claiming to have "exited the relationship".
There are currently two outstanding loans in which the UK banks are involved, a $3.75 billion credit line issued to the company in 2011 and a $1.5 billion package for subsidiary Energy Transfer Equity signed in 2013.
Both agreements were made before the Dakota Access Pipeline was announced in 2014, though they were extended in 2015.
Furthermore, Barclays is party to a $2.5 billion revolving credit facility to Sunoco Logistics (owned by Energy Transfer Partners), with documents showing it provided $130 million in 2015.
Barclays and HSBC declined to comment.
RBS released a statement that said that it did not fund the Dakota Access project, but confirmed that it did provide "general finance" to the pipeline builders — before ending the relationship in 2015.
In a Twitter exchange, the bank said they could not discuss the details but insisted they  no longer have a relationship with Energy Transfer Partners.
@zdboren We would be unable to discuss account specifics due to data protection, 1/2 LJ

— Royal Bank (@RBS_Help) December 1, 2016
@zdboren but I can confirm we no longer have a relationship with this company. 2/2 LJ

— Royal Bank (@RBS_Help) December 1, 2016
This comes as US authorities have ramped up their crackdown on the coalition of Indigenous groups and environmental activists attempting to block the project, which would cross the Standing Rock Sioux Tribe territory.
Bank on it
A recent report from American NGO Food and Water Watch (FWW) claimed that there are loans and credit facilities totaling $10.25 billion in direct support of the companies building the pipeline — with 38 banks implicated.
An Energydesk analysis of Bloomberg data of the British banks named in the report, supported by financial disclosure documents, were largely in line with what FWW published.
Barclays, which declined to comment, appears to have provided $175 million as part of a revolving credit line for Energy Transfer Partners, $65 million as part of loan package to Energy Transfer Equity and $130 million for a credit line for Sunoco Logistics.
All of these loans are set to mature by 2020.
RBS, which is majority owned by the UK government, has loaned the Energy Transfer firms $250 million spread across two loans.
The bank has denied ever funding the pipeline itself, stressing that the multimillion dollar loans were issued to the controversial project's parent company — and that the relationship ended in 2015.
Does that mean they're not going to issue loans to Energy Transfer Partners in the future? We're trying to find out.
And finally there's HSBC, whose loans total $189 million.